Career or Family? | Why homemaking is important | Purpose of homemaking | (PART 1)
An open heart conversation for women who are stuck in between personal life and professional life.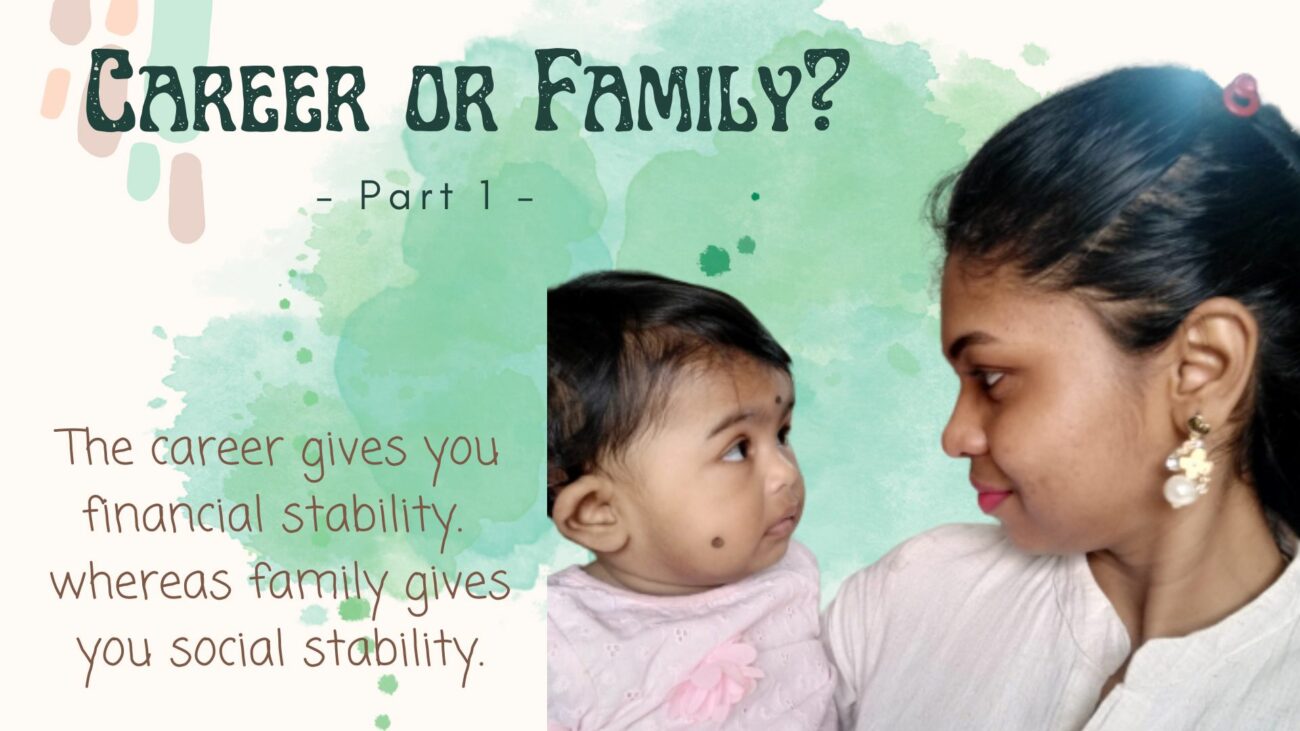 HOMEMAKING VS HOUSEKEEPING
" How much ever successful a person might be,
At one point…
One can never depend on someone to get their
food cooked, house cleaned, things organized,
dishes & laundry done & to look after their loved ones.
similarly, one can also not depend on someone for
getting the bills paid, getting the finances put in the right places.
both need to go hand in hand.


Train yourself enough to handle both without any regrets

"
Brief: 
Homemaking is done by the woman in-charge of the home who not only creates and manages the home but also provides a peaceful nurturing atmosphere for a human's overall growth and development in life.
Homemaking is an art and differs from person to person. Homemaking is not only about a lavish apartment or luxurious space but also a task in day-to-day life that needs enormous amount of energy that you are never trained for before.
It all starts with one person and then it is what radiates around the space that person resides in thereby contributing and redefining and reshaping the whole environment around that person. It slowly forms a part of your life and becomes your personality. A habit that makes you realize one fine day that you leave a spark wherever you go.
You can with full Honour call her
A HOMEMAKER
———————- o ———————-
Now Housekeeping can be done by any person, call it maid or call it house manager. but their job is subject to what they get paid off or the ability to remember the task. This is not the case with a Homemaking. You can find a Homemaker in almost every demanded task for a family and home. There is also something referred as Housewife. They are not any less but it is more of housekeeping and less of homemaker i believe. where they might just do the needful duty.
Which one we choose to be




makes life more meaningful




and




also sets a great remark for




the present or upcoming generation.


————- 0 ————-
A few words about myself before I pen down about the main content: 
I am a professional designer – an Architect. But for me i always had it in my mind that whenever i choose to have a family that day i will give equal importance and priorities to my home no matter whatever it takes.
i have achieved all the most important successes in my life wherever i wished that i could succeed. as such i am satiated with whatever i have or was able to achieve. My growing situations had huge obstacles and traumatic scenarios but still i overcame it like warrior and i am proud of who i am today. I may be imperfect but i have overcome the dark days all alone.
—————– o ——————
Is homemaking a burden or Joy?
Let's have a look…
Should I choose career or family?
Your career gives you financial stability whereas your family gives you social stability.
 These are two sides of the same coin. If you have a career, you will miss your family and if you have your loved ones, you may regret your career. Then why not strive to have both in our lives.
Homemaking is something which is stressful and peaceful both equally. Every day is a new day loaded with experiences for a lifetime where we succeed and commit mistakes. But it is all about how you want to take it and face it. Everything is a situation and an unexpected consequence that teaches you what life is all about. Only if you are willing to take it positively you could lead your own path.
There were days when i wanted to resume my job but unfortunately due to lack of extended support it was always a huge trauma for me to choose between my daughter and my career. My biggest dream in life was to have a daughter and secondly being a university topper i had that passion inside me for my work. I'm basically a workaholic and obsessed with work i choose to do so, so in such case i forget about the rest of the world.
Now being tied up in between these two extremes ends it always felt like doing injustice to myself. But deep inside me i always knew that i have to trust my instincts because i am who i am for believing it since then.
Trust me, my daughter use to have nightmares, crying and waking up in the middle of the night 2 am, 3 am, 4 am. It is because the day i used to ask her if i could go to the office and she would cry as i if i was dead.
Thats because i was the only person who handled her single handedly in every way. The ones who were supposed to be by my side were too busy with their life and couldn't be present when i needed. her trust lays solely in me. In this challenging world life is not easy and i wanted to be there with her to ensure her healthy mental development.
Every mother and child's love is of course unconditional. But with my daughter i am the best part of her life and so is she. i didn't want to snatch it away from her in a world where we can hardly trust anyone or anything. Her happiness meant a lot to me at that moment.
My husband also often speak on how things could look when if i resume office. rather he asked me to set up my own firm in future. because he believed that our home was at peace with my presence all time. with my profession i could have been able to choose, any one focus at that time due to my demanding line of duty. either home first or career first.
At this point i decided home first because i believed in my potential and i also knew deep inside that there are certain things that can be recovered with time, things will find you if you deserve it and certain things in life can never be retrieved. Once lost is lost forever. i was sure my career will find its way but my daughter and home would not have reached this far had i chosen career that day. 
One good thing about my profession is that i can from any corner of the country. Since i carry Indian license i can practice only under Indian Council of Architecture. If i had to go aborad then clearing certain formalities through different layers becomes mandatory. So my job also provides me with flexibility to work as per my wish.
My husband never had a work-life balance since we got married. He works more than he breathes and travels alot. there was no option but to maintain peace and balance in life i had choose to be there at home. I am not guilty about it but at the same time i miss going to office, i miss travelling, i miss having fun with my friends. I missed the co-parenting from him throughout in case of my daughter.
But i have had more fun by being there for my kid. we have made a lot of memories and we have achieved the heights that me and my husband planned doing together. everyday is stressful like taking care of my daughter and home all alone, missing him for long time, staying in the same house and meeting each other at weekends due to demanding situations and professions but it is all an experience to realise my value, my strength, my potential and my capabilities.
I learnt new things with life with my daughter. this precious angel has added more meaning to my life and i will forever be grateful to this universe. she is my answered prayers. My husband is someone who has been there for me when i reached out to him.
Being a demanding professional we both would have gone unavailable for our daughter which could have been so unfair with her. her maternal grandparents are also not near to be taken care of her and her paternal grandfather is quite old and not someone where she would be comfortable growing up with.
Today it is almost half a decade while i am publishing this content and i can see that my daughter is doing great in her life. i am satisfied at this point to have listened to what my heart said. It was easy, it was way tougher than i could explain. choosing between my career and my daughter was one of the most challenging task i took in life. Still years to go and time will give a much better reward.
I later choose to work in a way that could be right for myself (my health), my daughter, my husband and our home. Office was always my dream. i loved doing work with my team and having my own desk in my office and organizing them in a way i want. The never ending travels, the stress that makes my time evaporate, the happiness i receive while making money, achieve my dream the way i wanted. But i'm sure one day i will be back much confident and much higher than what i thought.
Nothing has changed now, i still work from home at my convenience. You just need to be confident with yourself first and put your time, energy and money (source of Investment) at the right point. Plan keeping in mind that no matter if you are slow initially you may eventually pick it up with a course of time and hit the track when you should be.
---
So, there is a continuation of this journey that really made my life something i will always be grateful for…if you wish to continue reading here are some points on things that i focused more on with my life.

click here
---
ALWAYS REMEMBER …
SOMETIMES THINGS WILL BE HARD TO FOLLOW BUT STILL TRUSTING YOUR INSTINCTS AND MOVING ON IS THE BEST & LEAST YOU COULD DO
FOR YOURSELF
---
(Visited 17 times, 1 visits today)