Ingredients
1/2 tspn

ginger garlic paste (Fresh)

1 1/2 tspn

Kashmiri red chilli powder

1/2 tspn

Degi red chilli powder

3/4 tspn

coriander powder
Directions
There are several types of dahi bhindi recipe :
Punjabi achari dahi bhindi recipe comes with achari masala flavour, rajasthani dahi bhindi and hyderabadi dahi bhindi which would taste similar to that of hyderabadi biryani flavour. There is also one maharashtrian flavour of dahi bhindi that goes with goda masala.
Though there are much varieties that can be found with dahi bhindi recipe what i am going to share is a very basic , quick yet delicious dahi bhindi recipe.
Each are unique in its preparation and flavour. This recipe is very creamy, tangy, spicy well balanced and can be prepared in less than 30 mins. goes well with chapati and tandoori roti. A simple side dish of raita will make perfect meal of the day.
To make this recipe we need fresh and crunchy bhindi (Ladysfinger / Okra). Wash and dry thoroughly. cut in an inch long piece and set aside or you can also pick bhindi of smaller size and slit it right from center into two.
Method :
Firstly in a pan heat oil and shallow fry the bhindi to achieve the crispness.
In a kadai heat oil, add mustrad seeds to splutter followed with jeera. Add bay leaf and finely chopped onions. Saute until golden brown. Add curry leaves and turn the flame off.
2. Let the chatty cool down a bit. Meanwhile in a bowl take thick curd and add the following spices as mentioned under the ingredients section. Mix the mixture well. add it to the chatty and keep stirring for the first few minutes.
3. If the chatty is too hot the curd might split. So take care will adding this mixture because this is all the flavours about. give a good stir. Add freshly hand ground ginger garlic paste. Mix well until the raw smell is gone.
4. Add bhindi, turmeric powder, salt and dilute it a bit with water. bring to a good bubbling boil under low flame and garnish with finely chopped coriander.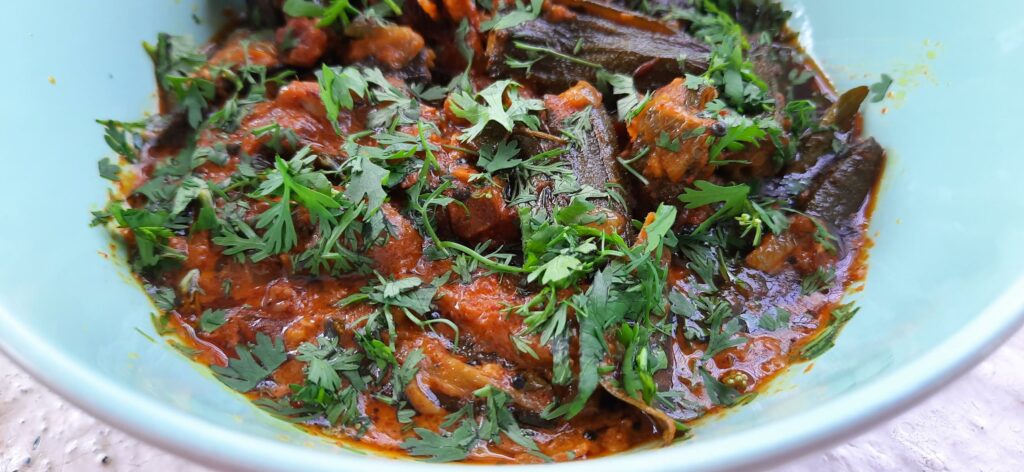 Serving suggestion :
Serve with piping hot chapati or tandoori roti. Spread some butter in your roti/chapati.
Prepare raita with well beaten curd, chaat masala, kashmiri chilli powder, salt, shredded de-seeded cucumber and finely chopped coriander leaves.
We also like to have some rice fryums along with this savoury curry.
Have a nice day !
(Visited 184 times, 1 visits today)