Ingredients
FOR CUPCAKE

1 cup + 2 tbsp

All puprose flour

FOR FROSTING

few drops

vanilla extract
Directions
There is no problem in the world that a cupcake can't solve
For example, if i have to convince my daughter of anything in this world she better make it very easy by closing the deal with a cupcake with good buttercream frosting. Simple! my job ends very smoothly
In case with my husband that is the biggest day. He loves cupcakes just as much as we do and i can see him turning into that 5-year-old who mysteriously sneaks every other container into the kitchen to find their favourite goodies.
My parents equally love my baked goodies as i am the only baking expert in our family. ha haa!
Now for those who don't know what is wedding cake cupcake –
It is basically the introduction of almond flour and almond flavour buttercream frosting into the cupcake.
no big deal, very easy to make and tastes scrumptious.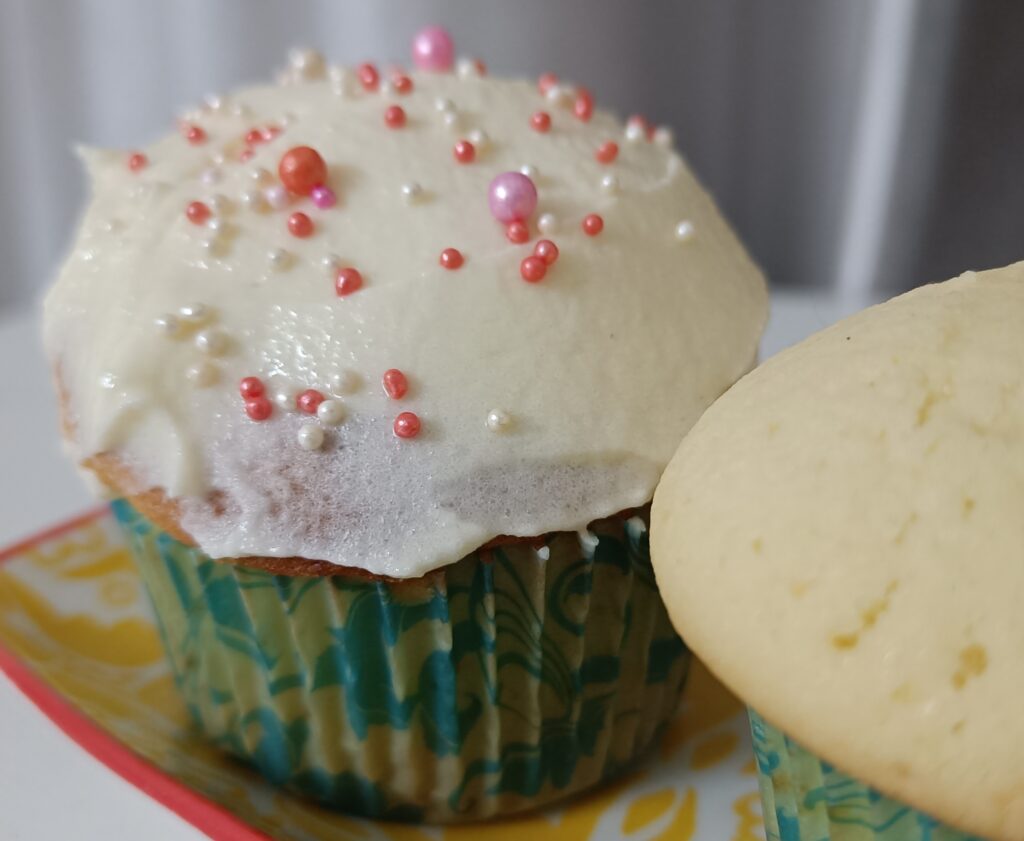 FOR CUPCAKE:
Always remember to use fresh baking powder. They make a lot of difference in cake texture.
In a wide mixing bowl, add butter (brought to room temperature) and powdered sugar, Mix well. It is okay to whisk with any normal hand whisk. No need to necessarily use an electric beater.
Add eggs and whisk again. Never overbeat at this stage then you have to start all over again.
In a separate bowl add all-purpose flour and almond nut powder, baking powder sieve all the mixture together and add to the wet mixture. Give a quick whisk.
Add vanilla extract and almond flavour extract. Make sure you choose the best quality as the essence gives good taste to cakes. Unlike natural extract this essence may give you a very bitter taste if not chosen wisely.
if you find the batter tight while whisk add 2 to 3 tbsp of milk just enough to make the whisk move around the batter.
Important point to note while baking :-
Pour into the cupcake Moulds. Preheat the oven at 200 degrees for 10 mins. let the cupcake bake for 10 mins in 200 degree and another 15 minutes in 150 degrees. Always note to insert skewers and check the cupcakes before letting it bake further. Different ovens take different timings for baking. if you notice the top of cupcake slightly turns golden brown then it should be mostly fully cooked. remove those and let the others continue to bake.
FOR ALMOND BUTTERCREAM FROSTING:-
In a wide bowl, add butter brought to room temperature, finely powdered and sifted sugar. Add vanilla and almond extract. adjust the extract as per your taste for buttercream frosting. as such start adding from 2 – 3 drops and gradually increase. Whisk until pale and fluffy.
spread the buttercream only after the cupcake has cooled down completely. else it will drip from sides.
For wedding cake cupcake, we especially need the sprinkle that are tiny balls ranging in two or three different sizes. pink ones especially.
That's it, store it in room temperature for 48 hours and then shift to refrigerator. consume within 3 days from the time you made it. You will have to wait until the buttercream thaws a little bit when you take it out of fridge to consume.
Trust me this is the killer tempting cupcake ever and one can't stop eating this because it will make your soul say 'more'
(Visited 95 times, 1 visits today)