Karthigai Deepam Pooja | How to celebrate Karthigai deepam | Thirukarthigai day
Karthikai Deepam is also known as Kartikeya's, or Lord Muruga's birthday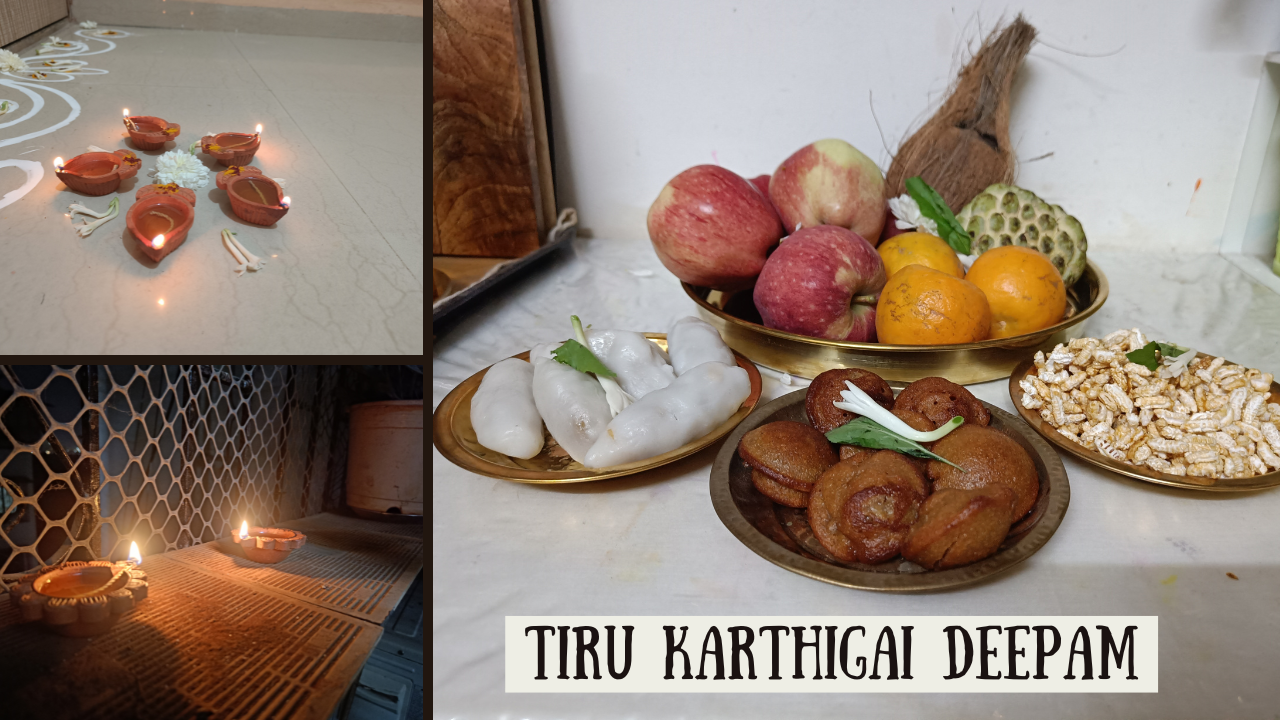 INTRODUCTION
I am very fond of celebrating each and every special occasion of Tamilnadu. The one main thing that i feel proud of being a Tamilian is the culture we cherish. Silk sarees, gold jewelleries, malligai poo (garlands), festivals, kolam (rangoli), south Indian delicacies etc all are something that can take us back to pre-historic era.
"It is found and proved that about 3,200 years ago the origins of Tamilians were found suggesting that the Tamil Nadu civilization existed alongside the Indus Valley Civilization"
I was born and brought up in mumbai. Although we used to celebrate festivals at home but they weren't completely like how we do in our native place, reason being in a metro & Cosmo city, half the time few things are unavailable and rest of the time due to certain restrictions implied by city regulatory body we cannot celebrate the way we want to. Then schools and higher studies kept us too busy and unavailable to be there for any occasion except that it falls on sunday.
After i got married i experienced a totally different level of exposure to our culture and the way they are celebrated in my husband's native. Although my father and my husband both come from Tirunelveli, Still there was some difference in rituals performed . So, this article features how certain festivals/occasions are followed in TIRUNELVELI, TAMILNADU. Because, there may be certain differences in the method they choose in different parts of TAMILNADU.
WHICH DAY IS KARTHIGAI DEEPAM ON 2022?
Karthigai deepam is celebrated on full moon day of karthigai month and the exact dates may vary slightly every year.
On this year 2022 Karthigai deepam falls on December 6. The good time or shubh muharat starts around sunset time, which is expected to be around 6 pm this day.
THE FEW MAIN FESTIVALS OF TAMILIANS ARE:
(Click on the title to read)
1. Pongal 
2. Tamil Puthandu (Tamil New Year)
4. Vinayakar Chaturti
5. Navaratri (All the 9 days)
6. Maha kandha Sashti
7. Kaarthigai Deepam
HOW TO CELEBRATE KARTHIGAI DEEPAM AT HOME
Karthigai deepam is the festival of Hindu Tamils and parts of Kerela, Andhra Pradesh, Karnataka and Sri lanka also observe the festival. Devotees observe Vrat on this day and release after sunset. People pray for the long life and well-being of their family members. The full moon day observed on this occasion is called as Karthigai Pournami
ON THIS DAY WE LIT UP 6 OIL LAMPS FOR ONE SPECIAL REASON
According to Indian mythology, there were six stars called as the six celestial nature who birthed the six babies in the Saravana poigai water body. which later were joined to form the six faced Muruga.
They are Dula, Nitatni, Abhrayanti, Varshayanti, Meghayanti & Chipunika. Thus, known as Karthikeya, an incarnation of Lord Shiva, his second son after Lord Ganesha.
It is believed that Lord Shiva created Muruga from his 3rd eye of the six primary faces (Tatpurusam, Aghoram, Sadyojatam, Vamadevam, Eesanam, Adhomukam).
It is believed that the six forms created into six children and each of them brought up by the six Karthigai nymphs (Śiva, Sambhuti, Priti, Sannati, Anasuya and Kṣama) and later merged into one by his mother Parvati.
As the six nymphs helped in bringing up the child, Lord Shiva blessed immortality to the six nymphs as ever living stars in the sky. Anyone who worships or offers prayers to these six stars is equal to having worshiped Lord Muruga himself.
It's worshiped by lighting up rows of oil lamps (Deepam) in the evening of the festival day around the houses, entrance and streets
CELEBRATING THE FESTIVAL:


(Effective ways that i prefer to save time for working woman like me)
POOJA:
The previous night itself keep the house cleaned. broomed, mopped, dusted, curtains washed, bedsheets and any spreads changed, Gas stove and kitchen cleaned and washed.
Buy flowers and garlands of your choice, store in refrigerator in an air tight bag.
Soak enough rice for few hours in day time, grind it at night and keep the paste ready to make kolams the next morning.
wash all the brassware with brass cleaner and keep everything ready in a basket to start your next day.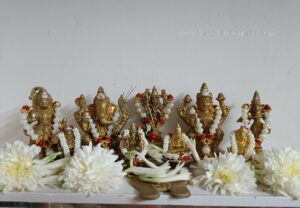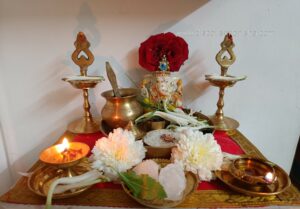 LAMPS:
Wash and clean all brass oil lamps, assemble and keep ready the previous night.
Soak all the clay lamps in water for 10 mins. Make sure you dry them completely for next day use. if you pour oil directly in the clay pot without soaking it first, then the lamps might absorb oil depending on the type of soil used to make the clay pot.
After doing the Naivedhya, Dhupam, deepa aradhanai we place the lamp in different places of the house and light it after placing them.
We can keep the oil lamp filled with oil and a wick in a tray on the same day and keep them ready.
Place wherever you wish entrance, inside home (mind the space as the things around it should not catch fire), balconies, terrace etc.
Two main things on which we must keep the oil lamp are Rice container and salt jar till they blow off. Otherwise, what i do is in two separate wide bowl i fill with rice and salt, place a small drip tray under the lamp and place them on top of it.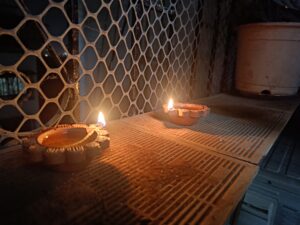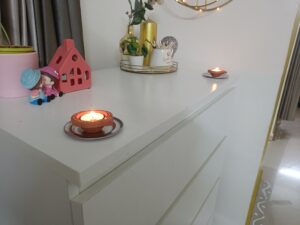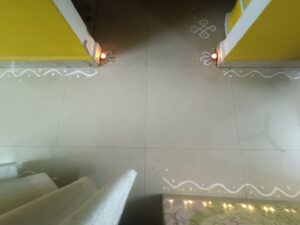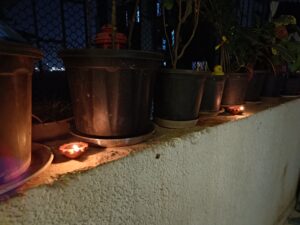 FESTIVAL DAYS:
We light the oil lamp for three days: –
First day (previous) – 7 lamps minimum – Barani deepam
Second day (main day) – 6 lamps in pooja room minimum – Karthigai deepam (How many ever in & around the house)
Third day (last day) – 3 lamps minimum (at entrance and in pooja area)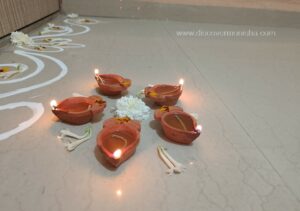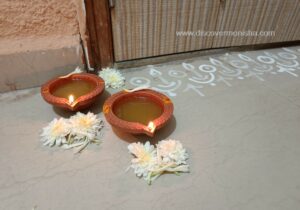 SIGNIFICANCE:
This festival of lights indicates the removal of darkness (Ignorance) and enhancement of light (Intelligence).
Karthigai deepam is the auspicious time to feel the inner spirituality when the light and the power of fire combine.
On this day, Arunachala deepam in Thiruvannamalai, the Mountain of Light (fire) is said to represent the divine, Shiva in his form as the element of Fire. It is believed that he comes alive on this day and emits a divine energy that enables us to move from human form to divine form.
It glorifies the triumph of light over darkness.
THINGS FOR POOJA AND NEIVEDHYAM
FOR POOJA: –
Lamps – Types of brass vilakku

Clay vilakku

Cotton Wicks

Lamp Oil & ghee / Tea light candle

Betel leaves/Betel nut

Banana leaf for placing things

Flowers for pooja

Incense stick, Dhoop, camphor

Coconut, Haldi, Chandan Kumkum

Rice flour paste for rangoli
Rice dough for mavilakku
FOR NEIVEDHYAM: –
Aval pori , Nel Pori, Arisi pori – called as puffed rice

Dark colored jaggery / Brown Sugar / white sugar

Raw riceflour / all-purpose flour (maida)  for making appam

Coconut

Raw rice & moong dal for making payasam

Raw rice or store-bought rice flour for making Maavilakku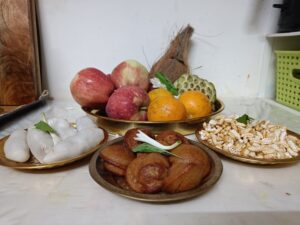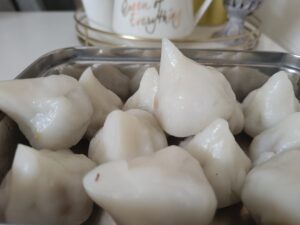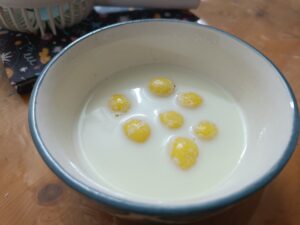 TIRUKARTHIGAI DEEPAM RECIPE SPECIALS

The majority of them would traditionally prepare kozhukatai as the very basic neivedhyam.
Different parts of Tamil Nādu prepare Arisi paruppu payasam, Sweet nel pori, sweet paniyaram, Milagu adai, pori urundai etc.
Although it may look time consuming but we can get it done before evening because unlike other festivals, this one is celebrated in the evening after sunset.
Check out the recipe by clicking one on them:

Sweet Nel pori
Arisi Parupu payasam
Sweet paniyaram
Kozhukatai
Milagu adai
(Visited 125 times, 1 visits today)