Simple ways to celebrate Tamil New year – Tamil Puthandu
A prayer offered with whole heart is something God accepts with happiness. Praise your god for all that you have got.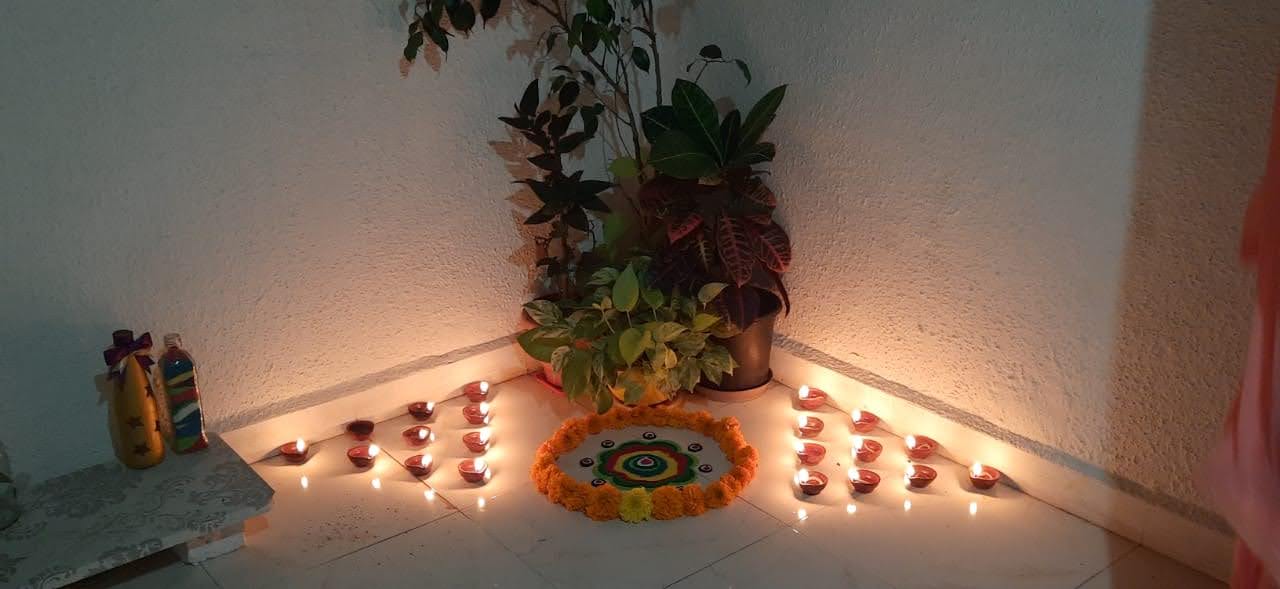 'Iniya Tamil Puthandu Nal Valthukal'
Happy Tamil New year
Tamil New year marks the beginning of the month 'Chittirai'. Tamilians from various parts of the world including Tamil Nadu (India), Sri lanka, Malaysia, Singapore, Mauritius come together to celebrate this auspicious day. It most often falls on the month of April 14th as per the English calendar. Everyone celebrates it as Gift-Giving , Grand feasting, they meet relatives and friends, they visit Temples and decorate their home along with some main Pooja.
Apart from New Year (English calendar), Diwali and Ganesh chaturti, every Tamilian or a Tamil home should celebrate the occasion that marks Tamil culture. It not only brings joy in our life but also to let our culture live as long as our generations thrive. It gives happiness and peace.
(1) Today Let us see how we can celebrate this pooja in simple methods…
For people like me Who are not so good at performing things in its exact rituals and traditional method, I still believe that at the end if you feel fully satisfied and peaceful in performing the rituals then you did a good job. There is no hard and fast rule on performing this pooja as i mention below. We can perform it only with a simple lamp litting and offering some garlands to god. Whatever your situation may be God will still understand it and accept your prayers if you join your hands and convey it to him. So don't worry and take it easy.
STEP(i) : Cleaning the House.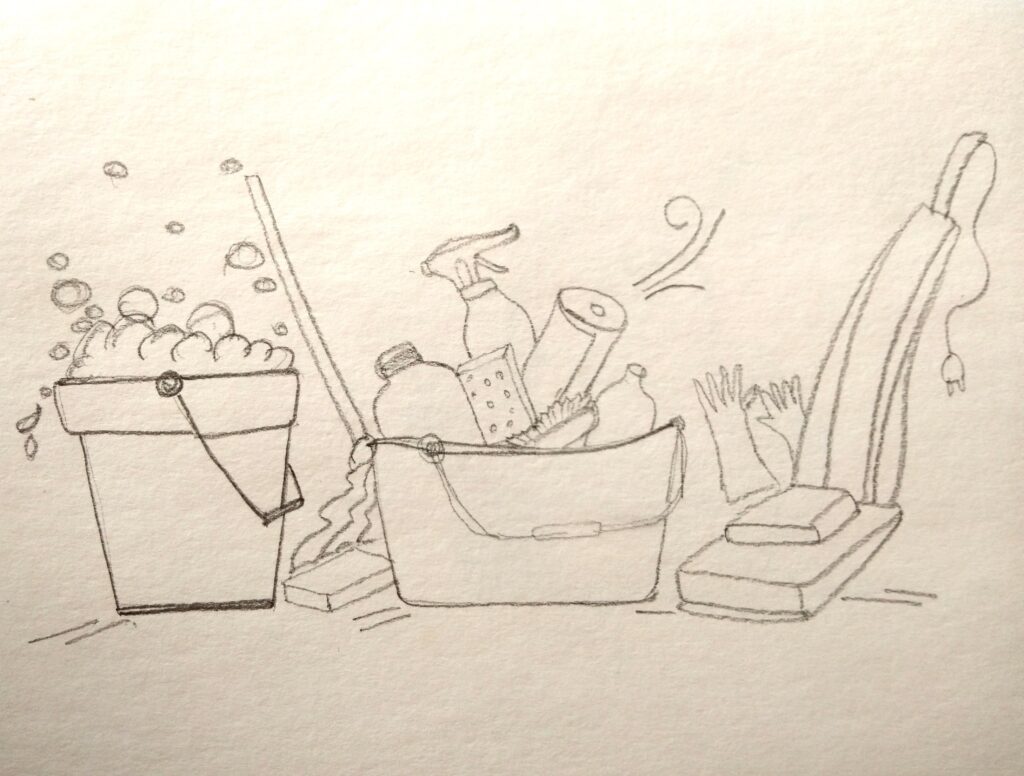 As they say cleanliness is next to Godliness. First and foremost every occasion starts with a thorough cleanliness. Auspicious day means waking up early.. isn't it? firstly we clean (Brooming, sweeping, dusting etc) our entire home.  Getting up early morning and cleaning will eventually lead you to tiredness towards the noon time. So better we clean it previous night and get off to sleep. make sure your Pooja mandap is also well cleaned.
STEP (ii) : Preparing different flavours of Food.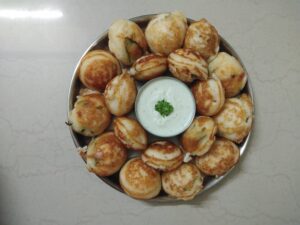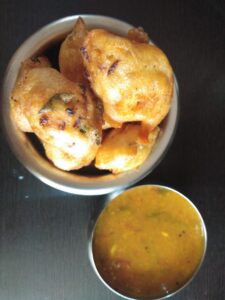 Mainly we call it 'Arusuvai' meaning six flavours. Sweet, Salt, Spicy, Bitter, Sour and Thuvarpu. Thuvarpu is a flavour achieved from betel leaves. so we can collect fruits, sweets, homemade meal and some betel nut sweets (Paan or vethelai) and present it for pooja. You can prepare  a grand thaali or any simple meal which could be your breakfast or lunch or anything that you wish to offer to god with your whole heart.
STEP (iii) : Decorate the entrance of your house.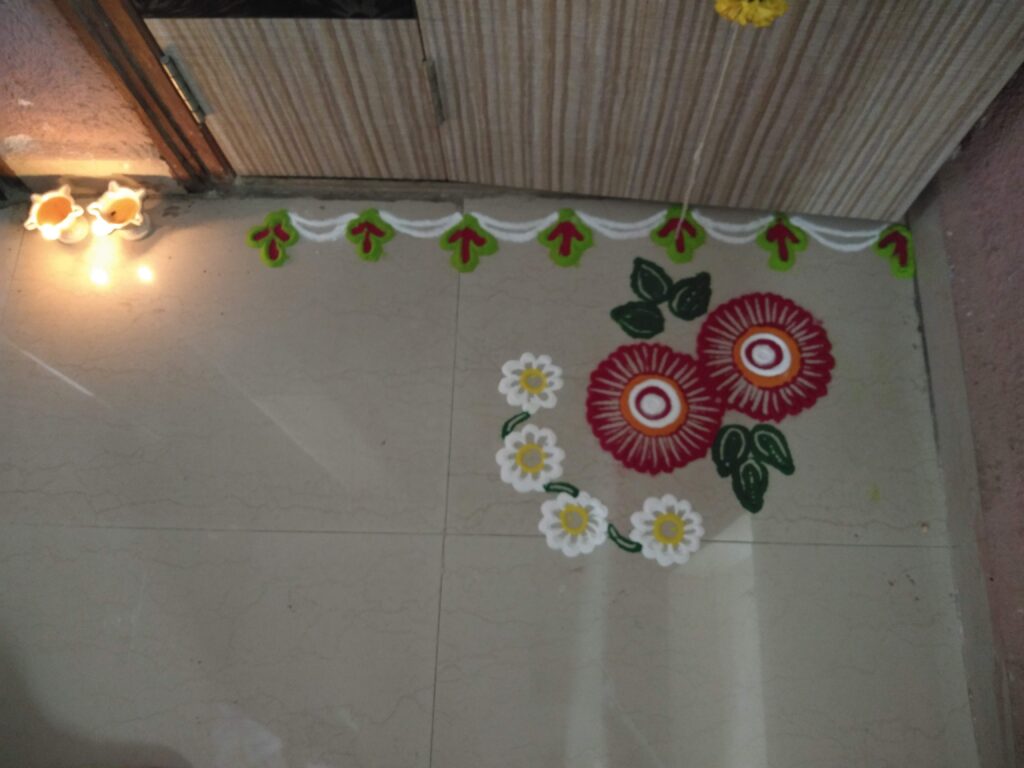 Again, there is no hard and fast rule for this. They say when a place is clean irrespect to the fact that it is a mud house or a palace, god will still come to your home and bless you. Few basic tips can be starting with Garland or Thoran at your main door, Making some beautiful and colorful Rangolis. Setting up your house decor highlighting the Tamil new year fest. Put up some lights and Tea light candles at safe corners in your home. Put up some Diyas at the entrance and on your windows etc.
One of the main thing for every occasion in a Tamil home which is mandatory is 'Kutthu Vilakku'. It is a oil lamp that has a base and a stand that holds the part where the fire is lit up. In our culture it is believed that, any married woman should start her occasion by lighting up the kutthu vilaku in her home first.
STEP (iv) : Grooming up in a Traditional Attire.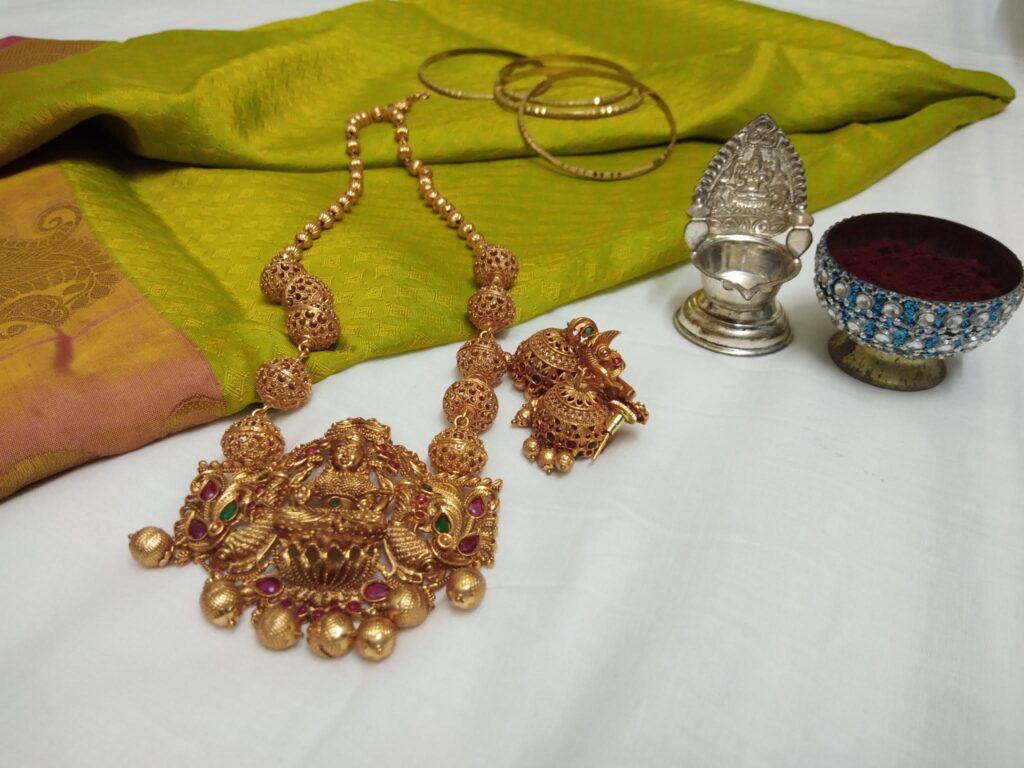 Any occasion feels incomplete without having worn a new dress. Early morning Head bath along with some Ubtan and Rose water will definitely make your soul feel refreshed. What i usually do is for every special festival i would buy two separate dresses. One which could be light wear that will be easy for me to work with. Second will be the main dress that i will wear with all those jewelry and makeover with a final look. because i handle all the preparation work alone, so this tip makes me cover up my work quickly.
SYEP (v) : Make arrangements for pooja and offerings to God.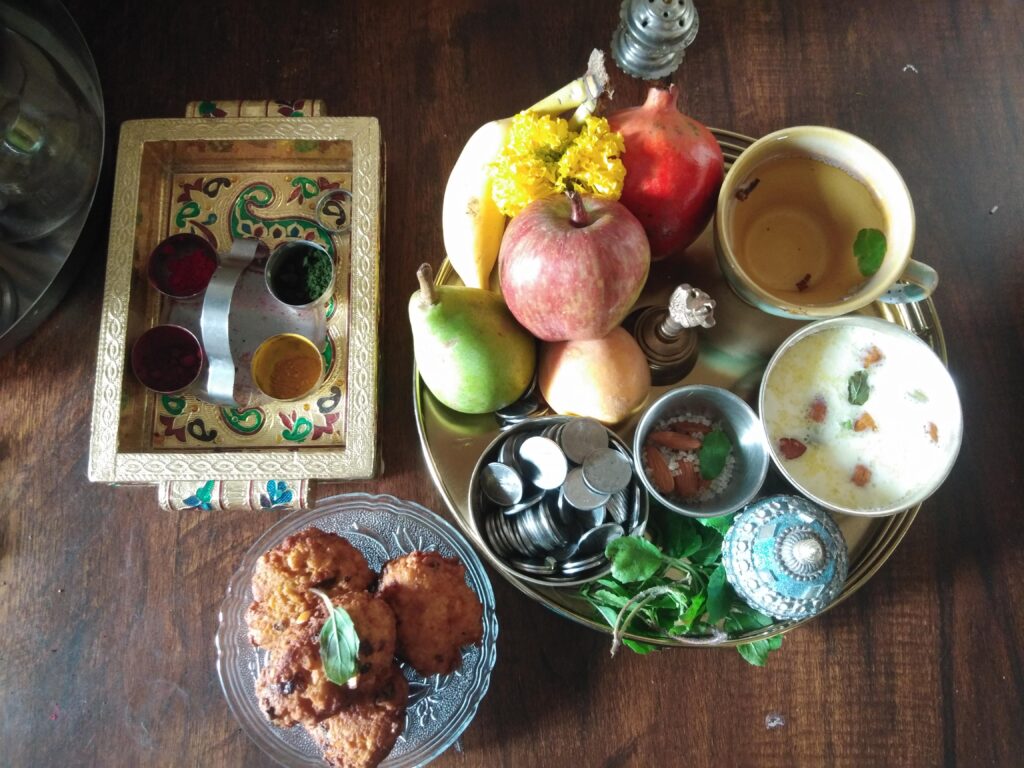 First thing in the morning after having had a bath – lit up a small 'Agal Vilakku' in front of the God and you can start up with your prep work. Segregate all the offering into different plates accordingly. Below towards the end of the article, i have mentioned the details of pooja vidhi. Do not forget to offer 'Mukkani' (Three sweet flavour) fruits namely Mango, Banana and jackfruit. In tamil we call it 'Ma-va-pa' in short for 'mukkani suvai'.
STEP (vi) : Let the meal be 100% vegetarian.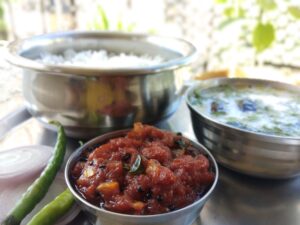 The main dish of this Tamil new year fest is 'Mangai pachadi' –  A sweet side dish made of Raw mango.
Click here to read written recipe.
The reason why this is used as the main dish is that it signifies the importance of how our life is balanced with all different emotions just like the flavours found in this dish. Mainly it denotes the ingredients that co relates with our life. for example, Raw mango – sourness, Jaggery – sweetness, Red chilli – Spiciness, Salt – Saltiness,  Fresh neem flower or Fenugreek seeds – bitterness, Turmeric for its astringent/antibacterial properties. These all flavours come under one dish and by having it in our meal for that particular day means that we accept all ups and downs of our life strongly and cheerfully. click this link for maangai pachadi recipe video.

Apart from this you can prepare any veg meal of your choice and offer it to god. Like it can be A sambar, rice along with any two stir fried vegetable and some fryums. I usually prepare a meal plate that equally comprises of all six different flavours. BUt its totally upto you. whatever be the vegetrian meal be, offer it whole heartedly.
(2) let us discuss how we can make the arrangements for pooja vidhi:
There are multiple ways to set up pooja arrangements. There is no strict rule that you have to follow… You can please the Almighty God just with your heartful prayers also.
But here i am explaining how this tradition is commonly seen & followed by Tamilians.
Pooja Item – Part 1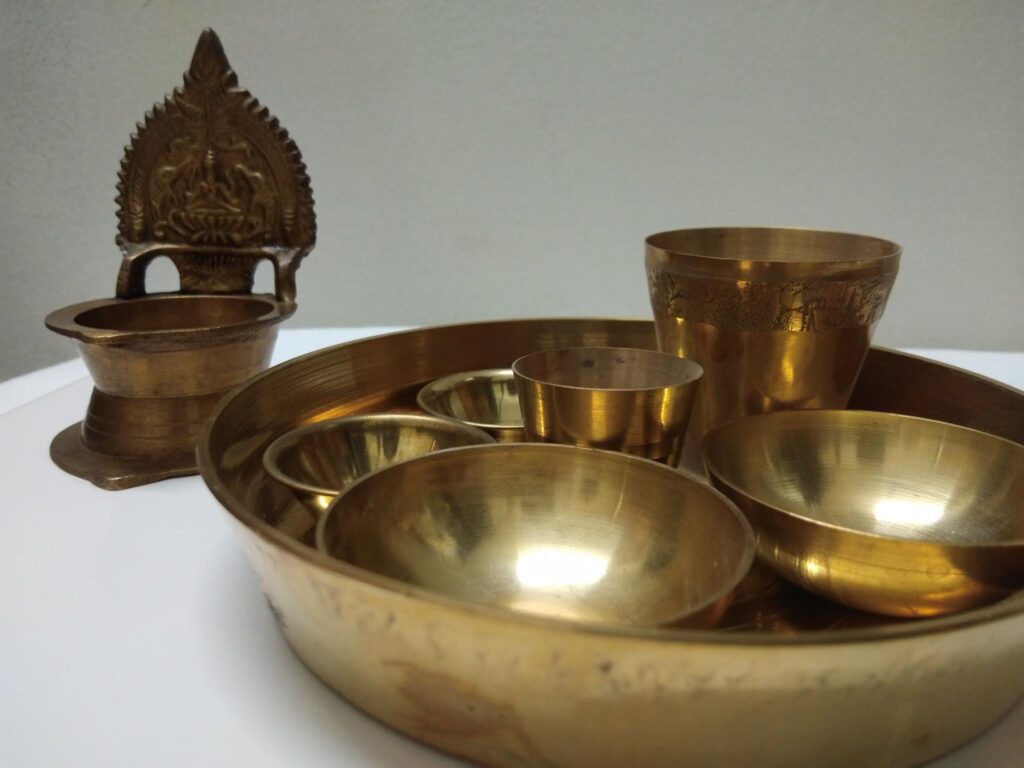 (a) Making use of Copper and brass or silver vessel signifies the purity for performing this pooja. Collect different varities of flowers and decorate your entire house. Place in front of the Deity as well.
(b) Take some betel leaves along with whole betel nut and put some turmeric powder and red sindoor powder in it and place it on both sides of where you will be setting up all your offerings.
(c) Take camphors and place it in the Aarti plate and place betel nut and leaves in this plate as well. you can also keep some fresh flowers along with sandal paste and kumkum paste in this aarti plate. Prefer either Brass or silver or copper plate for performing aarti.
(d) Take sambrani (Dhoop powder) powder and put in burning coal and allow the smoke to spread in each and every corner of your house. Also put up some good aromatic incense stick of your choice toward the entrance and backside and in your pooja room of the house.
(e) Make Rangoli with some colourful powder. Put up diyas also if you want towards the evening. Decorate the entrance with fire (lamp) and colours (rangoli) to highlight the importance of how light and colours play an avid role in our life. you can also put rangoli made of rice flour paste in front of your pooja area.
2. Pooja items – Part 2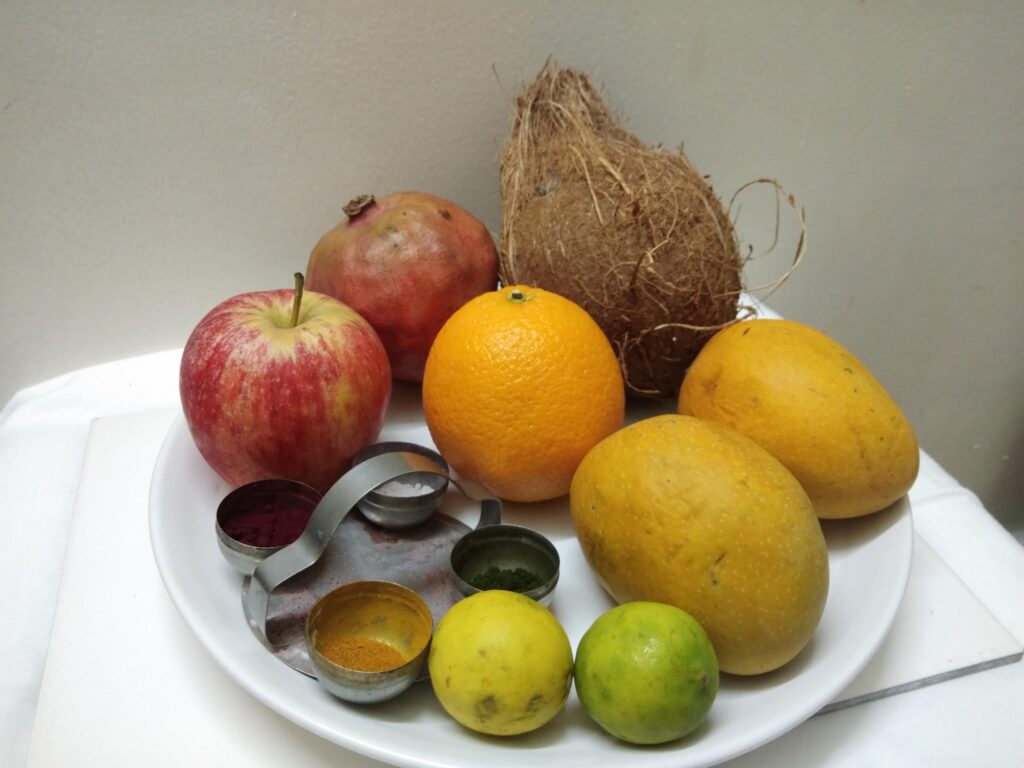 Arrange Fruit plate in a good big plate.  Take raw mango, banana, jackfruit, lemons, coconut and any fruit of your choice. Don't forget to place haldi – kumkum tika (Turmeric and saffron powder) on all four sides of the plates. It marks the sacredness of the pooja offerings that we are giving to god. Place flowers in this plate.
3. Pooja items – Part 3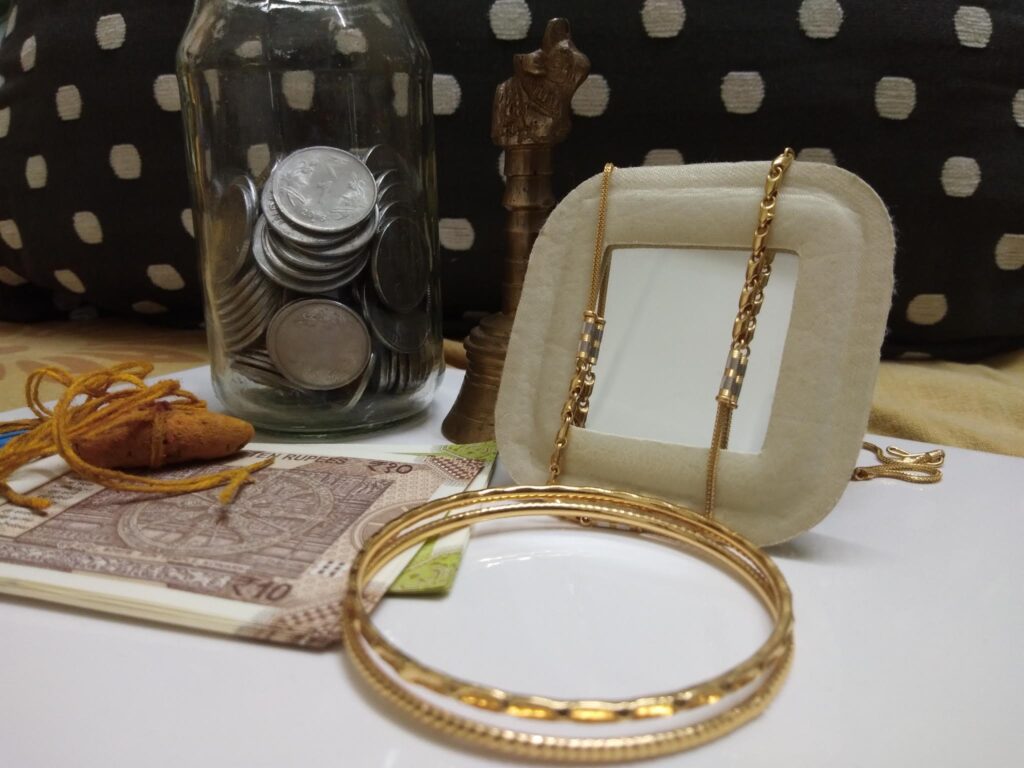 Mirror, Gold and cash are all believed to be a material form of goddess mahalakshmi. So we place a good clean mirror facing towards us. You can keep the Gold jewelry next to the mirror. Few put the gold jewelry around the coconut or around the mirror. But this part of presentation is totally upto you. you can decorate it however you wish to. Place a bowl full o rice in front of the mirror. By doing so we believe that goddess mahalakshmi's blessing will always shower upon us in the form of Gold and cash etc. place flowers around.
4. Pooja items – Part 4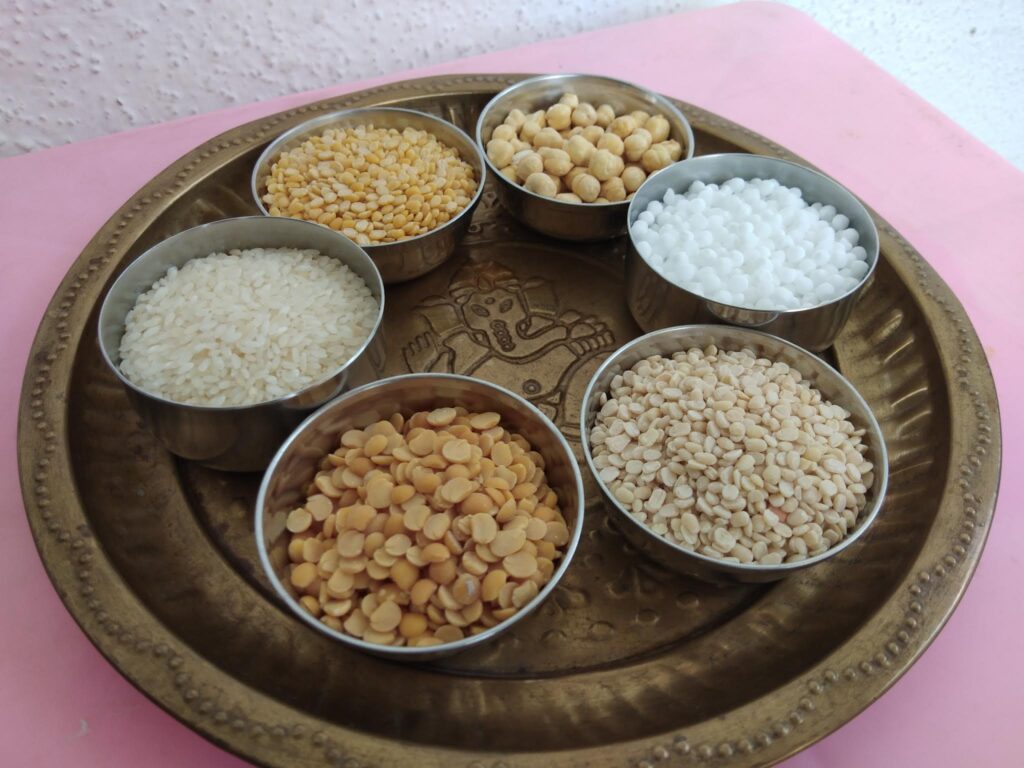 In another big plate we offer raw grains each in different bowls. Namely, Rice, jaggery, Salt, Split gram, Green gram. Make sure to place Turmeric and Kumkum powder in separate bowls alongside these grains. It is believed for ages in Indian culture that turmeric and kumkum powder symbolizes all the auspiciousness representing a married woman and her husband's well being. Place flowers in this plate.
5. Pooja items – Part 5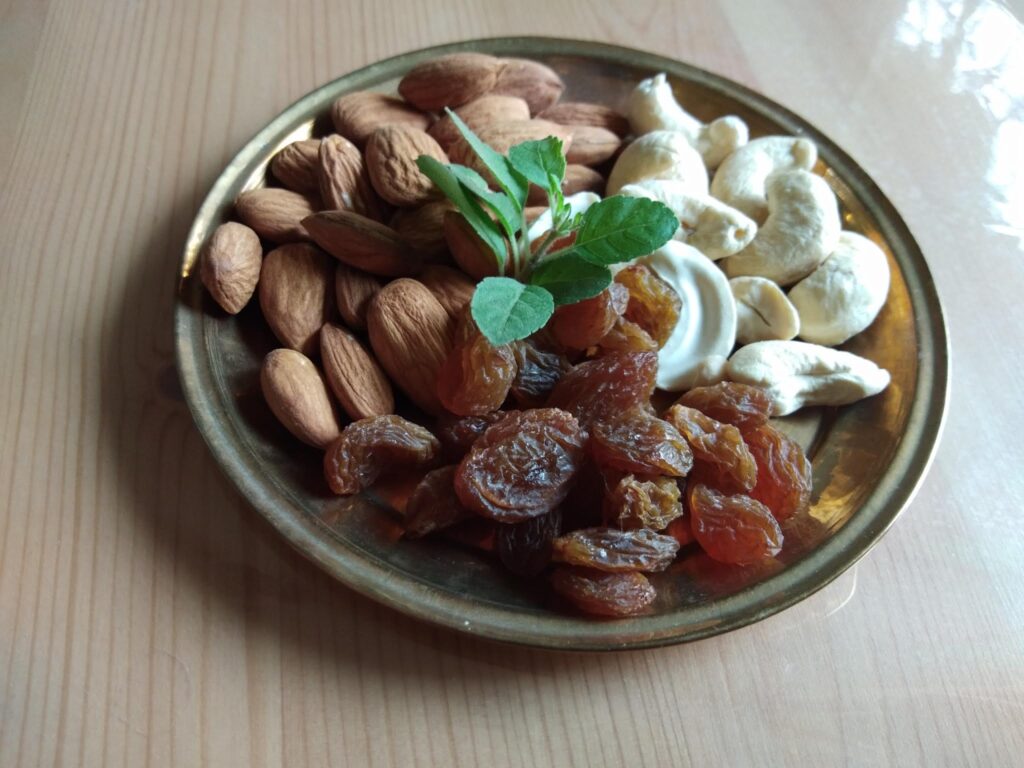 Offer five different types of dry fruits to god in a separate plate. Namely Cashews, Almonds, Pistachios, Raisins and Dates. You can offer 'Panchamirtham' (it means five amruths used in Hindu worship) made up of Milk, Honey, Sugar, Curd and Ghee. Place flowers in this plate.
6. Pooja items – Part 6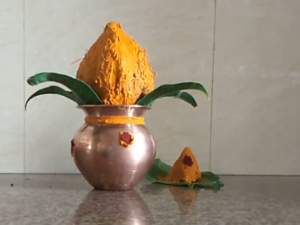 Take a small copper pot and place a whole coconut on top if it. The coconut has to be covered with turmeric paste all over. Place sandal and kumkum dot on the center. Now you may believe this as Goddess laxmi and wear either a small flower garland or a gold chain around the neck of coconut. 'Kuththu vilaku'  is important and don't forget to lit it up while performing pooja. also place flowers over it. You may also play some devotional music on the background to bring the temple kind of ambience at your home.
(3) Performing Aarti and Chanting shlokas
Perform pooja with all your heart and soul. It is not only about the arrangements and offerings that we make on this special day but also about what is the wish that you would place in front of God. Unless you please God , how will they even know what you want?? Chant some simple shlokas that may bring satisfaction to you.
2. Place Lakshmi vilakku and small diya on the either side of where you have placed the coconut over the copper pot.
3. Ask every member in your family to do aarti individually. every time one performs aarti keep throwing flowers at god's feet and on the offerings that you have placed in front of the God.
4. Offer food to God. Offer water also alongside. Once when you have finished the prayers sprinkle drops of water all around the offering you have made to God. This marks the end of pooja. Do not skip this step.
5. You may Share sweets and meet your Family, friends and relatives if you wish. Send warm Tamil new year wishes to everyone and keep up the vibe.
Hope this information has served you in someway. You can also refer to my Upcoming youtube video where i will be sharing how we can celebrate this Tamil New Year and perform the rituals in an easy yet fulfilling way.
Dont forget to like and leave your comments. I ll be glad to hear from you.
Have a healthy Life. Wishing Happy Tamil New Year to the one who is reading this now. May your life be filled with Eternal almighty's Blessings.
Take care.
(Visited 399 times, 1 visits today)