Varalakshmi pooja vidhi – commonly observed in Tamilnadu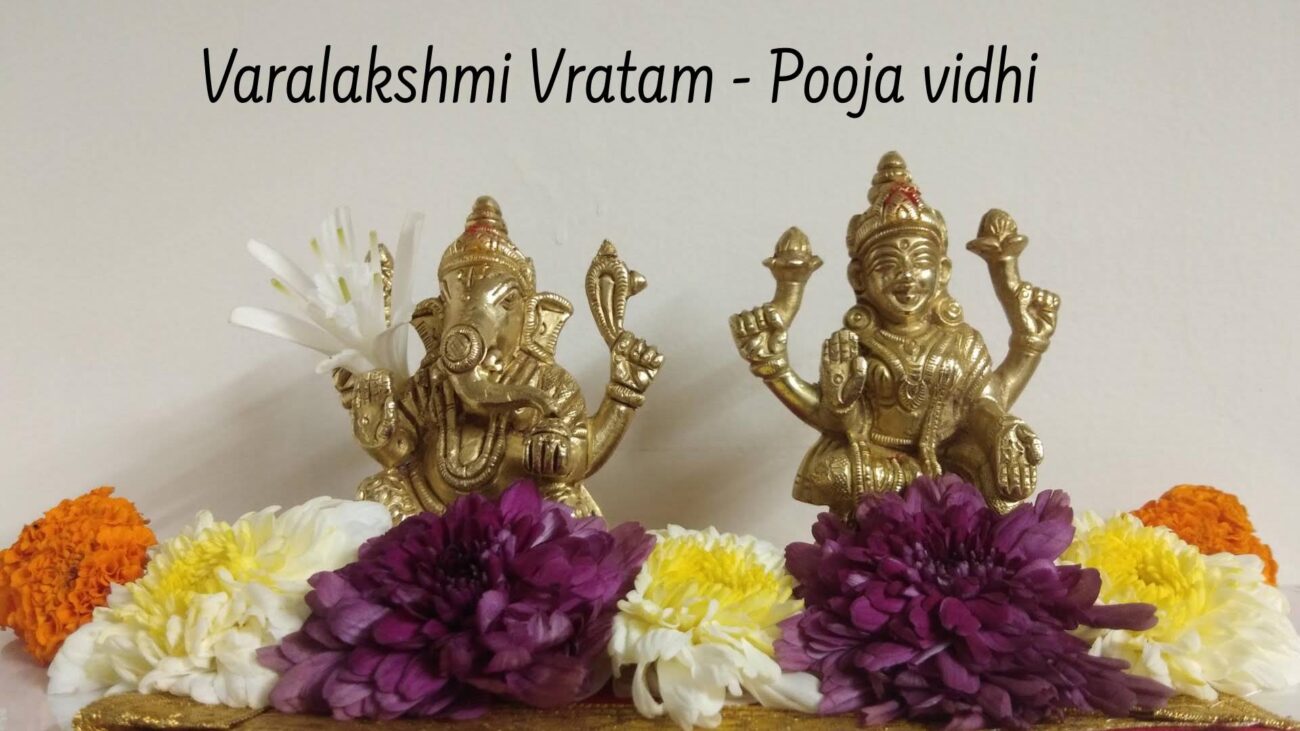 INTRODUCTION
I am very fond of celebrating each and every special occasion of Tamilnadu. The one main thing that i feel proud of being a Tamilian is the culture we cherish. Silk sarees, gold jewelleries, malligai poo (garlands), festivals, kolam (rangoli), south Indian delicacies etc all are something that can take us back to pre-historic era.
"It is found and proved that about 3,200 years ago the origins of Tamilians were found suggesting that the Tamil Nadu civilization existed alongside the Indus Valley Civilization"
I was born and brought up in mumbai with my family. Although we used to celebrate festivals at home but they weren't completely like how we do in our native place, reason being a city half the time few things are not available and rest of the time due to certain restrictions implied by city regulatory body we cannot celebrate the way we want to. Then schools and higher studies kept us too busy and unavailable to be there for any occasion except that it falls on sunday.
After i got married i experienced a totally different level of exposure to our culture and the way they are celebrated in my husband's native. So, this article features how certain festivals/occasions are followed in TIRUNELVELI, TAMILNADU. Because, there may be certain differences in the method they choose in different parts of TAMILNADU.
————-x————x————x————x————x————
Varalakshmi is the goddess, who grants boons meaning 'Varam' in tamil. It is believed that worshipping the Goddess Varalakshmi on this day is equivalent to worshipping 'Ashtalakshmi' –
The eight goddesses of
Wealth, Earth, Wisdom, Love,
Fame, Peace, progeny and Strength.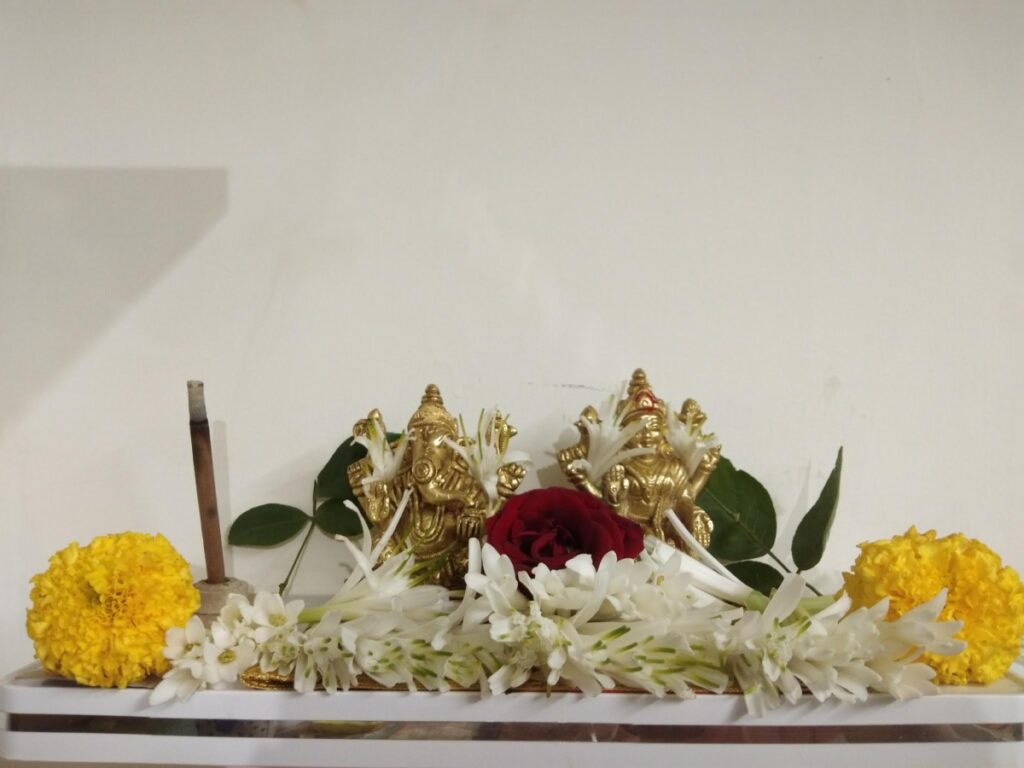 In this article you will see :-
Overview
This is an important Hindu festival most commonly celebrated in the states of Karnataka, Andhra Pradesh, Telangana and mainly in Tamilnadu. On this year of 2021 it is being observed on 20th of august. I stay in apartment and it is not so convenient for me to celebrate the pooja vidhi in a fully 100% traditional manner.
So by asking my elder relatives in my family and reading few articles i arrived at a specific way of celebrating this pooja vidhi.
Also these days the people from young generation don't find enough time to celebrate the rituals in total traditional way due to many reasons. Like either they are living away from In-laws or parents, they might be working women or they could even be abroad where they might find it difficult to collect all the things required for pooja vidhi.
I learnt to celebrate this pooja after my mother-in-law explained it to me. Though i have not seen my mother also celebrating this important ritual of south India in a traditional way, but i managed to pick up later. But she does perform Lakshmi pooja this day in a way she has been performing so far. I have been celebrating this pooja for 5 years by now. so let us see how simple and efficient can we perform this pooja vidhi at home all by ourself.
When and how do i perform the pooja if i am Menstruating on this day?
Women those who are menstruating on the day of varalakshmi pooja can have a head bath on 7th day post their menstruation days and perform the rituals completely. You can also observe the fasting on this day if you wish to.
Why is varalakshmi vratam pooja so special?
According to Hindu mythology, it is said that the Goddess Parvati wanted to know about a Vrata that is highly beneficial for a woman and should help Her lead a happy and prosperous life. It is only during this time that Lord Shiva mentioned to Her about the Varamahalakshmi Vratam, which today is observed by thousands of women in southern states of this country.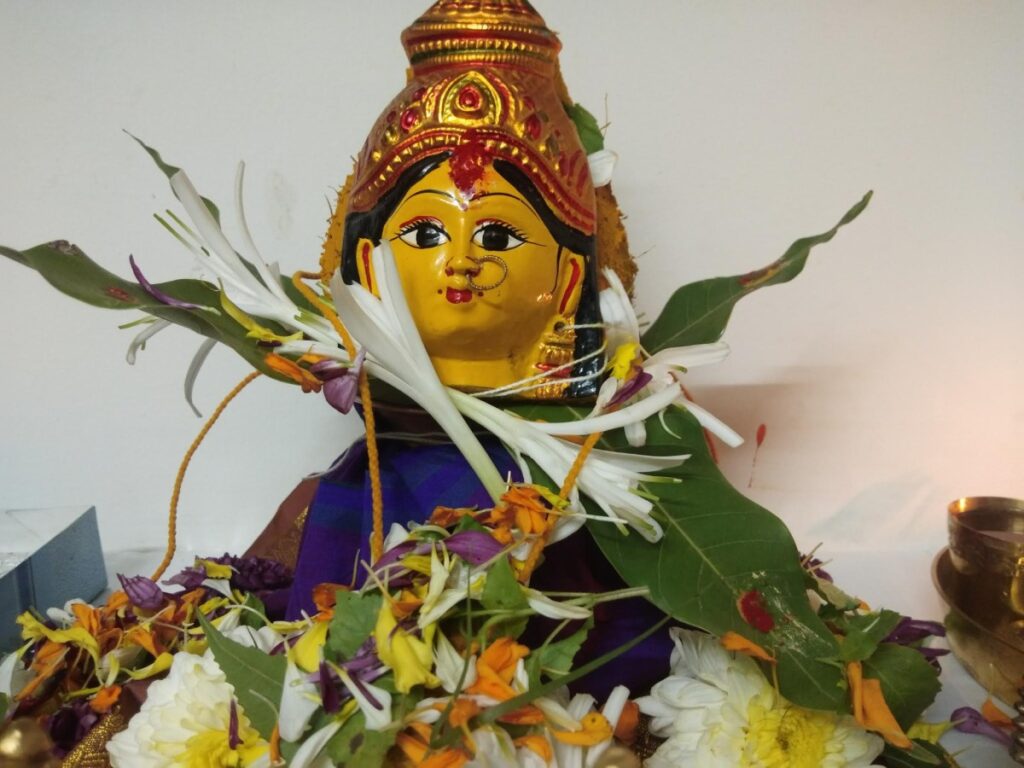 Who all can perform this pooja vidhi?
1. Unmarried girls can also be a part of this pooja. Yes, they can wish to goddess for a good husband and long life for their future husband. They can accompany their mother or any elder women in their family and continue to be a part of the pooja vidhi.
2. Pregnant women can refrain from fasting. Even if you are under any medical treatment you can refrain from fasting.
It is a good practice to follow if your daughter comes and sits with you while chanting the mantras. My daughter is 3 year old, although she does'nt sit for more than a minute but that one minute prayers with her makes me feel very happy. she recites the mantra as i ask her to. I believe goddess lakshmi would also be happy with her presence.
Image courtesy :
Instagram : @gayuillustrator

B.Sc (costume design and fashion)
Who are the Ashtalakshmi ?
Aadi Lakshmi (the Protector)
Dhana Lakshmi (Goddess of Wealth)
Dhairya Lakshmi (Goddess of Courage
Sowbhagya Lakshmi (Goddess of Prosperity)
Vijaya Lakshmi (Goddess of Victory)
Dhanya Lakshmi (Goddess of Nourishment)
Santaana Lakshmi (Goddess of descendant)
Gnana lakshmi (Goddess of Knowledge)
How to perform this pooja at home ?
On this day, wake up early morning, clean the entire house including your aangan (Entrance). You can also get it done a night before in order to save time and energy for the pooja day.  Have a nice ubtan bath if you can, because goddess loves the good fragnance around her. Clean the pooja room on the same day. keep the Kutthu vilakku washed and ready and all other diyas that you are going to lit up.
Tie garland at the entrance of door. draw some simple rangoli or grand colourful depending on your convenience. place flowers on either side of the entrance floor and diya if you wish to.
How to prepare lakshmi kalash ?
For a detailed visual please click the link below as it will redirect you to my youtube channel where you can see how i performed this varalakshmi pooja.
Step 1 :
After this, firstly make a ganesh idol made of turmeric paste. We call it 'manjal pillayar'  which is must before starting the pooja. place a small brass plate and put a small piece of betel leaf over it. Draw swastika on it. Place the turmeric paste ganesha over it. Place haldi and kum kum over it. set it aside.
Step 2:
Take a copper kalash. place haldi kumkum on kalash. Grab a long piece of white thread, apply some turmeric paste on it or you can directly buy yellow thread from shop and tie around kalash's neck. Place the kalash full of rice, coins and flower inside or you can simply pour water. Place the mango leaf in five direction on the mouth of kalash and place a coconut on top of it. apply turmeric paste all over the coconut. You can also place a lakshmi face on the coconut that we get from shops. Decorate Goddess Lakshmi – the kalash we now believe – with new clothes, jewellery, kumkum, and flowers.
Step 3:
Take a whole turmeric and tie a yellow thread to it by keeping the turmeric in center. The thread needs to be longer from both the sides equally. This is called as taali that the women performing the pooja will tie around the neck of lakshmi kalash with three knots in it. cover the turmeric by wrapping a small piece of flower around it once you have tied around lakshmi kalash. This method is called as tying maangalyam to goddess lakshmi so that she will protect the performer's maangalyam by blessing her husband's health and giving him a long life.
Step 4:
Place the Varalakshmi photo or idol on the puja platform if you have.  Offer akshat, chandan, kumkun, sindur, to the goddess. Offer fresh fruits, sweets, panchamrit and water to the goddess. Perform Goddess Lakshmi Aarti with dhoop and camphor. remove the evil eyes by taking a handful of rock salt in your palm. close your palm and rotate around the goddess three times and throw it far away outside. You can observe the fast as long as you can. Remember that goddess accepts the prayer performed with whole heart.
Varalakshmi pooja mantra to be recited :
Every time you recite one line, take a flower in your hand, recite the line and keep leaving them near the right side of Goddess lakshmi. (Either varalakshmi kalash or Lakshmi idol)
Om Varalakshmiyai Namah Padau Pujayami
Om Kamalavasinyai Namah Gulphau Pujayami
Om Padmalayayai Namah Janghe Pujayami
Om Shriyai Namah Januni Pujayami
Om Indirayai Namah Uru Pujayami
Om Haripriyai Namah Nabhim Pujayami
Om Lokadhatryai Namah Stanau Pujayami
Om Vidhatryai Namah Kantham Pujayami
Om Dhatryai Namah Nasam Pujayami
Om Saraswatyai Namah Mukham Pujayami
Om Padmanidhaye Namah Netre Pujayami
Om Mangalyayai Namah Karnau Pujayami
Om Kshirasagarajayai Namah Lalatam Pujayami
Om Shrimahalakshmyai Namah Shirah Pujayami
Om Shrimahakalyai Namah Sarvangam Pujayami
Varalakshmi Vratam Fasting Rules?
Although this varalakshmi pooja is offered with a minimum of 12 hours fasting it is still okay if you wish to perform this pooja without fasting. Goddess will accept your prayers and still bless you when you do it with whole heart. make sure that you wish for your husband's long life and your children's healthy and long life including yourself. make sure you pray to goddess lakshmi to grant the ashta (eight) boons for yourself and your family.
Offer a thaali full of home cooked vegeterian platter to goddess lakshmi and after doing the neivedhyam you can consume the same food and end your fasting successfully. In case if you can start the fasting before sunrise and end post sunset it would be good timing and energy for you.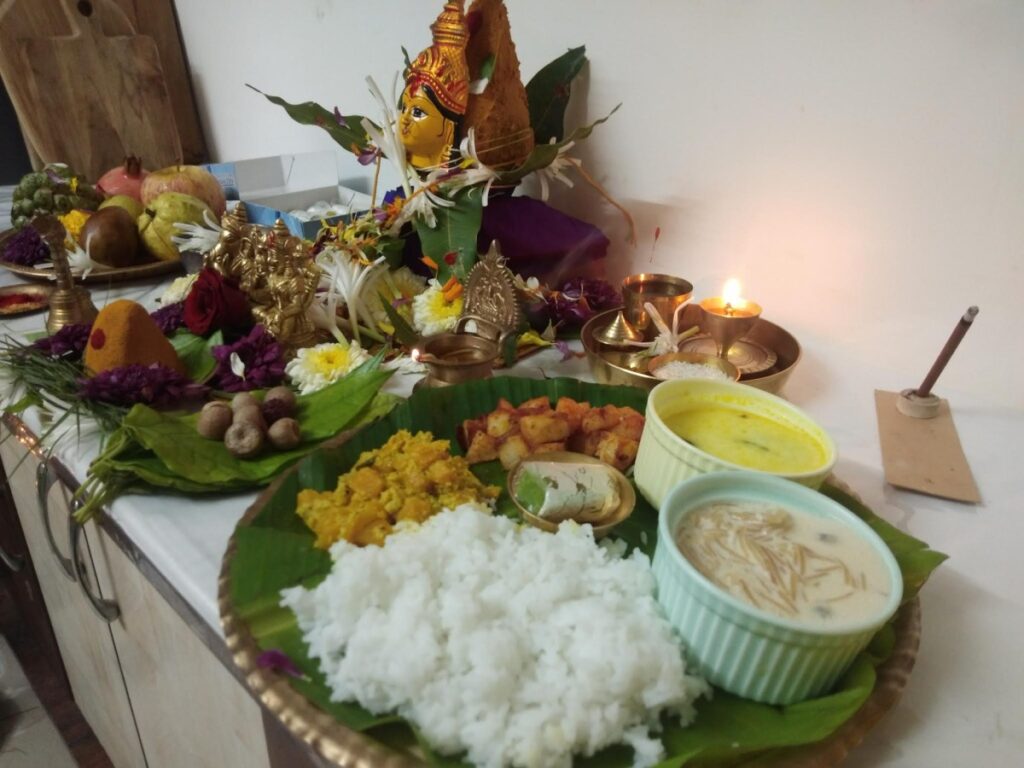 Attire on this day :
You can groom up yourself with the 16 shringars or less or whichever you find ease with your convenience. But make sure you dress up very nicely for performing aarti for the varalakshmi pooja. wear a nice saree, make mehndi in your hands, wear nice jewellery, have a garland in your hair, wear sindoor and bindi, wear handful of bangles and etc.
It is in a way to grab goddess lakshmi's attention towards you we believe to groom up beautifully. Also it is believed that goddess loves to see us in such Mangalagraha attire that she grants you the boon instantly.
Happy varalakshmi pooja to all the beautiful women who have gone through this article and i wish for you and your family's long and healthy life.
Also read my other stories:
(Visited 1,772 times, 1 visits today)