A basic Skin care routine – 'Good Vibes' Product Review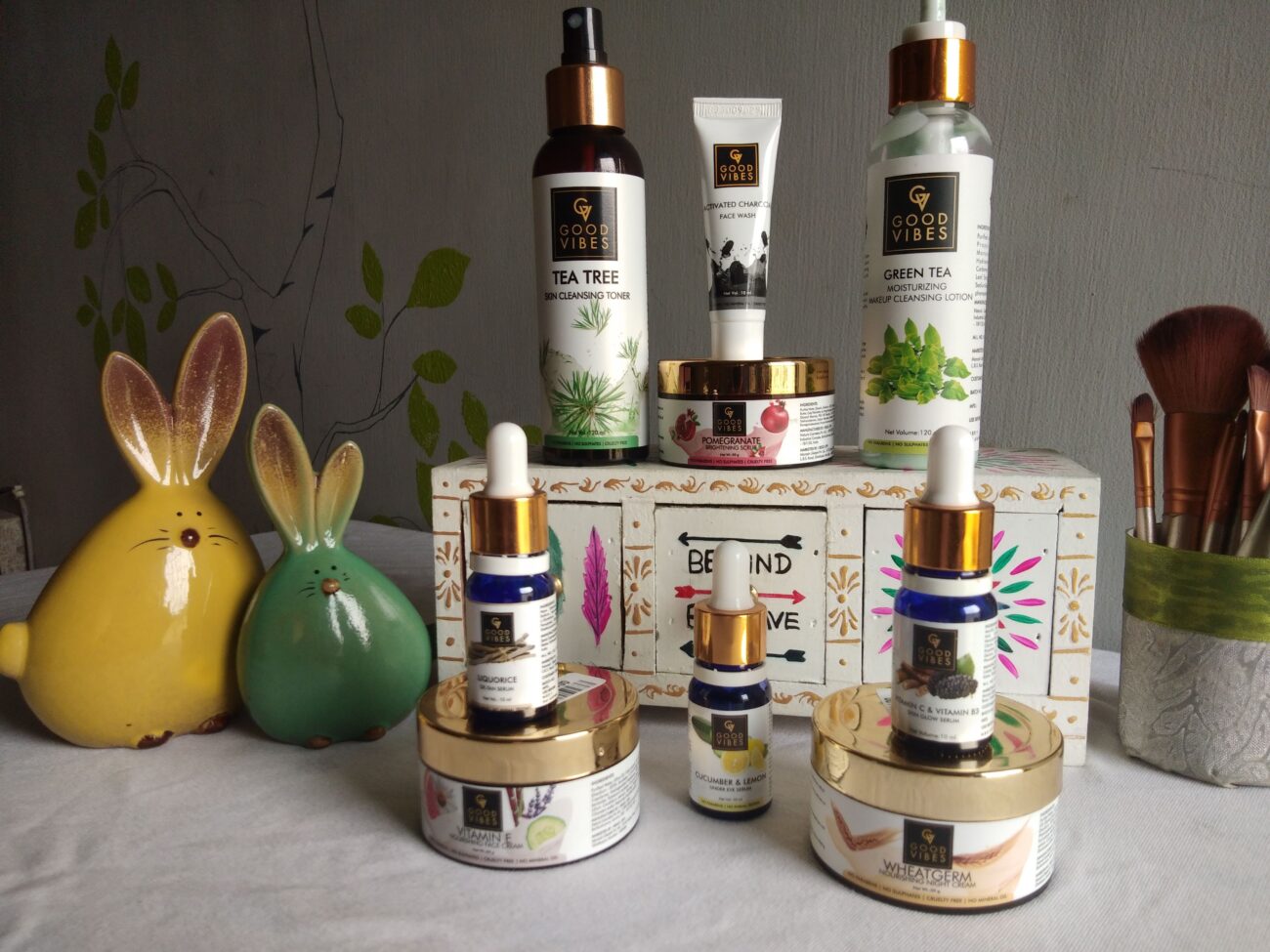 NOTE: This product / Post is not sponsored.
Hence whatever i explain is totally through my own experience. I am also writing this review after 3 months of usage so that my opinion sounds justifying.
Good Vibes definitely gives you Good Life –
mentally as well as physically.
Few words on my skin's situation…
It had been two and half years until i started using these products, where i had completely given up on my skin care regimen. i started working on my skin since my college days. my stream of education was also such that i would have to sty awake an entire night at times. lot of travel and considerably hectic stressful schedules always gave my some or the other issues to my skin. so i would eventually end up having break outs or dullness, dryness, Sun tan, Sun burns at times, Dark circles and puffy eyes. Yea Yeah.. i know, I got how you have imagined my face by now. But despite having all these issues my skin never looked that bad as comparatively it is to this date. That was the time where i had tried very few products and lot of natural method for taking care of my skin – With regular facial clean-up routine.
Now, I have gone through pregnancy and postpartum stress in this two and half years and it has seriously made me cry looking at my skin. They say "When you are carrying a Girl, they steal all your beauty"
Absolutely true, My little girl stole it all. May be or may not be! I have a good food habit but my self care routine was totally zero by now. And what about sleep? totally disaster i would say!… staying awake during college days were also not this stressful than it is now while taking care of a baby. Well, this is a short brief for you to understand my skin's condition in past and present. so you can relate how the product has shown effects on my skin.
Though the cosmetics are easy to use and may show some side effects to different skin types it is always a good option to use herbal products to hair and skin. the effects may be slow and may take longer than usual. but it is once and for lifetime with no side effects.
About Good vibes product :
The products are Parabens free : That means Parabens can act like the hormone estrogen in the body and disrupt the normal function of hormone systems affecting male and female reproductive system functioning, reproductive development, fertility and birth outcomes. Parabens can also interfere with the production of hormones.
The products are cruelty free : That means Cruelty-free makeup brands care about the health of all living things, and including us. So with full confidence it can assure you of its quality and that your skin is left harmless.
The products are sulfate free : That means sulfates are most commonly used in detergents, surfactants or any cleansers. This ingredient can eventually develop clogged pores and prolonged acne over a course of time. which later leaves deep old acne and pigmentation mark.
The products are free of mineral oil : The mineral oil used in cosmetics are highly purified form of petroleum. this is something that is not suitable for any skin type. Our skin must be able to breathe despite applying how many ever layers of beauty products. Too much of mineral oil will create clogged pores.
So, Now i am going to break down in simple steps like how have i chosen products from good vibes for my type of skin and how has it been effective in treating my problems. If any of you are going through same problem as mine then you can too give a try on this treatment i followed.
Good vibes – Green Tea deep cleansing lotion followed by a Good vibes – Tea tree skin cleansing toner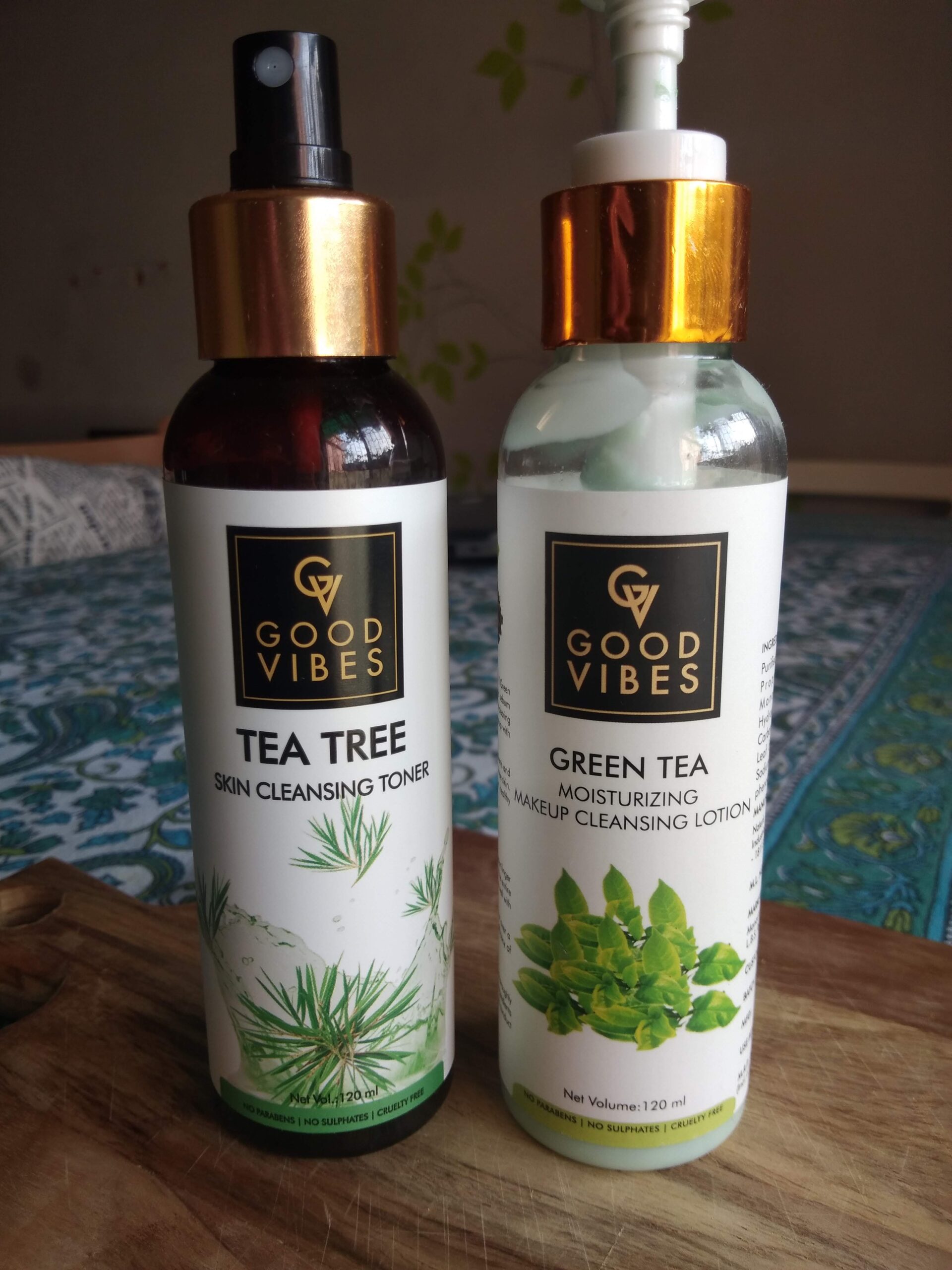 My day starts and ends with cleansing and toning routine. There are a wide range of products available in there site. You can check out here. I follow this routine immediately after i have brushed my teeth, let it stay on my skin until i have my bath. I use Good vibes – Green Tea deep cleansing lotion followed by a Good vibes – Tea tree skin cleansing toner. this combination has cleaned out my clogged pores and also helped in tightening the bigger pores. my years old blackhead and deeply clogged pores just came out easily without any deep impact on my skin. Even the facials never worked in removing those deeply clogged pores, i swear! They gently cleanse your entire sweat and dead cells also your make-up in no time without any pain. you can literally see the colour of the cleansing lotion changing while you are scrubbing your face.
I choose this combination because post pregnancy and delivery my skin had developed lot of hormonal acne. that just broke my confidence from within. there are pigmentation marks now. my skin would not look fresh at all. it felt like there's been lot of clogged pored from inside. My skin really felt suffocated all times. especially in my temple and cheek areas. so i knew one thing – i needed a deep cleansing routine firstly. As everyone knows that Tea tree does it's job what it claims. Using it in the right proportion and preparing this in a well balanced way is where every brand differ.
How to use this combination product:
Step 1 : Take a little amount of cleansing lotion on your fingers. gently massage your face with your fingers thoroughly in an outward direction. wash your face and pat dry. or you can also wipe it of with wet wipes. but it is always better to get it washed out so the toner can penetrate deeper into skin.
Step 2 : In a cotton pad spray 5-6 pump of toner and gently dab it around your face and neck. this helps in tightening your pores. even when you have taken facial steam you can still apply this toner. You can also use toner after you have used any face scrub.
NOTE: But never ever leave your face without an application of toner once you have steamed, scrubbed or or used a cleansing lotion on your face. otherwise the pores will remain open for a longer time allowing all the germs to enter inside.
How does this product work:
Good vibes – Green Tea deep cleansing lotion :
A cleanser is something that removes dirt without drying your skin and that too with no water required at all. A face wash is something that deep cleanses your skin and you cannot leave it unwashed. cleanser can be used as a massaging medium also for your skin. and massaging your face helps in draining the facial lymphatic nodes. this cleanser keeps my skin well moisturized, so after applying toner my skin doesn't feel dry for hours. this is also very excellent to remove all of my make-ups. just take a drop in cotton pad and just wipe it over your eyeliner or eye shadows or any of your make-up on face. great to go!
Good vibes – Tea tree skin cleansing Toner :
This product is very gentle on skin and does not give you any sort of stingy sensation. it effectively balances your skin's pH level. Yes, it truly minimizes the appearance of pores over a regular usage of period. The tea tree contains anti bacterial property that prevents your skin from getting acne subject to your exposure. My cheeks are almost 50 % free from old deep clogged pores. And this balance of the toner is what i liked very much. because when the balance of the product is prepared well it does wonders to your skin. Just like how a balanced flavor of food satisfies your soul.
2.     Good vibes – Liquorice De- Tan serum followed with
Good vibes – Vitamin E nourishing face cream.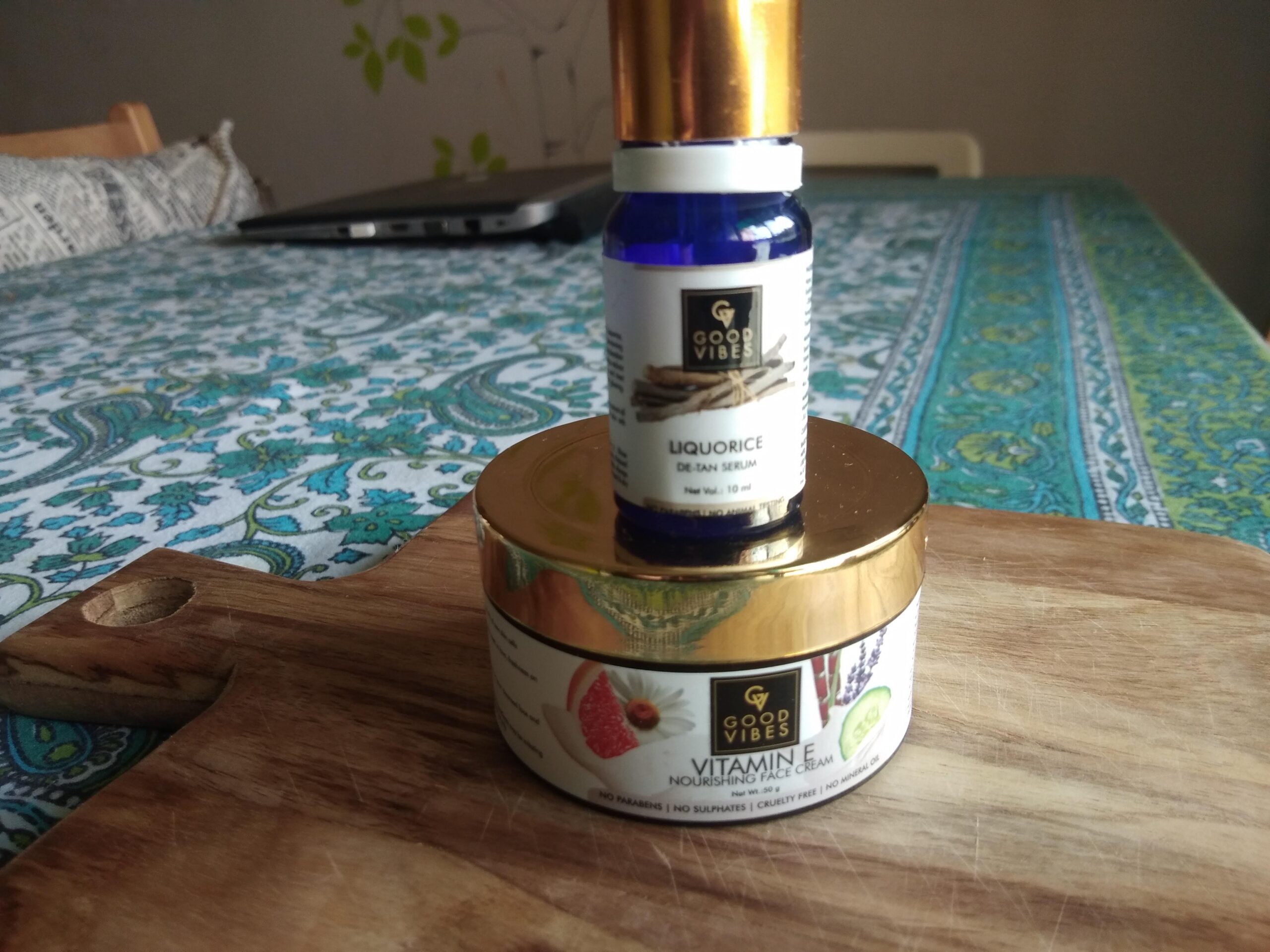 My skin had totally become dry which resulted into dehydrated skin. dryness and dehydrated skin always look kind of tanned and discoloured throughout.  i dont have this habit of remembering to apply sunscreen while i am about to get exposed to sun. Yeah… sounds crazy , but with a baby in my hand i just never found time to do it. so this de-tan serum worked very well on my skin. i use it before putting on my makeup and i also use it once i have finished having my bath. it gives so much of hydration for upto straight 12 hourse which is much more than enough for me. and i can feel my skin breathing through it. otherwise even with a johnson baby lotion on my face i feel that it is so much more heavy on my facial skin. this cream felt more like a water based cream.
My skin is a combination of oily to dry skin. oily skin on the T- Zone and dry skin around this T- Zone. so it rather worked much well for me.
How to use this combination product:
Step 1 : Take not more than 4-5 drops of Good vibes – De tan serum on your face and neck and massage gently. leave it for about a minimum of 1 minute until your skin has fully absorbed it.
Step 2 : Take very tiny dots of Good vibes – Vitamin E nourishing face cream all over your face and neck. massage gently in an outward directions. If you notice that your skin has well absorbed it in no time that means your face has been dehydrated for a long time.
How does this product work:
Good vibes – Liquorice De Tan serum :
This serum claims what it says. this is a very special serum that makes you feel light and moist unlike any other chemically processed serum that i have seen so far. the serum feels slightly cool after application. it is just like a water and not like a thick concentrate. spread evenly and absorbs quickly without any great effort. you can also use this before applying your make-up. during day time while you are at home you can still keep it applied all over your face and neck. i usually apply this serum and vitamin e cream for my day care routine. it has effectively treated all my skin discolouration. i no longer  use a de tan face pack for my face. rather switched to use of this serum on a daily basis.
Good vibes – Vitamin E Nourishing face cream :
Vitamin E is very good for our skin in many ways. take it internally or externally it helps treat young skin and age old skin in its own respective ways. vitamin E when applied externally treats skin's rejuvenation over a period of time. all you need is patience and regular application of products on your skin. for some it may work in weeks while others may be still progressing. vitamin E cream is basically light moisturizer.
3.     Good vibes – Vitamin C and Vitamin B3 skin glow serum followed with
Good vibes – Wheatgerm nourishing night cream.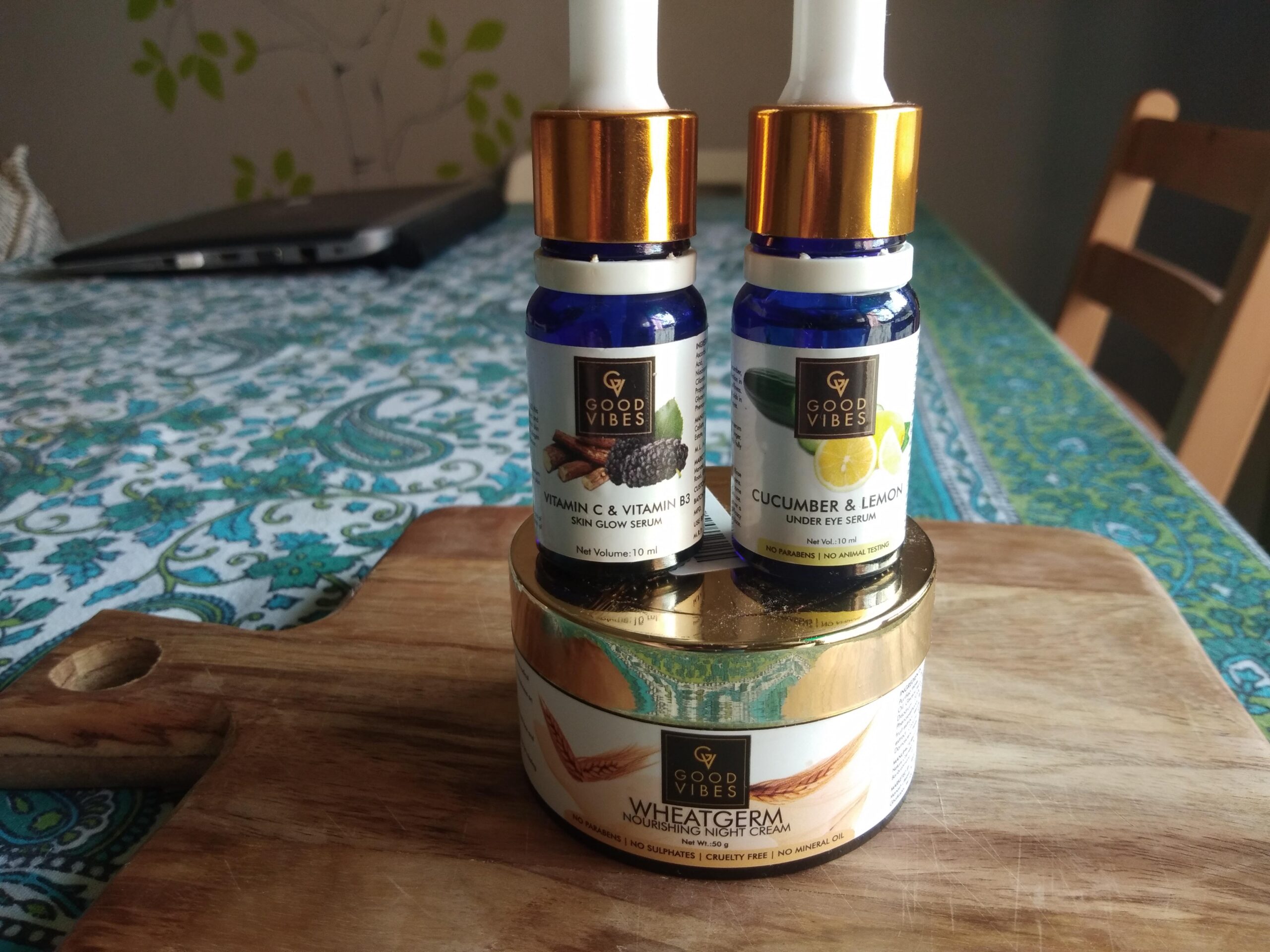 Now, when you take so much effort of cleansing – toning and doing a day time routine it also becomes very essential that you do a night care regimen as well. Because both day and night care treatment differ in their own aspects. both play a crucial role on your skin. while day care regimen protects your skin from harmful UV rays and climatic conditions of the day, night care regimen treats your skin from dehydration and the stress your facial skin has gone through in a day. Vitamin C serum has really improved my skin tone and it has also helped in lightening the acne scars at some places. Vitamin C serum are little more concentrated as such it is better to use at night than in a day.
every serum has to be protected with a moisturizer. it is very important. so that the serum penetrated deep inside your skin and the moisturizer acts as barrier on your skin.
How to use this combination product:
Step 1 : Since the vitamin C serum is concentrated i prefer it using in this way – Covering 3 drops of serum on my forehead and both cheeks, i wet my two fingers with water and start rubbing the serum in an outward manner. this helps to spread the serum evenly on my skin rather than sticking to one part of my face. I also apply one drop to my neck too. leave it for about a minute.
Step 2: The wheatgerm night cream is slightly thicker compared to day cream but not as thick as any other night cream i have used so far. so just taking tiny dots of cream over your face here and there, will go long way. don't apply it to be too thick. just gently massage and use as minimum as possible. the reason why i believe it is thick is that it keeps my skin moist and hydrated till morning despite my air – conditioned room or dry weather days.
How does this product work :
This product removes the tan like skin appearance. it evens out any white patches on your skin as your skin directly gets B3 and C vitamins. If there are any skin discoloration below your eyes and in your T junction, its all going to be clear. your cheek bone starts to glow in 1 month of regular usage with proper procedure. However, if your skin has a lot of acne and if the scars are too deep then the acne has to be treated first.
4.     Good vibes – Activated charcoal Face wash
&
Good vibes – Pomegranate brightening scrub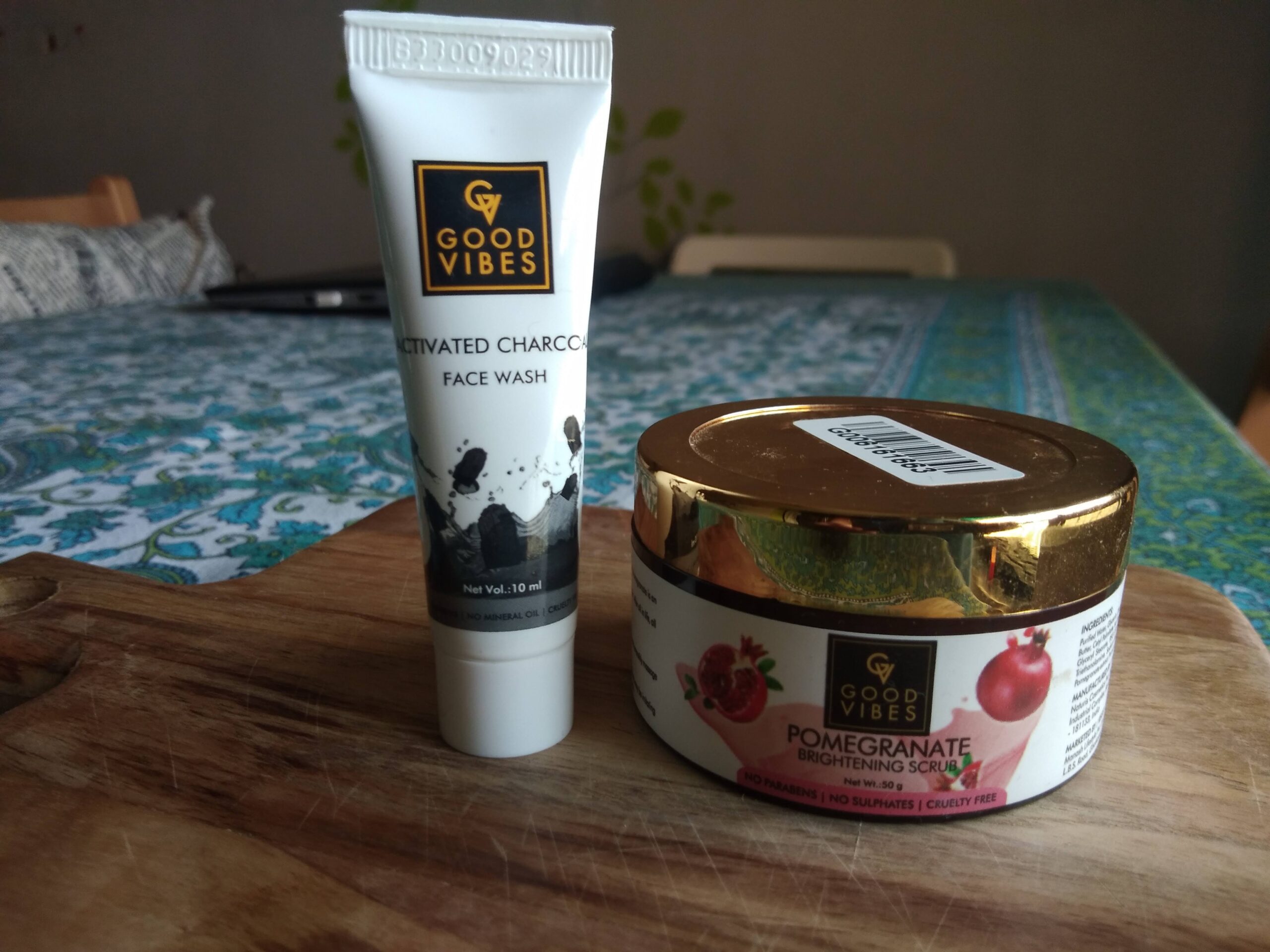 Charcoal is a product that has been used since ages for different skin conditions. it was and still used for dental solutions. charcoal when purified and conditioned properly serves as a best deep cleanser for your skin. it also brightens the skin as it has the ability to absorb all the toxins, dirt, oil and impurities from your skin. it is best to remove the dead skin cell without damaging your face. one can use this face wash every morning once or every evening once depending on your convenience.
There are a lot of options available from good vibes face wash range but i personally felt that this charcoal face wash works better. sometimes when i have to remove my make up or while i have been spending my whole day hanging out i felt that my skin gets cleaned all at once. my skin also feels fresh and breathable. it is very crucial that your pores get cleaned every day before you go to bed otherwise our skin will be prone to more breakouts.
Two main reasons why you can prefer charcoal based product against any other is that they develop good collagen build up and they have the best anti aging formula. There are a wide range of brand that provide charcoal based product if not 'Good vibes' you can choose any. all work the same only difference being depending on one's skin conditions. Now good vibes products being free of sulphates and parabens and mineral oil assures your skin's safety and longevity without a doubt.
Coming to scrub…
Again Good Vibes range has a lot of scrubbing options. you can choose scrub depending on your skin condition. i have used papaya, charcoal and pomegranate so far. since we it is better not scrub your face more than twice at max this quantity that they offer you lasts more than a month.
For those who are undergoing acne breakouts can make use of pomegranate in many ways possible. through a glass of juice, or applying the juice on your face or scrubbing and cleansing with pomegranate based products. applying mask made out of this fruit etc. i choose to use this scrub because i had enough of hormonal acne which would pop out every time when one is subsiding. i also use a pomegranate sheet mask for my face. it has helped my face reduce the appearance of acne over a course of time and removes all of the white heads in one go. This scrub feels light and has very minute granules that wont develop any rash on your skin.
Always remember that scrubbing has to be mild and not used more than twice a week. because if you scrub hard on your skin the tiny particles will leave rashes which may later develop a Tan like look on your face. do not scrub for more than 2 – 3 minutes.
I continue to use Good Vibes skin care range and i believe few months down the line i am definitely going to see more difference on my skin. This article is not sponsored. I came up with this write up after a long request from few of my friends and relatives. Here is a complete routine of the combination kit that i use.
Although The method remains same – You can choose the brand that suits you well.
It is basically :-
A cleanser and toner routine once you wake up.
Then post your bathe you can apply a day time serum and moisturizer.
you can remove the day wear with a mild face wash and apply your night time serum and moisturizer.
use scrub weekly twice and apply readymade face masks or home made depending on your convenience and availability of time.
(Visited 2,287 times, 3 visits today)