Orange peel powder – Herbal home remedy | Hennahub product review.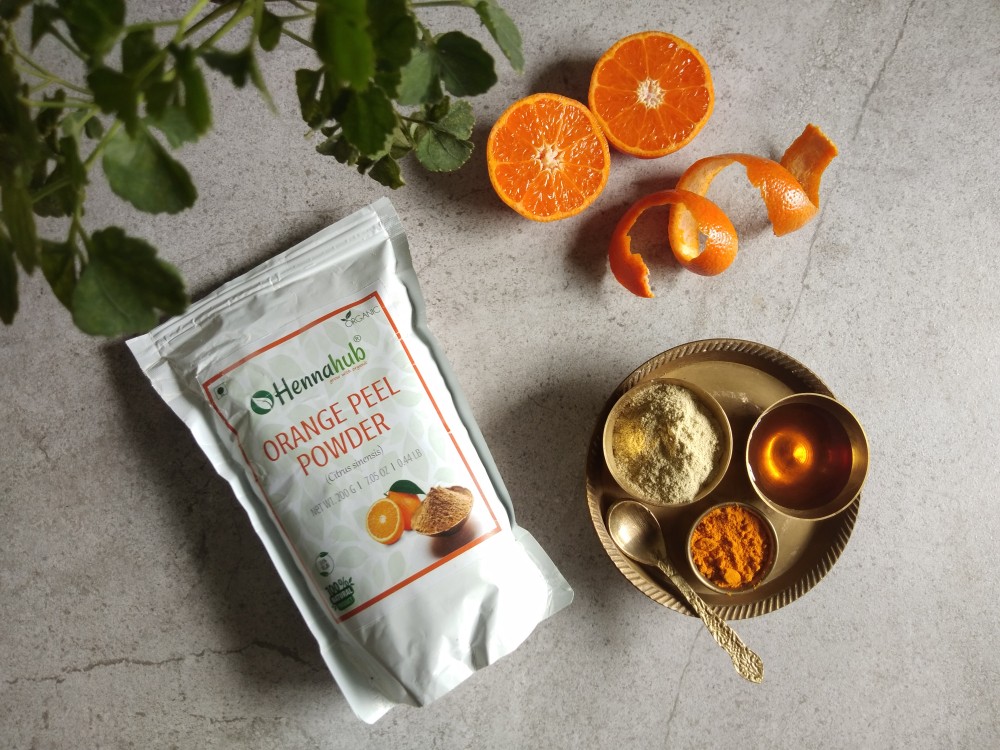 How does citrus fruits benefit our skin ?
Citrus is one such fruit that has amazing antioxidant benefits. Antioxidants remove free radicals from the body cells and prevent or reduce the damage caused by oxidation. while it also helps in providing glowing skin to our entire body. Glowing refers to  healthy clear skin irrespective to the tone or shade of skin type.
Three important factors required for a healthy glowing skin is that it should fight free radicals, repair our skin regularly and rejuvenate it. So it is always necessary to choose the ingredients wisely. It could be a herbal remedy, chemical remedy or medical remedy. Out of all the best by far is herbal remedy.
There is nothing better than a herbal or ayurvedic remedy for skin. Though the cosmetic chemicals and medicated products give instant and much brighter effect but they might not only give some side effect on a long run but also burn hole in our pockets.
Significance of orange peel powder for skin on a regular basis
Orange peel powder mixed with honey and left for 20 mins can detan your skin. Doing it on a regular basis will also improve skin tone.
Aloe vera gel and orange peel powder restore the moisture lost in skin and helps in renewing worn out cells.
The fragrance of a pure orange peel powder would be a bit pungent and bring slight tinging sensation to the face in some case. It means it is a pure blend free of any mixing.
Not only peel powders are good for skin but also the juice when applied directly onto the skin. A dollop of honey can aid in soothing while the citrus juice produces tingling sensation.
Mix equal parts of Fuller's earth powder, orange peel powder, rose petal powder, hibiscus flower powder and orange peel powder along with rose water. Make a thick paste, apply all over your face except eyes. keep cotton wiping pad sprayed with rose water on your eyes and leave for 20 mins. doing so weekly twice will drastically improve your skin tone.
Why to choose HENNAHUB product ?
Hennahub is a Indian based company established in the year 2017. who are one of the lead manufacturers in producing herbal skin and hair care products today. Hennahub products are certified with ISO 9001:2015, ISO 22716:2007, cGMP, GMP, HACCP, MSME, FSSAI which qualifies them for a trustworthy quality products.
The company also offers private labelling and third party manufacturing and distributionship.
The brand Hennahub is associated with thousands of clients for whom they are an enterprise.
All of the products produced and manufactured by Hennahub Industries are 100 % herbal and organic used without any preservative with a shelf life of 2 years from the date of manufacture. However it is always advisable to consult a proper guidance from a qualified professional before using any herbal or ayurvedic products on children below 5 years of age.
To read our article about

(Please click on it )
You may also find Interesting to read our article about

(Please click on the link )
To buy this product link click on the image :
Hope you found the article beneficial in someway. Do extend your encouragement by rating this blog and leaving your most valued comment.
Have a healthy well being.
(Visited 337 times, 1 visits today)