Rose petal powder benefits for skin | Hennahub product 100% pure and organic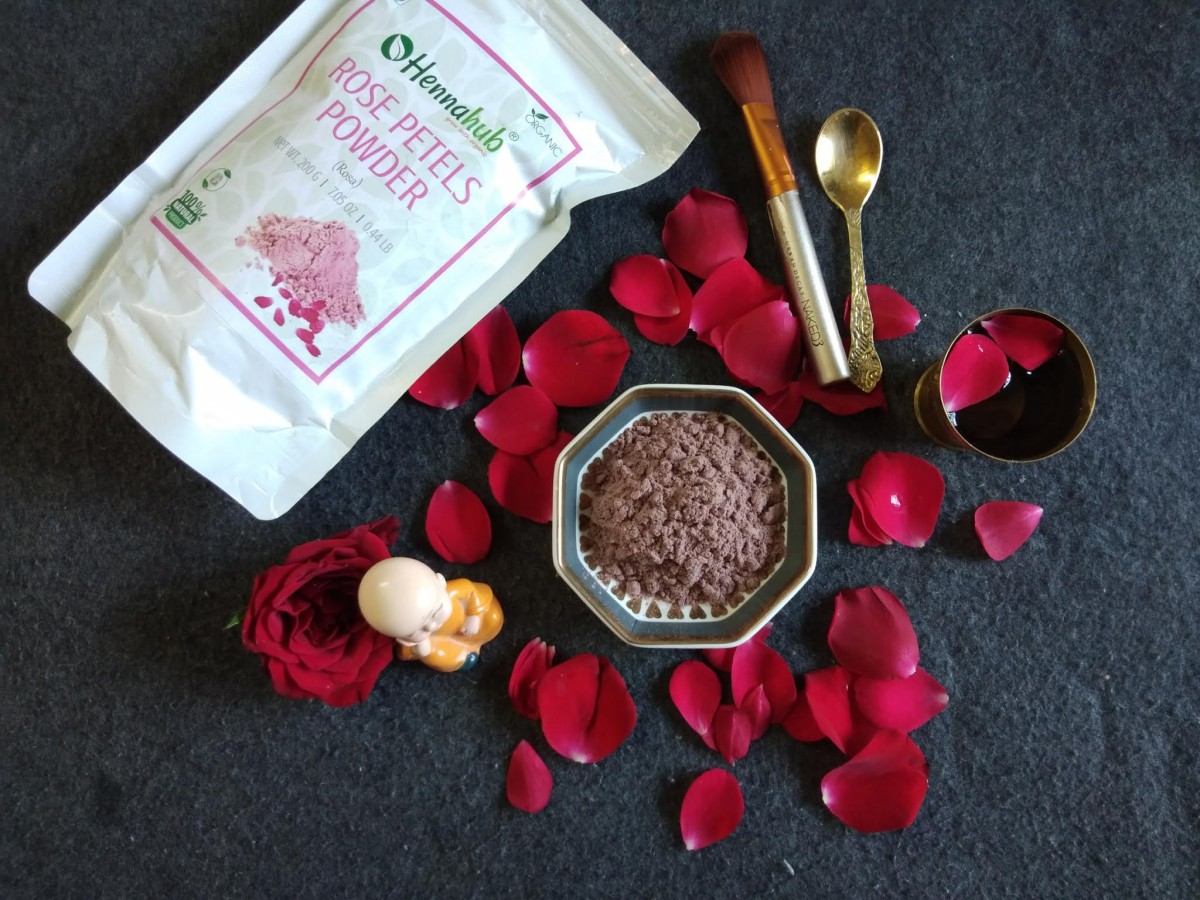 Rose petal in the form of water, oil or powder are not only beneficial for Skin but your Hair as well.
In India there is also a sweet dish called as 'Gulkhand' which on consumed orally pacifies your body excellently by balancing 'vata pita dosha'
Rose petals aids our skin and hair and our well being in multiple ways. No doubt why Rose is called the King of all flowers. Because of its royal velvety texture and the luxury benefits that they offer. Call it a rose petal spa, rose water mist, rose flavoured milk, rose petal powder face mask or rose petal paste for body scrub. It is a never ending cycle and you using rose petals on a daily basis can keep you away from salons and dermatologists for sure.
Use it for hair, skin and if not anything then simply as a rose potpourri to elevate the aesthetic of your home.
As such it is very important to choose the right rose petal powder from a trusted resources. If the plant has been treated with prolonged use of pesticide then it may cause potent harm to your skin like sensitivity, itching and rashes.
How is Rose petal powder extracted ?
Firstly the rose is cultivated through organic method of harvesting. All the plants and flowers are free from any use of pesticide. They are 100% pure and organic. They do not use any kind of preservative to increase the shelf life of their products. Hennahub is a trusted source to buy rose petal powder due to qualifying the above mentioned points.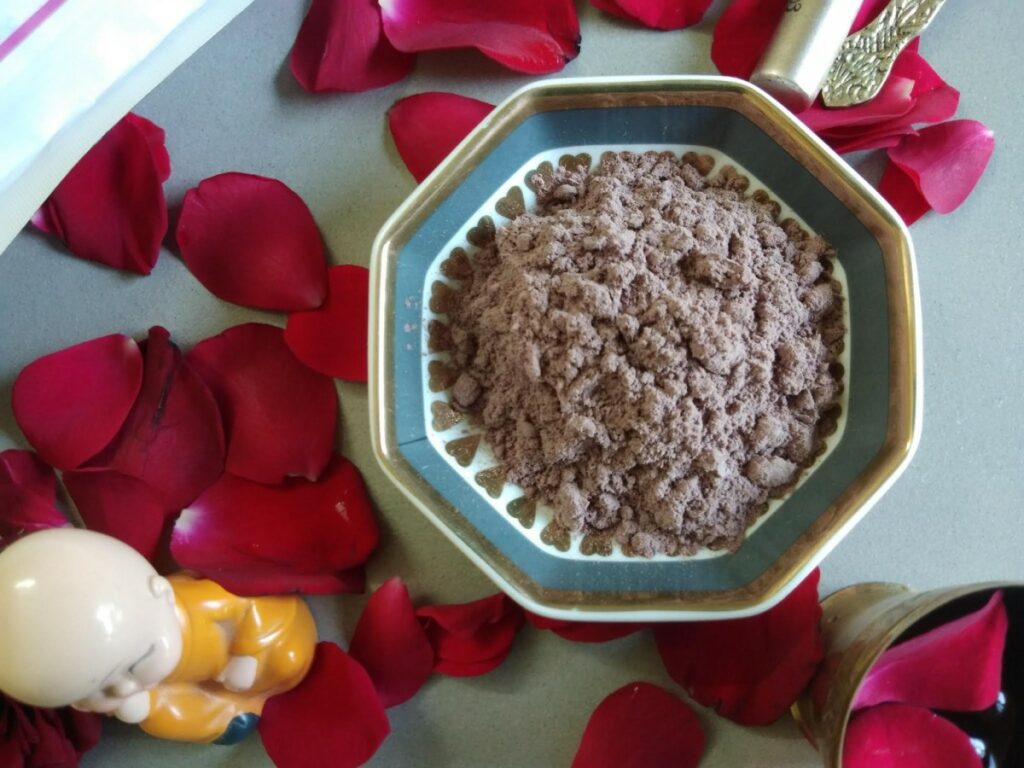 Rose petal powder benefits for your skin and hair :
Rose petal used in any form, be it Gel, paste, powder it all benefits the same. Only difference in using the powder form is that it deep cleanses your pores by absorbing all the dirt by letting your skin breathe. It gives instant glow to your skin and maintains that pinkish glow in your cheek bones when used on a daily basis.
Rose petal powder removes dead skin cells from face and unclogs the pores.
It leaves your skin baby soft and supple due to high presence of vitamin B and C.
Ways to use Rose petal powder :
Mix rose petal powder with a couple of pinch red sandalwood powder and apple juice on a basis of weekly twice to get a clear glowing skin.
Mix rose petal powder with coarse ground almond or oatmeal and use it as a scrub. It is one of the best home made exfoliant ever that you yourself will notice within just days of use.
Mix rose petal powder with cocoa powder or coffee grounds. An excellent luxurious 5 star face mask to replenish your skintone.
Mix rose petal powder with kaolin clay and let it sit on your skin for 15 – 20 mins. Use as make up remover and soothe your skin after a prolonged exposure to hectic day or sun.
Mix rose petal powder, hibiscus powder and aloe vera gel to boost collagen products on your skin. Mix equal parts and prepare a face mask.
Mix rose petal powder with amla powder and extra virgin coconut oil as a hair mask. It will clean your scalp in no time and soothe the hair follicle there by leaving your hair soft and conditioned.
Mix rose petal powder with simply rose water and use as hair mask. Rose water is a mild astringent which may help to reduce oiliness and dandruff. the anti-inflammatory properties, make it beneficial for certain scalp conditions, like psoriasis and eczema.
Why to choose HENNAHUB Product ?
Hennahub is a Indian based company established in the year 2017. who are one of the lead manufacturers in producing herbal skin and hair care products today. Hennahub products are certified with ISO 9001:2015, ISO 22716:2007, cGMP, GMP, HACCP, MSME, FSSAI which qualifies them for a trustworthy quality products.
The company also offers private labelling and third party manufacturing and distributionship. The brand Hennahub is associated with thousands of clients for whom they are an enterprise. The brand is true to its words when it comes to quality.
All of the products produced and manufactured by Hennahub Industries are 100 % herbal and organic, used without any preservative with a shelf life of 2 years from the date of manufacture. However it is always advisable to consult a proper guidance from a qualified professional before using any herbal or ayurvedic products on children below 5 years of age.
To buy this product please click the link below
Also read our article about
The article elaborates on herbal products like Aritha powder, Shikakai powder, Hibiscus powder, Bhringaraj powder and Amla powder. How wonderfully these basic natural products of earth can constitute our well being in much more effective way as compared to the branded luxurious cosmetic products around the world.
You may also find Interesting to read our article about
The article elaborates about how  a simple natural ingredient can benefit our skin and the underlying skin conditions without any side effects and without burning your pockets.
Hope you found the article beneficial in someway. Do extend your encouragement by rating this blog and leaving your most valued comment.
Have a healthy well being.
(Visited 436 times, 1 visits today)