Aloe vera powder – Uses and Benefits | 'Hennahub' product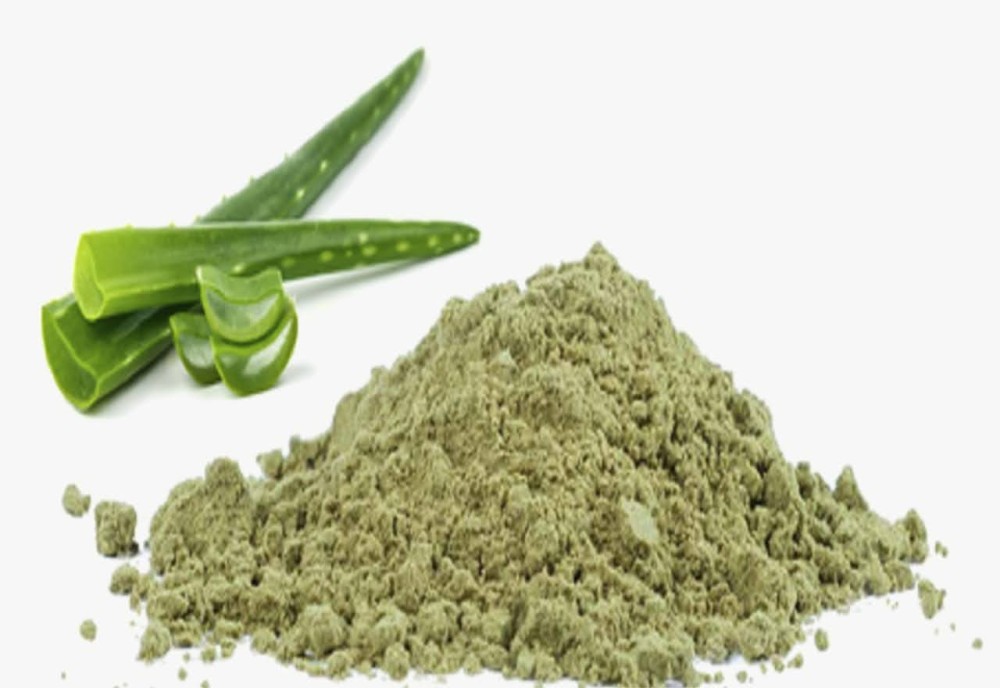 Aloe vera is best known for its Antiviral, Antibacterial and Antiseptic properties.
Aloe vera is not only beneficial for external application but also
best when consumed orally.
It serves as equal effect when used as fresh gel or in the form of powder. one great benefit is that it is quick and easy to apply in the form of powder as compared with freshly extracted aloe vera leaf. But when we are using the powdered form, it is important to note that not to apply excess as it is a bit concentrated compared to the fresh gel.
How is Aloe vera powder extracted ?
Aloe vera powder is obtained when the gel is rinsed to remove remains of the juice, dehydrated, and ground into a fine powder. This makes the powder very concentrated with a ratio of 200:1 concentration. Only a small amount of aloe vera powder is needed to make a big impact.
Aloe vera powder for different type of Skin diseases :
Eczema, Psoriasis, Inflammatory acne, Scalp infection, Sun burn and Sun tan is all completely curable with a regular home remedy application.
Ways to use Aloe vera powder :
Mix aloe vera powder with a bit of tomato juice as a face pack to cure suntan, sun burn, acne or prevention over face and neck.
Mix aloe vera powder with rose petal powder and rose water to detan your  skin and achieve glow.
Mix aloe vera powder, organic wild turmeric powder, organic sandalwood powder and cucumber juice for treating eczema and dry skin issues.
Mix aloe vera powder with cinnamon powder and honey to get rid of pimple causing bacteria. It also helps improve the pigmentation mark and uneven skin tone.
Mix aloe vera powder with coarse ground oatmeal and use it as natural face scrub twice a week.
Mix Aloe vera powder with virgin coconut oil and use as hair mask to treat all underlying scalp issues.
Be it an internal or external inflammation of muscles, when aloe vera powder is mixed with warm oil and rubbed it gives gradual relief.
Aloe Vera powder benefits :
Aloe vera hydrates the skin and keeps it moisturized when used as a fixed routine.
2. The nutrients found in it helps protect the skin from free radical damage and reduce signs of ageing.
3. It has amino acid that helps to strengthen the immune system, maintain the skin's hydration, resilience and an overall healthy appearance.
4. The polysaccharides found in aloe vera gel and powder promotes regeneration of skin tissue.
5. Aloe vera has more than 60 components like vitamins, minerals, saccharides, amino acids, enzymes and salicylic acid which in turn gives ample benefits to our skin.
6 .Applying it as a scalp mask can help soothe irritation, exfoliate, replenish hydration, and even strengthen and smooth hair follicles. It can also be used as a conditioner to keep hair smooth and shiny.
7. Applying aloe vera topically has been shown to help restore skin elasticity and decrease the appearance of fine lines and wrinkles.
8. Aloe vera in the form of gel or powder both cater to fight signs of ageing due to its presence of Vitamin C, Vitamin E and Beta carotene.
9. Aloe vera powder can be used as a mask for hair to get rid off dandruff issues. Dandruff is one main drawback for acne on scalp and face, fungal infection, dry itchy skin and poor scalp health. All the conditions improve when used with regular intervals.
Why to choose HENNAHUB product ?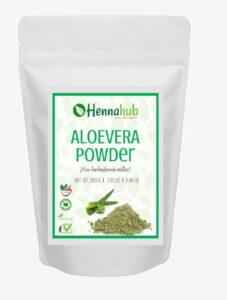 Hennahub is a Indian based company established in the year 2017. who are one of the lead manufacturers in producing herbal skin and hair care products today. Hennahub products are certified with ISO 9001:2015, ISO 22716:2007, cGMP, GMP, HACCP, MSME, FSSAI which qualifies them for a trustworthy quality products.
The company also offers private labelling and third party manufacturing and distributionship.
The brand Hennahub is associated with thousands of clients for whom they are an enterprise.
All of the products produced and manufactured by Hennahub Industries are 100 % herbal and organic used without any preservative with a shelf life of 2 years from the date of manufacture. However it is always advisable to consult a proper guidance from a qualified professional before using any herbal or ayurvedic products on children below 5 years of age.
To read our other article about

(Please click on it )
You may also find Interesting to read our article about

(Please click on the link )
To buy this product click on this link
Also read our article about
You may also find Interesting to read our article about

(Please click on it )
The article elaborates on herbal products like Aritha powder, Shikakai powder, Hibiscus powder, Bhringaraj powder and Amla powder. How wonderfully these basic natural products of earth can constitute our well being in much more effective way as compared to the branded luxurious cosmetic products around the world.
Hope you found the article beneficial in someway. Do extend your encouragement by rating this blog and leaving your most valued comment.
Have a healthy well being.
(Visited 420 times, 1 visits today)