Indian Herbal powder for Healthy hair and post pregnancy hair issues.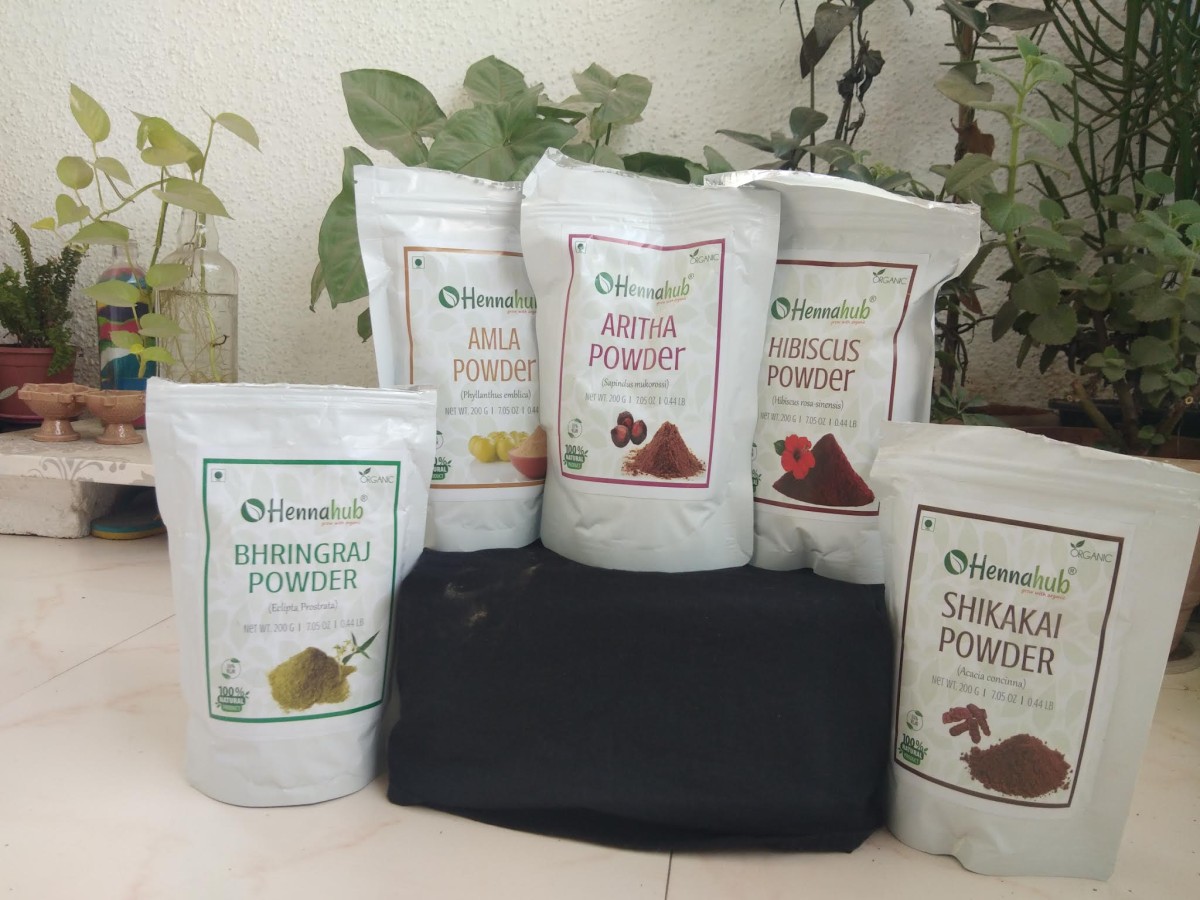 One of the richest ornament a woman owns is her – Hair
Please note that you do not use these product on children below 13 years. It is better to introduce herbal products on kids depending on their comfort and convenience.
A small story of my hair's journey:
It was once a period during old days where our hair used to be lustrous, thick, strong, shiny and what not. Till your hair is taken care by someone like your mother or granny or any elderly woman at your home. I used to be a person with the best healthy hair in my time. Wherever i go i was always appreciated for my beautiful healthy hair.
But things started taking a turn…
when i started going to my graduation school and i stopped looking after my hair completely. It was years later i realized my hair was very bad with its conditions. Then i started hunting for all best parlours in the town. I underwent lot of hair treatment like straightening, smoothening, rebonding and spa and etc a lot of things until i got married. I finally stopped spending money on my hair at this point and getting busy with job and household was another big task.
The stressful phase of my life…
increased much more than so far. It was during my pregnancy i just did nothing except taking iron supplements and oiling my hair frequently. I started investing on natural and cold pressed oil like Almond, coconut, olive, castor and rosehip oil. One of the best oil for achieving  lustrous lock is macadamia oil. All of it worked and i had my hair back. By the time i realized i have finally got the same hair back in my life that i had during my school days, things started to take a turn. Post pregnancy i had severe hair fall, grey hair popped up all of a sudden from no where.
It was a huge nightmare for me again…
I had hair breakage and bald patterns started occurring on my forehead line. Then i had given up on my hair completely. people started asking me about my hair and they would always say something that upsets me and disappointed me even more. I eventually started losing my confidence. I have to get back on track and try to do all that to keep my hair healthy. Finally i switched to herbal remedies for hair masks especially. Things started working and showing good effects.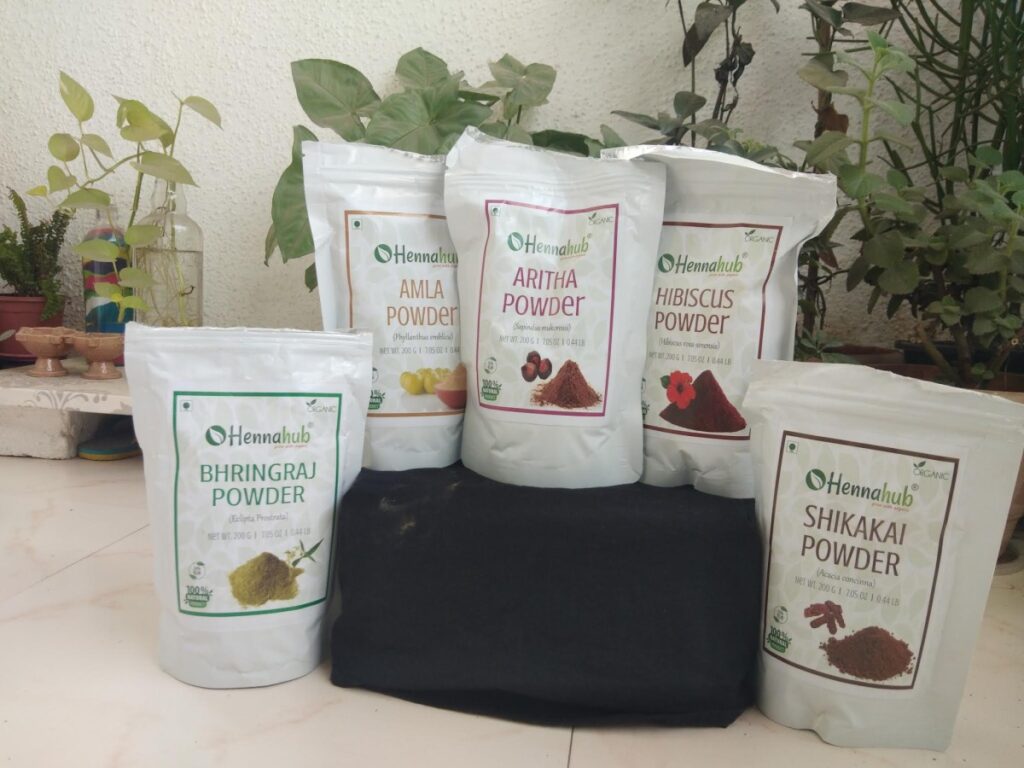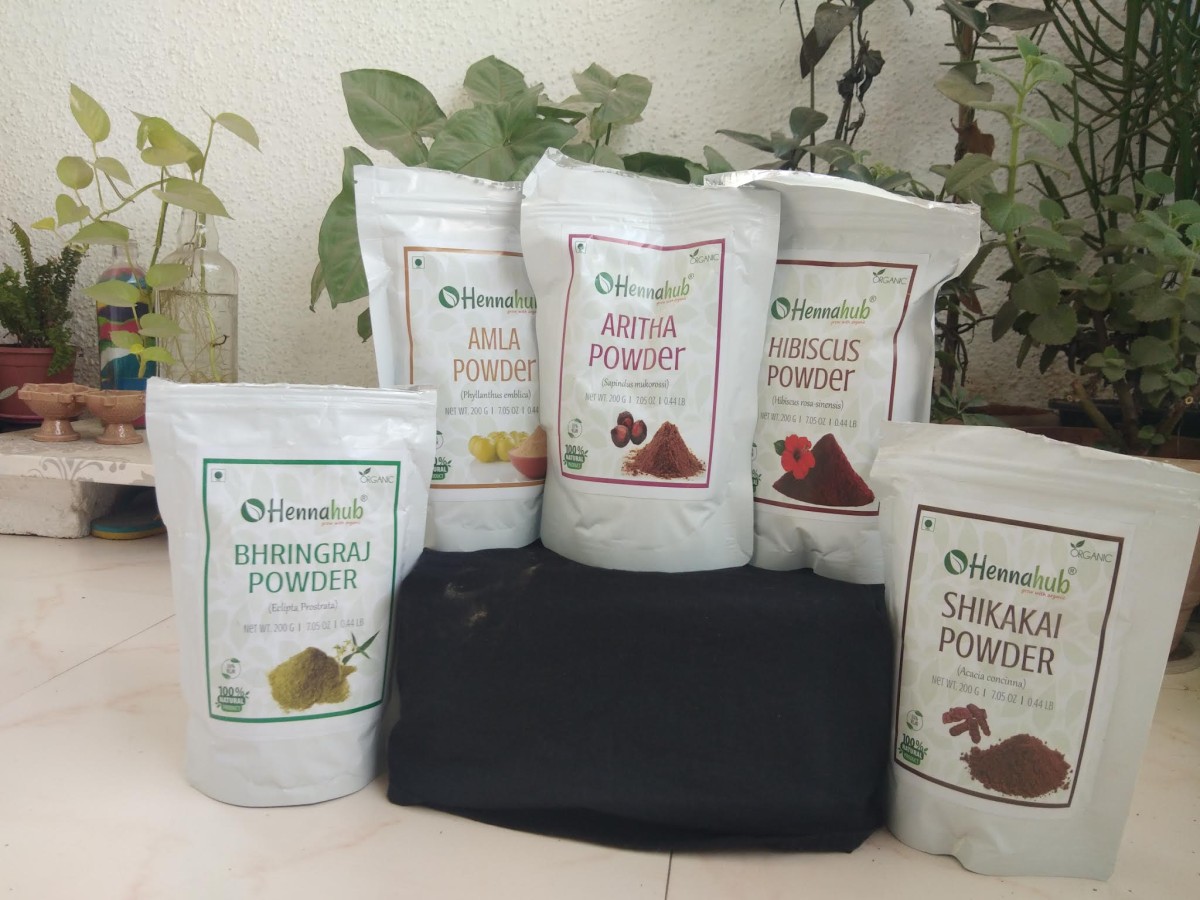 How to use this products?
I have used this products alot of times by now and it is feels very good on skin.
Light and not strong at all. Very organic and easily mixes with water.
Just take one spoon of each powder and mix it well with water.
keep a thick consistency to avoid dripping on your face.
Take partitions and apply a generous amount on each of the hairline.
Cover with shower cap at the end and leave it on for around 30 mins.
Do not over sit with hair mask or face masks. it will tend to absorb excess oil from our skin or hair making it feel dry.
Wash with moderate cold water and condition your hair with a conditioner as per your choice.
Towel dry your hair under sun or fan and apply serum of your choice if need be.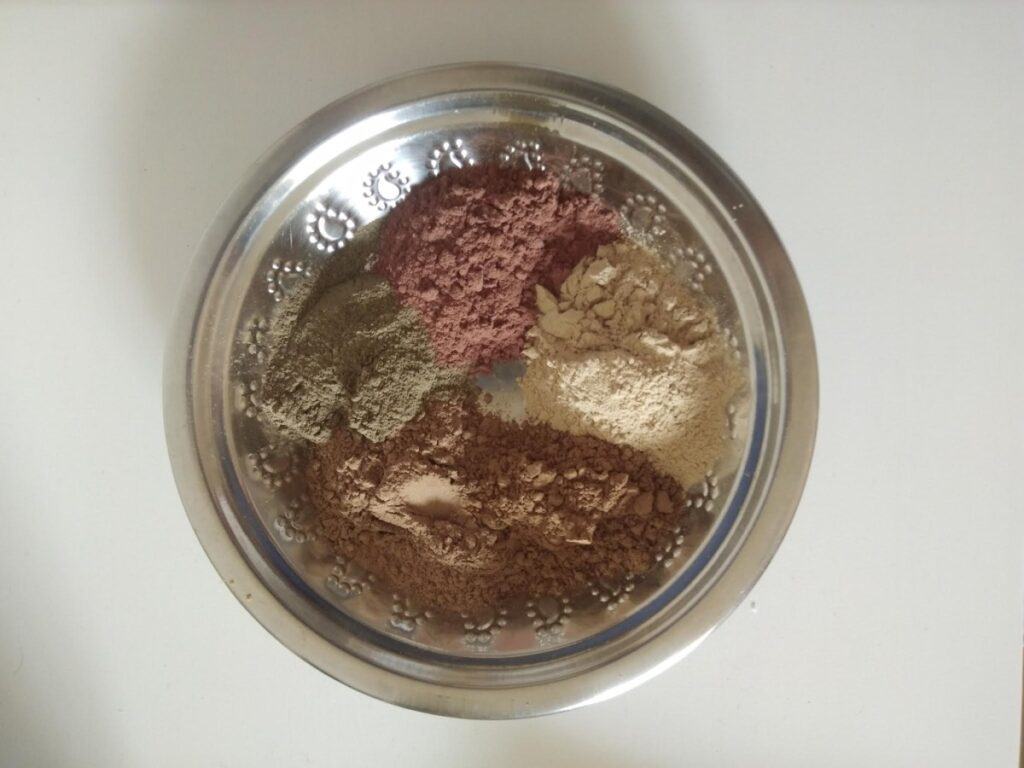 Benefits of these herbal powder –
1. Aritha powder.
Reetha, Aritha, Soapnuts, or Indian soapberries are evergreen ancient ayurveda remedies for skin and hair issues.
Soapnuts are the fruits of a tree called Sapindus Mukorossi, native of the Himalayas and the mountainous region between India and Nepal.
Reetha or aritha powder can be mixed with warm water to form a paste which can be used to massage the scalp to help manage dandruff and also remove lice from the scalp due to its insecticidal property.
The powder of Amla and aritha can be applied to the hair to help control greying of hair and also stimulate better hair growth.
Has natural anti-fungal and anti-microbial properties and also naturally softening property Which is a good choice for your hair.
2. Amla powder
Amla powder is made from the ground-up leaves of the Indian gooseberry. It's been used in Ayurvedic medicine for centuries.
Condition your scalp, promote healthy hair growth and improves the tone of your hair.
Also it minimize premature gray hair, boost volume, reduce dandruff and for people suffering from lice issue, amla powder treat head lice also.
Promotes hair growth by cleaning your scalp issues whatever it may be like, dryness, pimples, dandruff, clogged pores or any underlying condition.
Treatable fully, once the scalp is healthy all the nutrients provided in your body is absorbed by hair to continue its growth.
3. Hibiscus powder
In Ayurveda, hibiscus is recommended for treating hair fall, encouraging hair regrowth, and preventing premature graying. Hibiscus is nothing but shoeflower or sembarathi poo that we call in tamil.
Our body need to be stable with the three dosha namely, vata, pittha and kapha. Hibsicus flower has got the potential to balance all of those three dosha physically if used properly for a prolonged period of time.
Hibiscus is rich in vitamin C, flavonoids, amino acids, mucilage fiber, moisture content, and antioxidants. The goodness of hibiscus beautifies your hair by nourishing your hair, promoting the growth of luscious hair, and bringing out a naturally satin-soft texture to your Hair.
Really does the magic guys, trust me.
Strengthens your hair root and stops premature hair greying. Protects Your Scalp From External Damage and Prevents Dandruff. Deeply Conditions Your Hair And leave it Remarkably manageable.
4. Shikakai powder.
Shikakai or Acacia concinna, a climbing shrub that is native to Asia. Shikakai is commonly found in India and has been traditionally used as a hair cleanser in several parts of our country says our ancient ayurveda.
It adds shine and softness to your hair. Fights dandruff, scalp issues and gives you good thick and lustrous hair. Again like aritha, amla, shikakai also helps in delaying premature grey hair growth.
Best cleanses your scalp gently and induces sebum secretion which helps reverse the dryness of your scalp.
Antifungal and antimicrobial properties of shikakai work like a charm to keep problems such as dandruff, scalp eczema, psoriasis and itchy scalp, lice, inflammation and other issues at bay.
This product helps in growth of hair after you have had severe hair loss during your postpartum period.
5. Bringharaj powder.
It Treats dandruff and dry scalp. Bhringraj oil or powder treats baldness and helps in hair growth.
Prevents hair fall and Promotes hair growth.
Also Prevents graying of hair and makes hair lustrous.
Bhringaraj, popularly known as 'false daisy' in English is a traditional wonder herb, that is hugely recommended for growing long, silky and strong hair. Clad by the vernacular names as karisalankani in Tamil.
Helps destroy Kapha doshas and toxins from your body.
Be it be oil or powder, Massaging your hair with bhringaraj oil provides a calming effect on the head, increases memory, improves blood circulation on the scalp.
One of the amazing hair oils that can prevent hair fall and effectively promote hair growth.
6. Neem powder.
I need not say this as everyone knows that neem is the best antibacterial herbal product used for ages to treat most of the skin issues.
Neem powder, oil or freshly ground leaf can also be applied to our skin and hair directly.
Once the scalp is free of dandruff, eczema or dry scalp issues – the hair will automatically start growing.
These are the 6 best herbal powder for hair that can be applied easily and can start to notice the change within the first two months itself. My bald patch over the forehead has now started developing hair. This is not a sponsored product, since i live in apartment i don't have any access to use fresh products. So i prefer buying it readymade. Otherwise in countryside we can easily spot these trees and dry the leaves, fruits, flowers etc and make fresh use of this product.
Links To buy these product :
As a complete kit :
As an individual product :
(Visited 269 times, 1 visits today)