Directions
Few very rarely known health benefits of spinach
for kids and grown up are :
Good for bowel movement.
Great for skin and hair.
Cools down your body.
Healthy brain and nervous system.
Lowers insulin & controls blood pressure.
Good for growing children for strong bone development
Method:
Take a bunch of spinach, remove the stems, no need to blanch, in a tap water bowl add 1 tspn salt, soak the leaves in, leave aside for 15 mins.
Remove the leaves, roughly chop them and set aside.
In a pan, add oil, crushed garlic, green chilli, spinach and saute well.
Once the spinach shrinks down sprinkle some salt and do not cook it until it becomes dark green. Just give a gentle toss and cook upto 25%. It helps in retaining the colour too. The rest of it will get cooked while making paratha.
Allow to cool for some time, in a blender jar make fine paste of it.
Take wheat flour, add salt, pour the spinach paste, add oil, knead the dough well.
Make small balls, flatten the dough to a round shape and make a thin tortilla, in a flat pan cook the paratha/tortilla from both sides by spreading oil over it.
Serving suggestion:
This paratha tastes best with tomato chilli sauce / coriander chutney, raw onion soaked in lime juice.
along with some pickles.
You can also carry it while travelling. From the time it is prepared, it will remain fresh for up to 10 hours.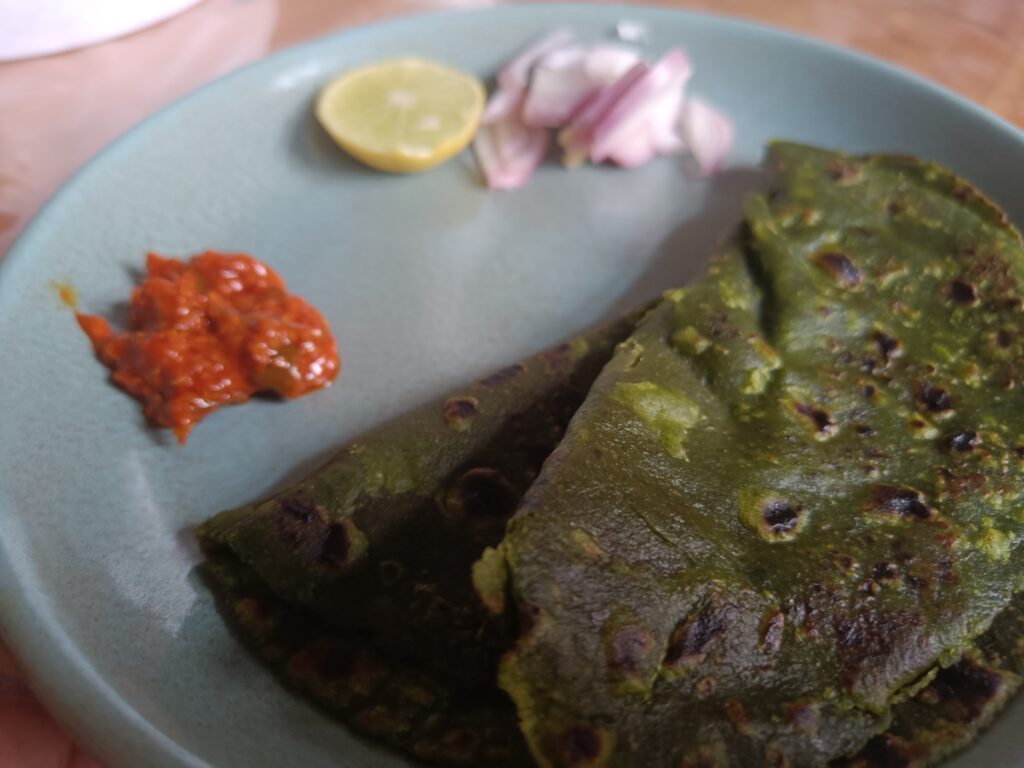 Alternate option and point to note:
While kneading the dough with spinach paste, make sure that the flour and spinach paste proportion should be 1:3 ratio. If the flour is too much than the paste then while consuming paratha it would taste very bland. Make sure that you finish kneading the dough with the paste itself or just add a tablespoon or two of water if need be.
2. Instead of making paste, remove stem, keep only leaves (makes it easier to roll the dough) and wash the spinach, simply saute spinach with salt to 50%. add in the flour and knead it. This can be added to your wheat flour and accompanied with any side dish (gravy or chutney etc)
(Visited 137 times, 2 visits today)