Living room decor – Chapter 1 – 'GREENS'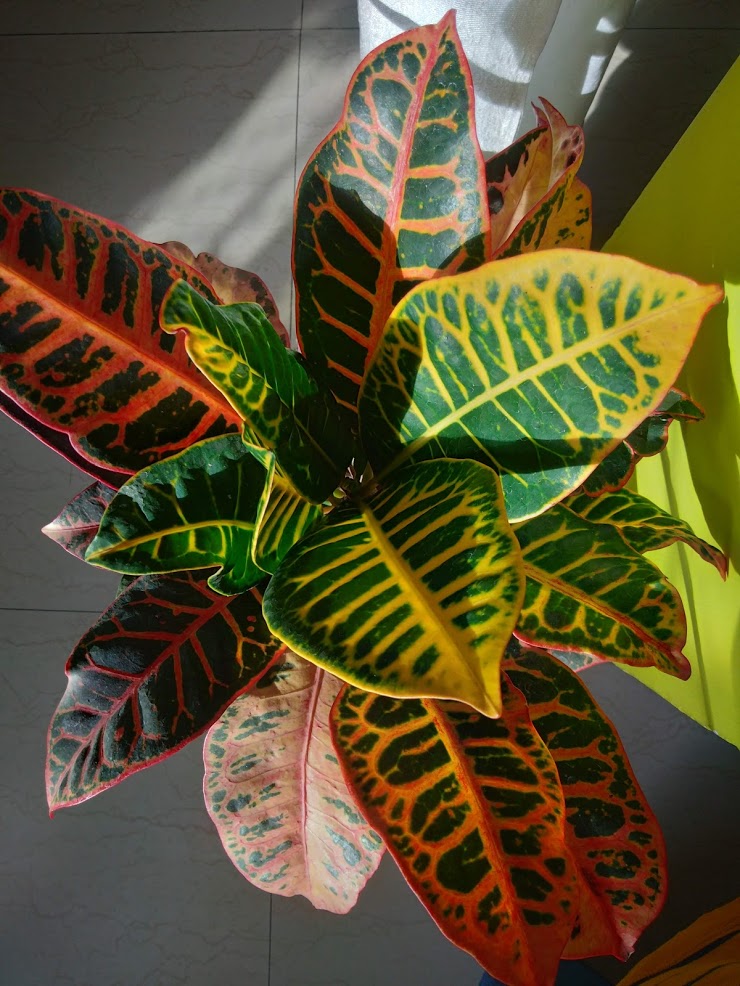 LIFE IN APARTMENT
I have been residing in apartment lifestyle since my birth. Although apartment life is compact and you have to give up on lots of aspects! but still sometimes it feels amazing to be in apartment. Your neighbors are immediate & you have a good skyline from your window. you are on top and can observe down on what is going around etc. Although everyone loves to live in an independent space not everyone is blessed with so. The only simple way to make life beautiful is to create a beautiful ambience where you are living.
Remember the saying, Rome wasn't built in a day.. Yes, Why only Rome ?? Nothing on this earth that is breathtaking and moment seizing is created in a day. isn't it?
Similarly home is a space, a dream, a beauty that cannot be set up in a single day. it takes hours and dedication and strength to bring in all together.
NOW THE FIRST THING I ALWAYS WANTED TO INVEST IN MY HOME WAS GREENERY
After i got married, me and my Husband brought a flat in Mumbai in a high rise structure. We both used to spend 12 hours out of the house everyday apart from weekends. i still felt the absence of something in my home. Work shifts were tiring and not peaceful at all. so in every room i would be relaxing or working i wanted the greens to be there everywhere. I am literally a plant freak in short you can say.. Hahaha…!
LIVING ROOM DECOR AND ORGANIZATION
VIEW FROM MY SEATING AREA – OUTDOOR GREENERY
GREEN IS CALM AND SIGN OF PROSPERITY
As soon as i open the main door of my living room, this is that spectacular view i would get all the time. Though the picture is not doing enough justice. But trust me, this is just calming. Greens have the power to control your emotions. Go to a green farm you feel very abundant. go to a hill station it feels breathtaking. Go to a forest you feel small. Go to a park it feels romantic. they all are greens but still play with your brain in many different ways.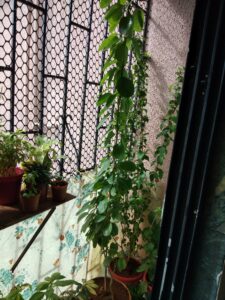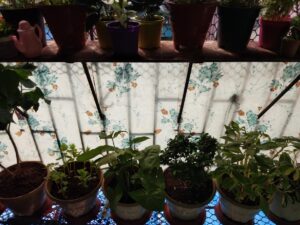 This is how my Flower bed looks like, simply greenery flourishing all around. You can bring in this nature into our home also. Indoor Greens and outdoor Greens. These are the two terms of enhancing green space around you or in your space when it comes to designing.
2. EXPLORING THE GREENS – INDOORS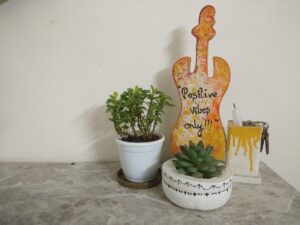 ARRANGING THINGS THAT LOOKS PLEASING TO EYES AND ORGANIZED
Its not that simple to introduce live plants inside your living space. Every plant's growing conditions are different. half of my time went in understanding what plants can survive where and in what conditions. But that is also an art. the art of displaying living sculptures to your space. i have tried almost hundreds of varieties of plant species and a lot of them just gave up on me while i was experimenting… Haa !
Here in this image i have got few handmade DIY stuff and if you can make out which one is real or artificial out of those two plants? leave your answers in the comment section below.
DIY PLANTER:
The Shallow white cement planter holding the succulent with black dots design over it is one of my very first small DIY project. Now, It was made out of white cement and is 4 years old by now. But still shows steady signs of surviving even longer, if anyone in my home leaves it untouched.
GUITAR:
That Guitar holder is made out of wood. While i had been to Himachal Pradesh, India, i had picked it up from a local seller who carves the wooden logs and produces some amazing pieces intended for display. this piece was just raw with no finish on it. I purposely wanted it that way so i can customize some art that i wanted to create.  I made some acrylic paint stamping with a piece of sponge. playing with some interesting colour. I finally achieved a background on which i wrote the very popular quote " Positive Vibes Only".
Guitar signifies love according to a very deep research in Feng shui. Any piece of art that displays guitar promotes the same vibration among the member in that family.
QUOTES:
Quotes play an integral part when displayed in the home. They speak back to you when you are in your high mood or low mood. either way they cheer you up. so introduce as many good words into your space. It does work.
3. PLANTS ARE STILL CONVINCING EVEN IF THEY ARE ARTIFICIAL.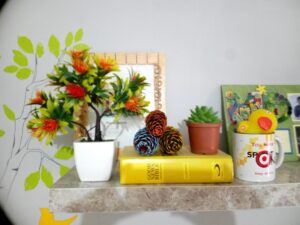 Places where i could not occupy plants, i did introduce few artificial plants. So there is a concept that keeps flowing through out my entire home. either live plants or artificial. while setting up a home decor one thing we need to remember is that do not puzzle up the entire house. let there be a continuity and flow of certain aspects that brings your home into one piece. Else if your living room looks just totally opposite of your bedroom then it may not justify your entire Home's personality. Keep the thread connected.
"PLANTS BRING GOOD LUCK AND CARRY LOT OF BENEFITS"
These were all about introducing green concept into my living area.
The decor part in my home keeps changing in some intervals. majorly i rearrange few things during the time of seasonal change or if i am bored of gazing at the same piece again and again. But the concept remains same. may be i ll research with some new shape or colour in that space.
(Visited 375 times, 1 visits today)