Living Room Decor – Chapter 2
WALL DOES BREATHE, LET IT SPEAK BACK TO YOU.
Every house built with natural element available from the earth has life. Brick made from soil, Stones brought out from rocks, clay brought from mud etc. So your house does have a life. In India most of the people believe in 'Vaastu Shanti' meaning peace of House. Not everyone gets a house of their choice. People in today's scenario live separately due to lots of reasons. students studying from far places, Husband or wife working abroad or a family renting out space in a new place, etc. many such reasons. At such instance one can't blame the situation rather one can convert the space into a magical place.
MURAL ART SIGNIFYING PROSPERITY AND PRODUCTIVITY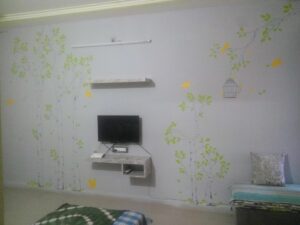 Kindly pardon me for the poor lighting seen here while i had shot this picture.
It is an art i did it all by myself. it took me 1 week to get this display done. Firstly, I painted this entire room with Asian wall paints including the ceiling. Then i wanted to retain the nature's theme for walls also. Its not that i am green colour freak or i just wanted to introduce plants everywhere. there are also lot of other types of art that you will see in my blog. Colours used in tree are also done with asian paints. The leaves were stamped using sponges cut into different size of leaves. The bark was drawn with artistic paint brushes. Its a light grey wall holding bright green art.
WHAT DOES THIS MURAL PAINTING MEAN
This wall painting holds Birch Tree Art. That signifies prosperity and productivity in your life. It is symbol of good health, wealth and youth. It has the power to circulate the energy of refreshment. Birch tree brings reproductivity according to feng shui.
so i loved that concept and i portrayed it in a way that served my purpose. i also highlighted it with certain features like Birds flying out of cage meaning everyone residing in this space is freed from any burden in their life.
DON'T LEAVE YOUR WALL BLANK. LET THEM SYMBOLIZE SOMETHING
It is not compulsory to follow it, but Know why did humans paint the caves in old age era? Because they had a belief and that belief protected them in many ways. there is a deep research explaining all about it.  Now you really don't pay much attention to your painting or mural art in your wall, as long as you have a personal space. A space in which you don't share it with anyone. That can be your siblings or your hostel room. Or say a home away from your own family home.
After i got married, i shifted to this place with my husband, which we called home. Later my family got bigger with a new member  – 'Puvi' – My labrador. Then came my daughter bringing in more joy to every minute in this new parenthood life. So my responsibility started increasing more. Physically as well mentally. Physically meaning taking care of my family and mentally means protecting my family. I don't say that the paintings gave me everything but it always reminded me of being positive. How things will happen on its own when you try to remain positive.
REASON BEHIND CHOOSING THIS ART
Art displayed in the family gathering area does hold some meaning in some way. Even if the walls are blank, there has to be some feature where you feel that the corner of your room is alive. so in my case it meant that, since now we were a family, i started making most of my moves with meaning. retaining the theme of my present scenario plus bringing in some good vibration was my motto behind the art. One can make anything that carries some meaning to it especially when it is living room. Prosperity and productivity did started flourishing in my life. Our ancestors, be it vaastu or Feng shui, They dint perform or practice few beliefs just like that. Every actions is a final result of long time observation and practices.
DON'T BE SUPERSTITIOUS.
DON'T BE BLIND FOLLOWER OF SOMETHING.
UNDERSTAND IT IN SCIENTIFIC WAY ALSO. 
Except for few things like customs it is totally acceptable to not be a superstitious person. the concept is to make your space look appealing and relaxing, bringing in good vibrations etc. Decor here is used to two ways – For Aesthetic as well as for Lighting of positivity.
So firstly i got Plants, they have life, they bring good luck, they create the mood, they bring positivity.
Then my walls were highlighted signifying the importance of healthy space.
I started choosing furniture in a way that is physically supportive and mentally relaxing. who does'nt want to enjoy a movie relaxing on a lounger or take a nap that is convertible into a bed. moreover when it acts a s amazing space saver storage area as well. check out how i designed my living room seating area here. 
(Visited 420 times, 1 visits today)