Tips for an organized kitchen | Kitchen organization hacks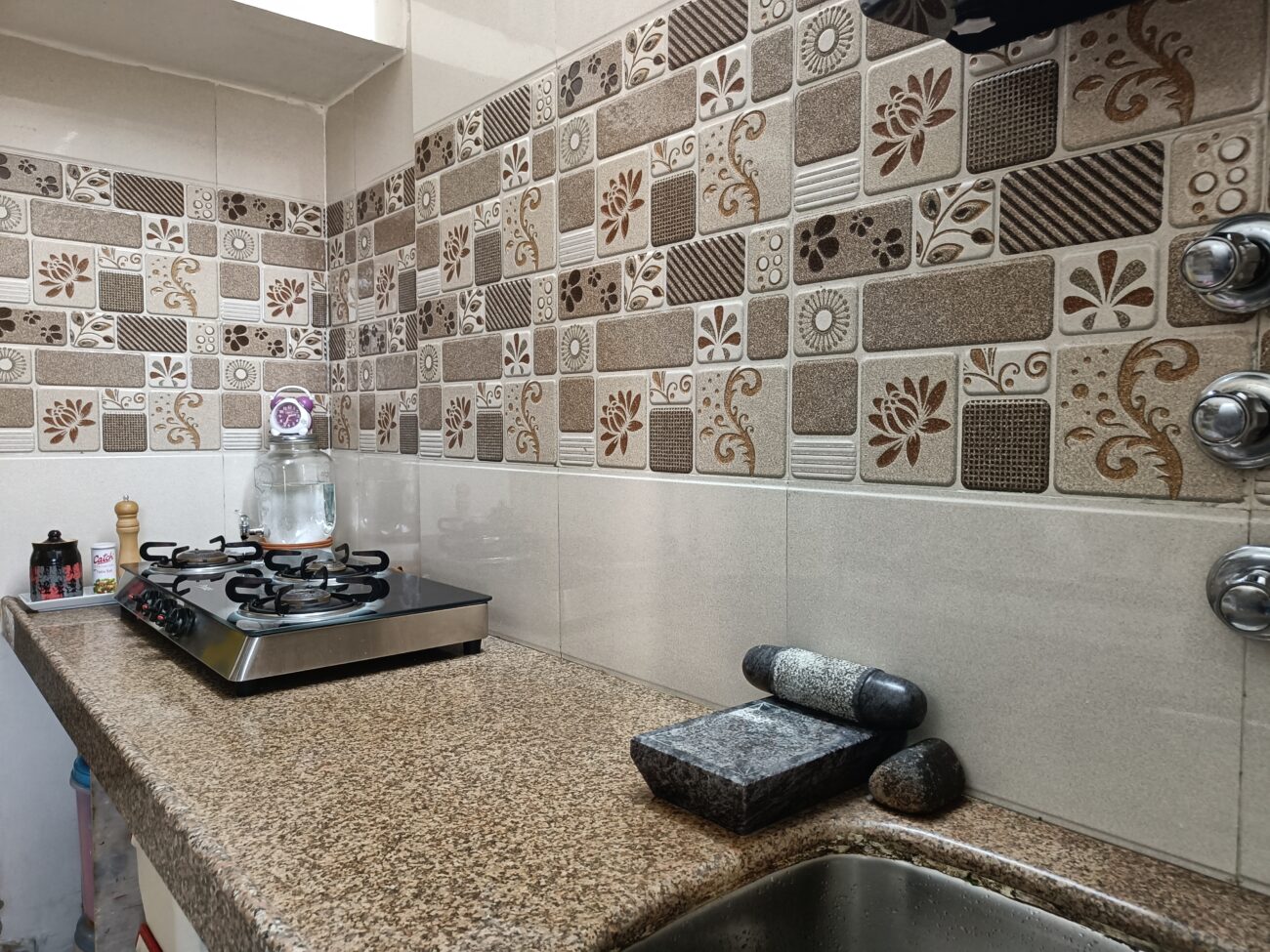 Tips for organized kitchen
No matter whatever the size of kitchen be or whatever the type of kitchen be , the function of any kitchen remains same forever. An organized kitchen saves time and lets people know what kind of personality you are. since we start our day from kitchen, a messy kitchen can ruin our day if not found convenient. we can also avoid serious health problems developed slowly day by day by taking simple measures to form a healthy habit. trying to use more of DIY stuff, hacks and tricks will make your home have a smart kitchen.
Kitchen necessarily don't have to be modular with all the cabinets everywhere. It is fun and challenging to maintain open kitchen concept. Its up to how effective you are when it comes to maintenance is all that matters. I keep my kitchen or any area clean the moment I see any dust settling. So sometimes the kitchen can look more elegant when we try to avoid cabinets. since I have French windows in my kitchen I dint find the need of chimney in my kitchen so far.
It is always…
Easy to maintain a big kitchen without any stress. But what comes into challenging is that organizing a small kitchen.
without much of clutter.
keeping it functional.
keeping things in such a way where you can remember what is kept where. (saves a lot of time).
Bringing the décor also into play.
I stay in apartment. Though I stay in the house we purchased , I did not want to invest on a modular kitchen since I am going to be moving out anytime. so I wanted to furnish the kitchen in the least possible way I could. It is totally functional and yet gives beauty to my kitchen. here I share few of the tips that worked for me.
More details towards the end of this article.
Keeping the counter always clear.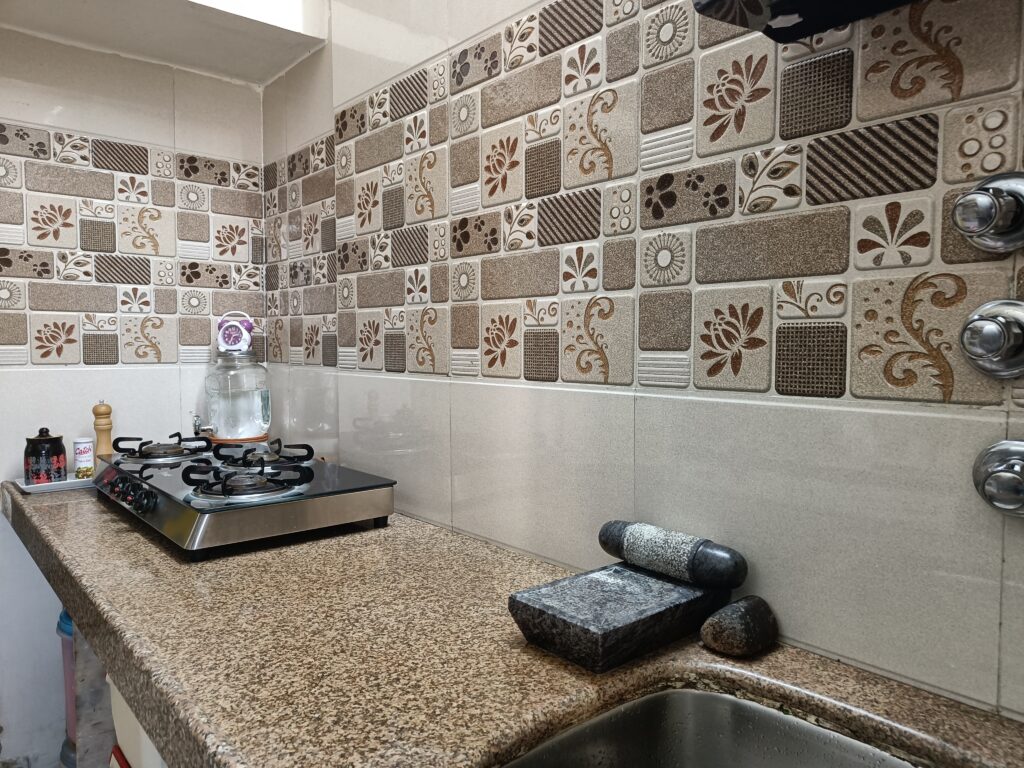 Making use of small corners also.
Since we stay in 1 BHK terrace apartment, I dint have a proper space to set up my pooja area. as such I have established my pooja room in the kitchen corner itself. This falls on the east side.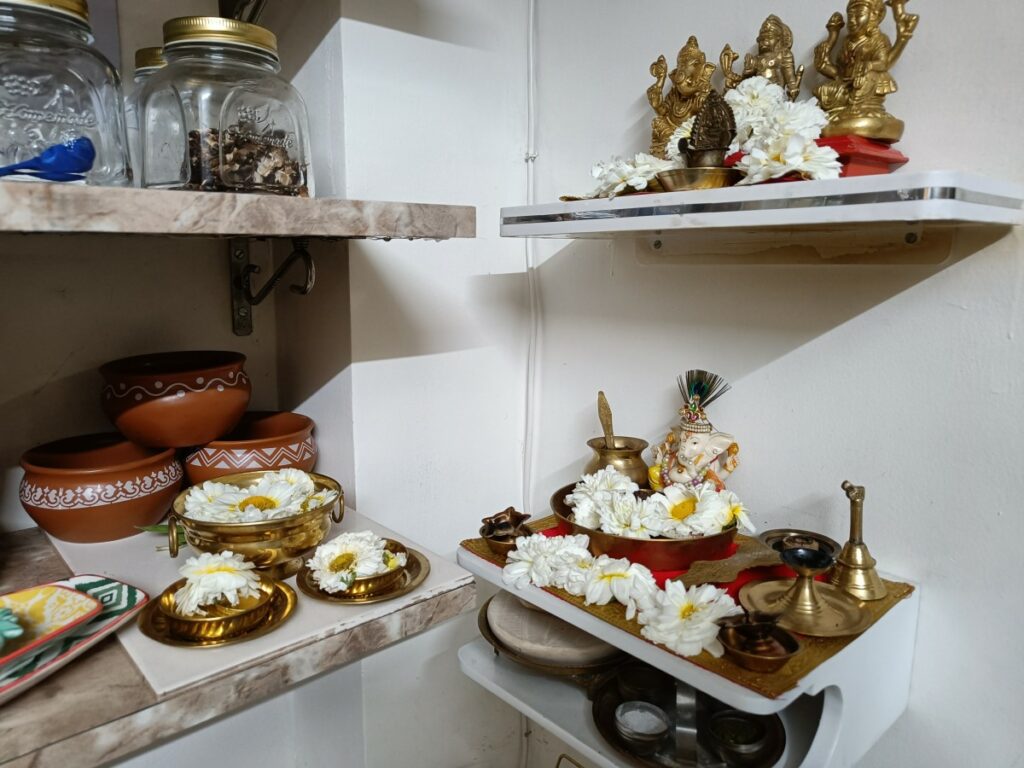 stacking one above the other.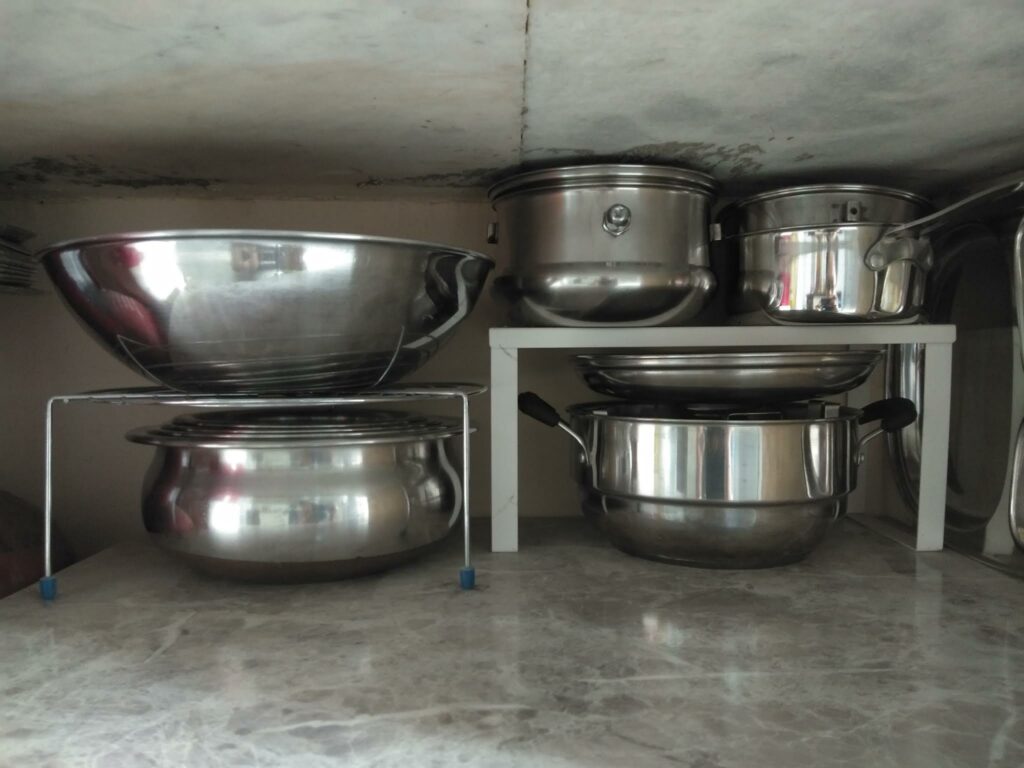 Having designated space for each things.
This small tray serves as my coffee station. we are not very strong coffee drinkers. so this small tray works well for us. it holds sugar, coffee with different flavours, milk tea bags, green tea bags, brown sugar and herbal tea powder.
Since i cannot let a big knife stand consume much of my counter space, i use knives that are small in size so that i can accommodate them within my drawers.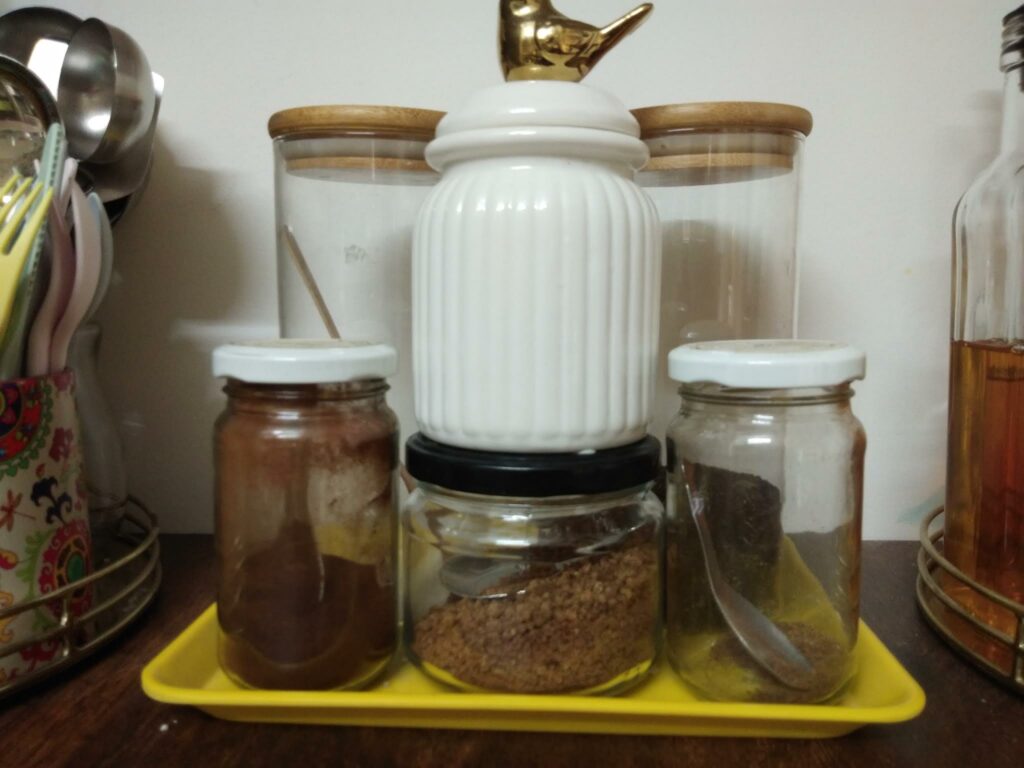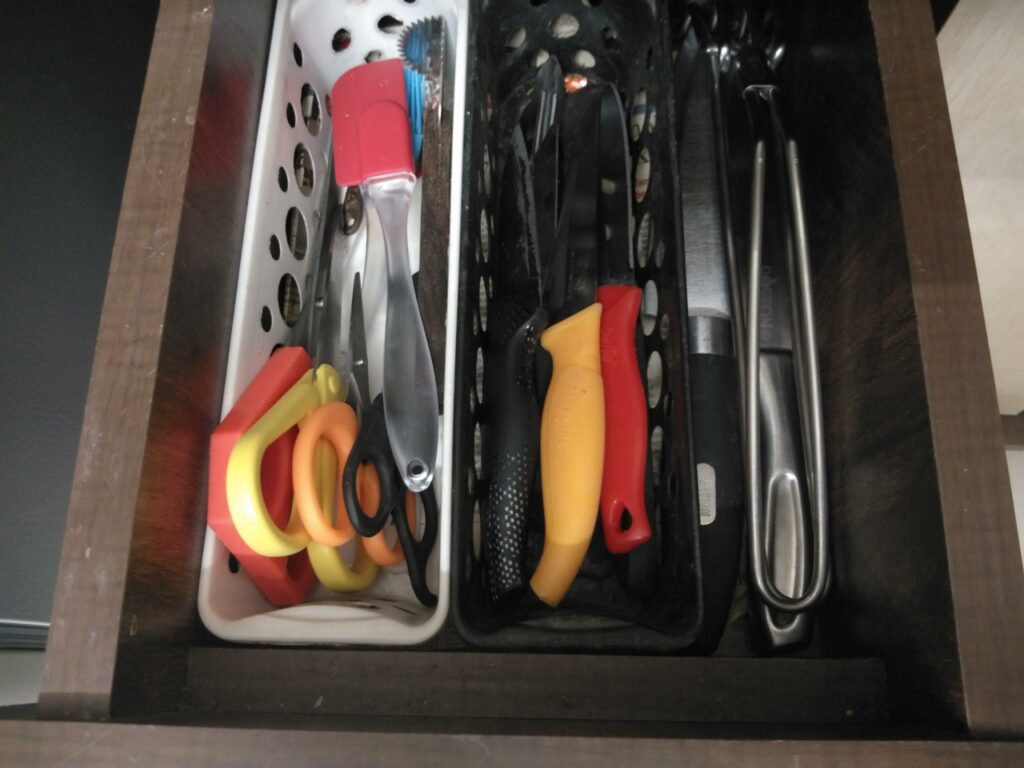 spice area  being kept separate and all at one place
 
using clear glass for storage.

using lazy-Suzan to store colour full treats for aesthetically pleasing and serving purpose.

Using crockery as a part of display area.
It will enhance the kitchen décor. also try to introduce light shaded or pastel shaded in the display area.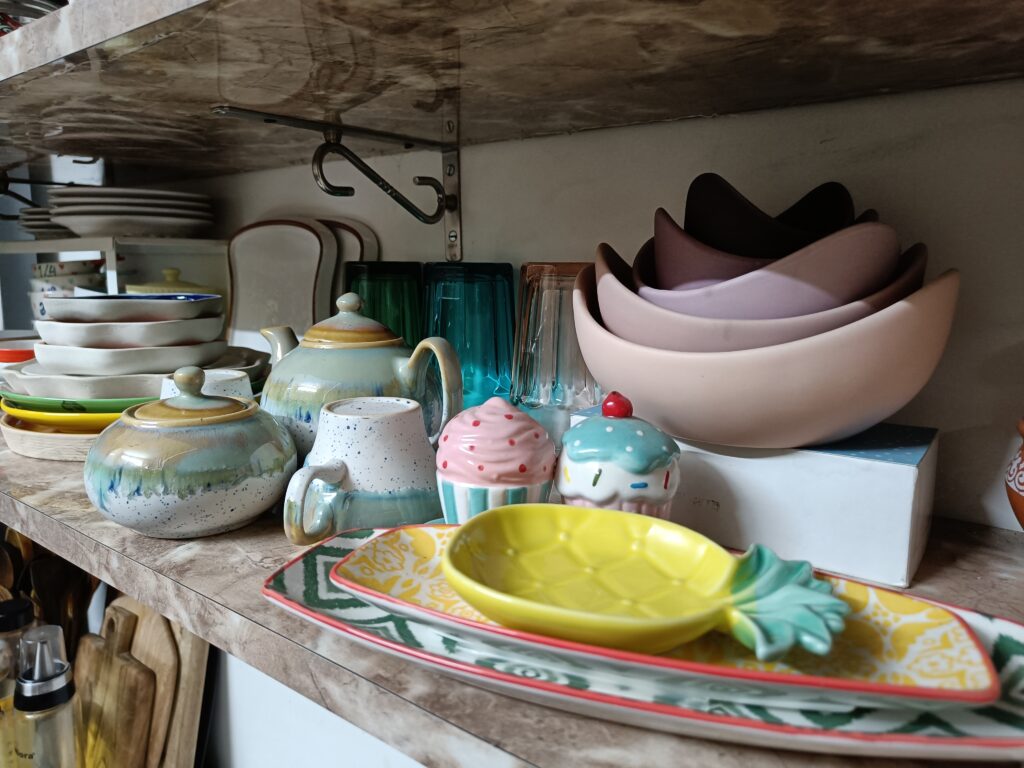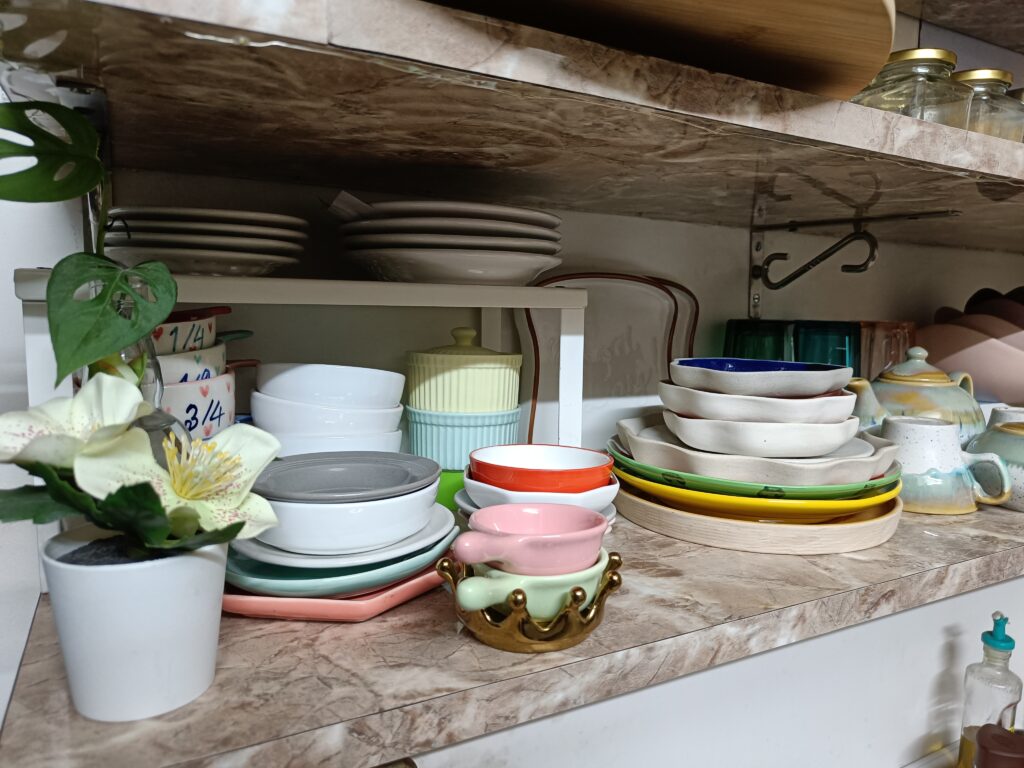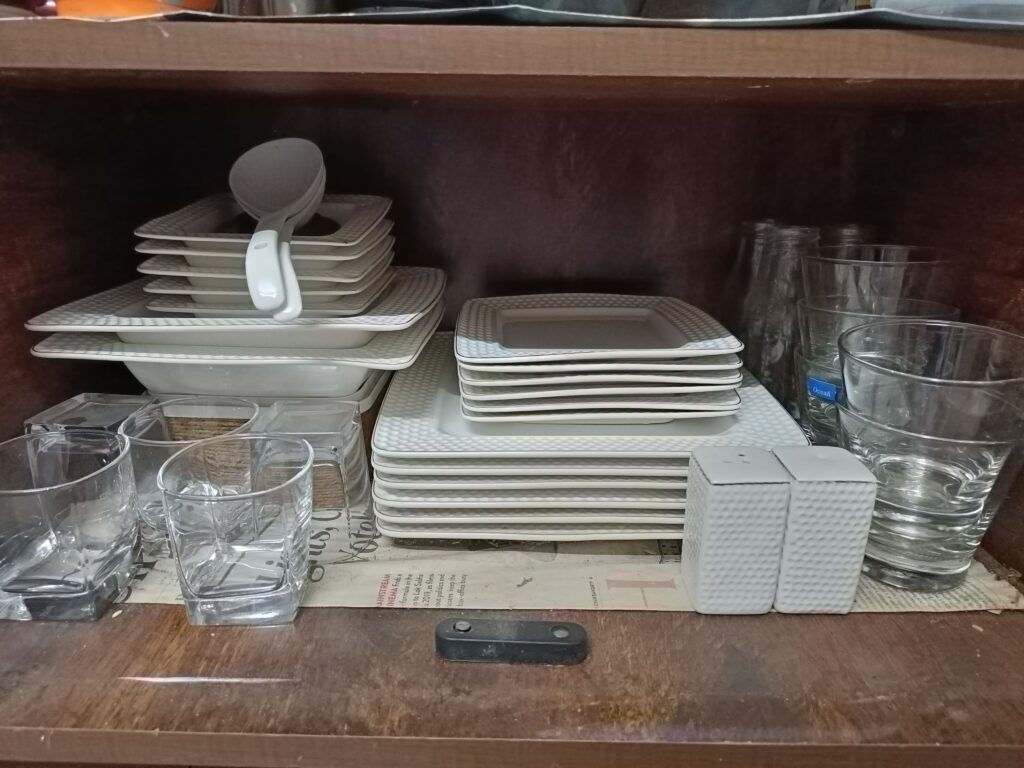 using bamboo baskets instead of plastic.
Where the basket comes in front of the eyes we can introduce bamboo baskets since they are sober to eyes. All the plastic basket can be used under the cabinets and counters.

keeping utility tray handy and simple.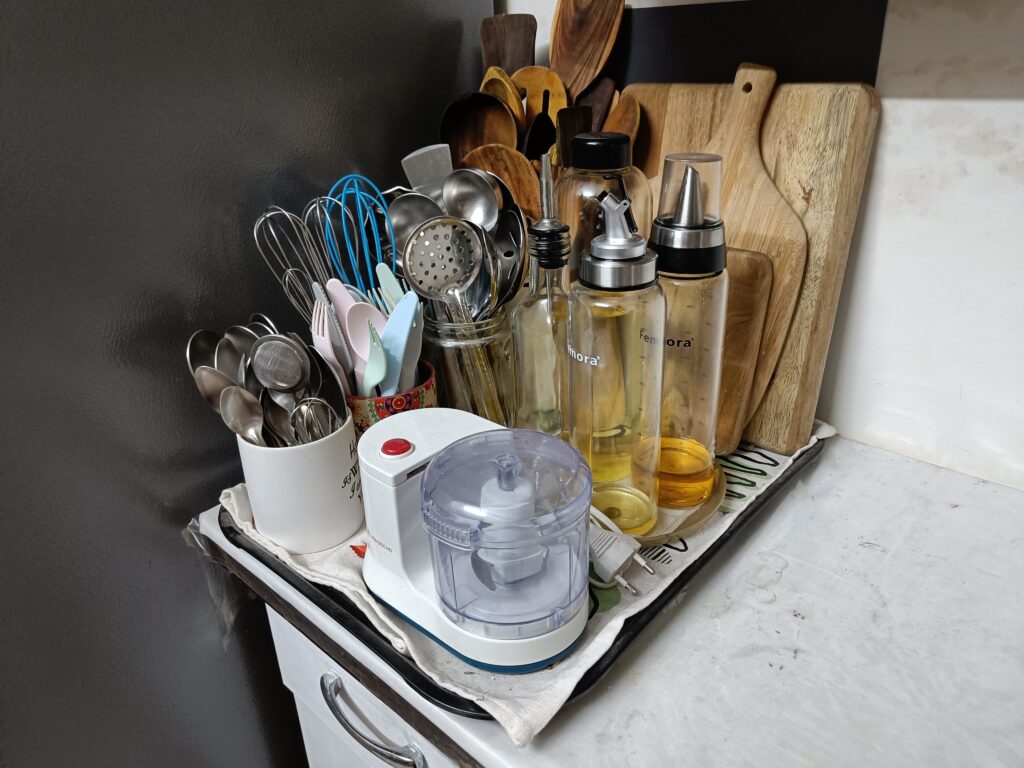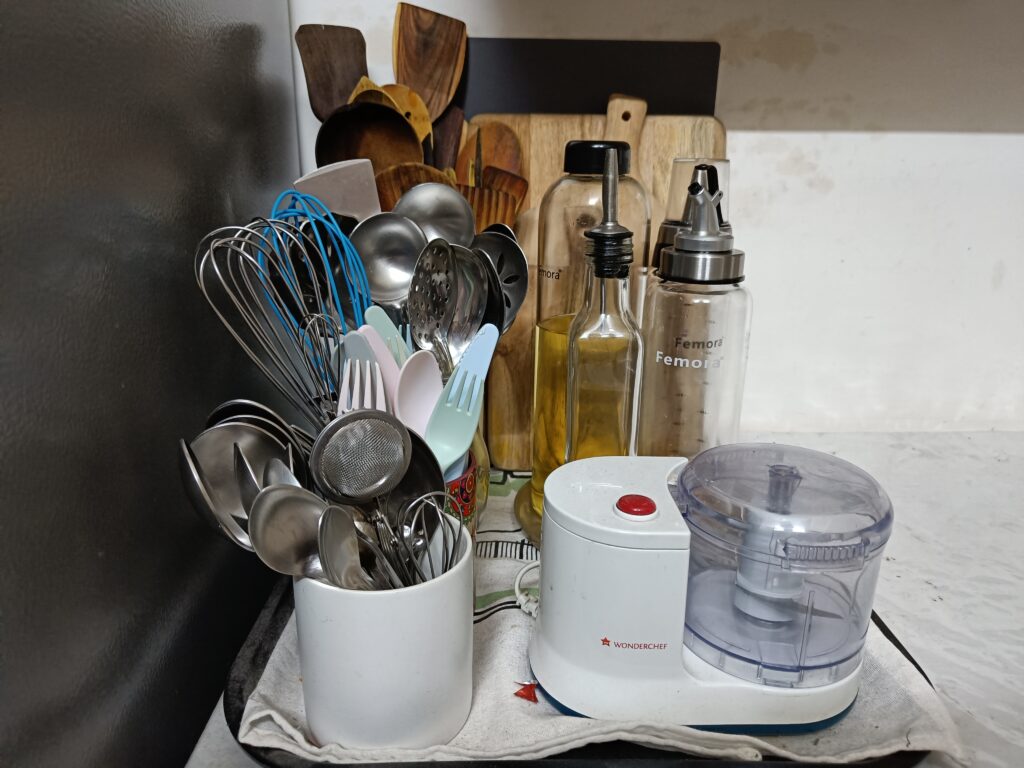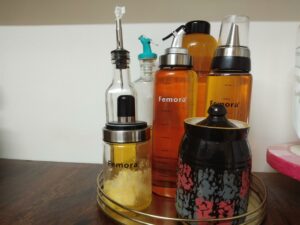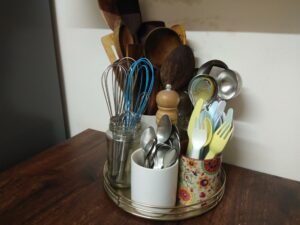 storing all mugs separately in a dedicated place.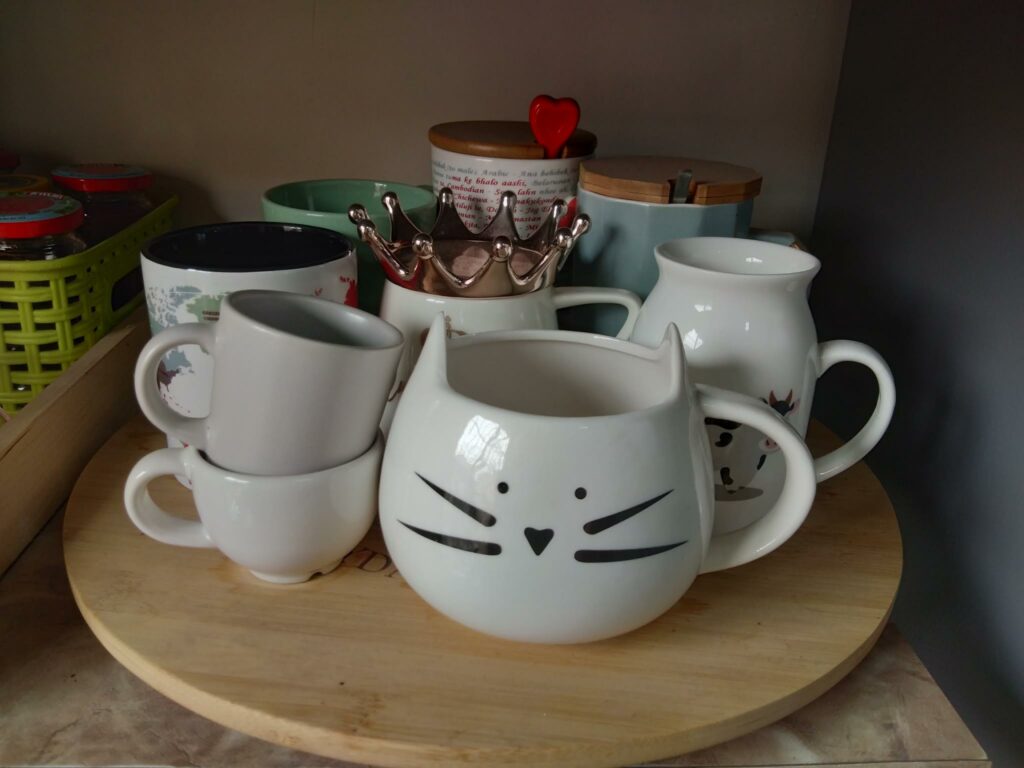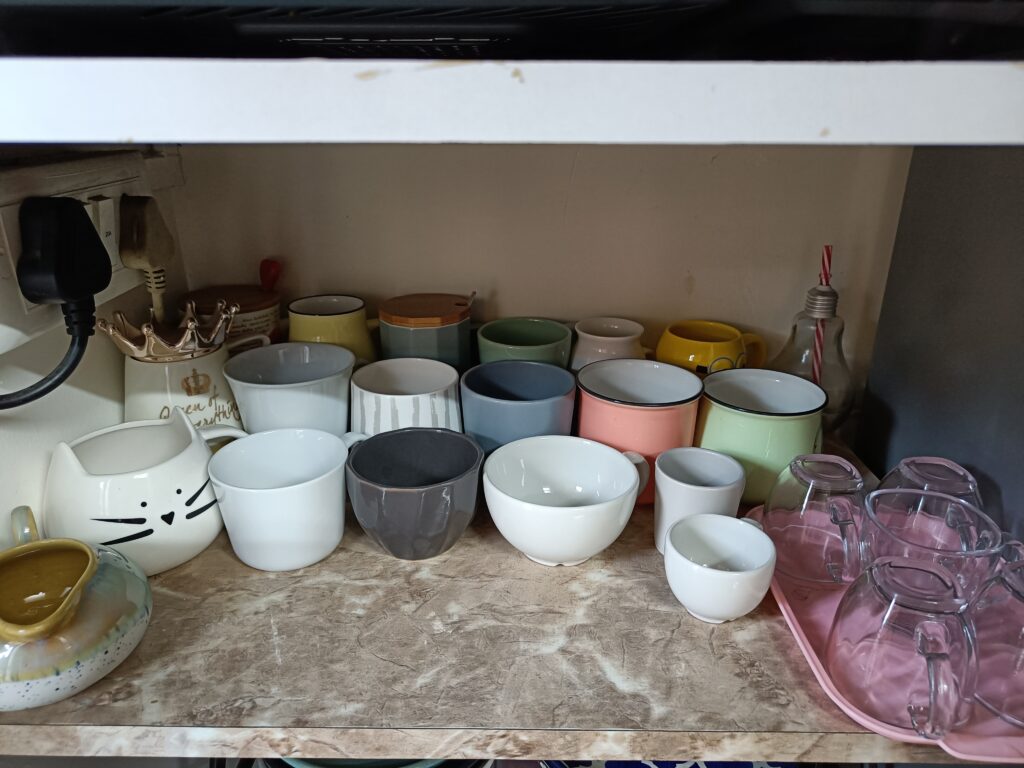 using an open rack to store plates, bowls, glasses.

hiding the bigger utensils under shelf or cabinets.
   
using bigger baskets to store maximum things.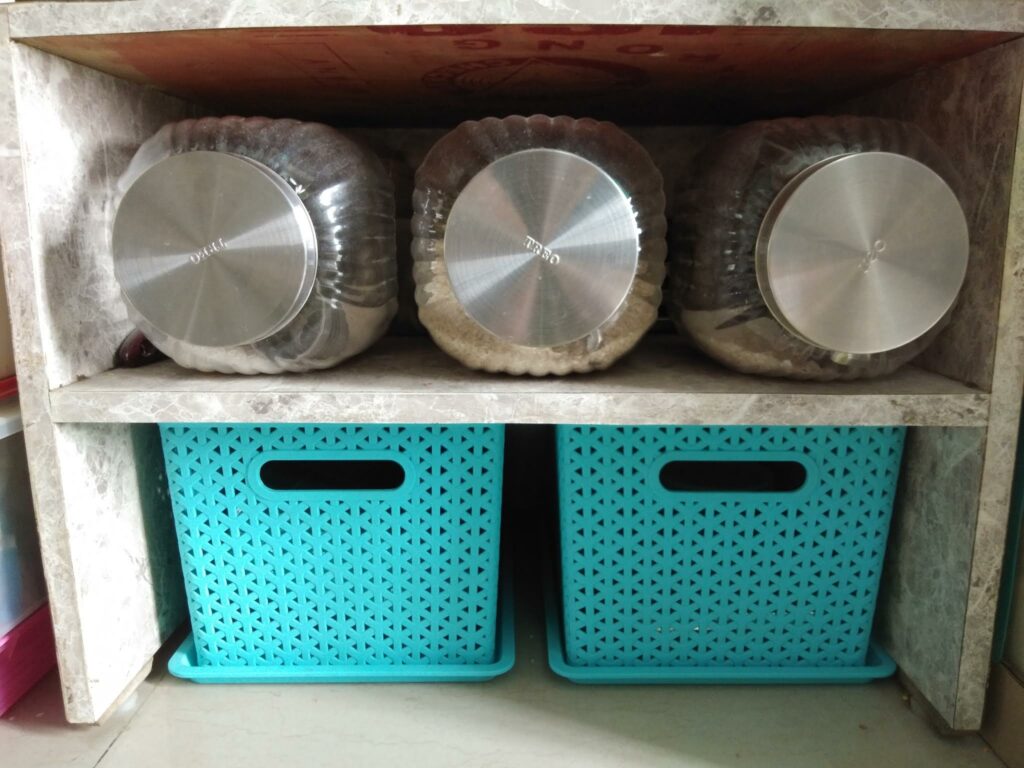 introducing shelf inserts of different sizes.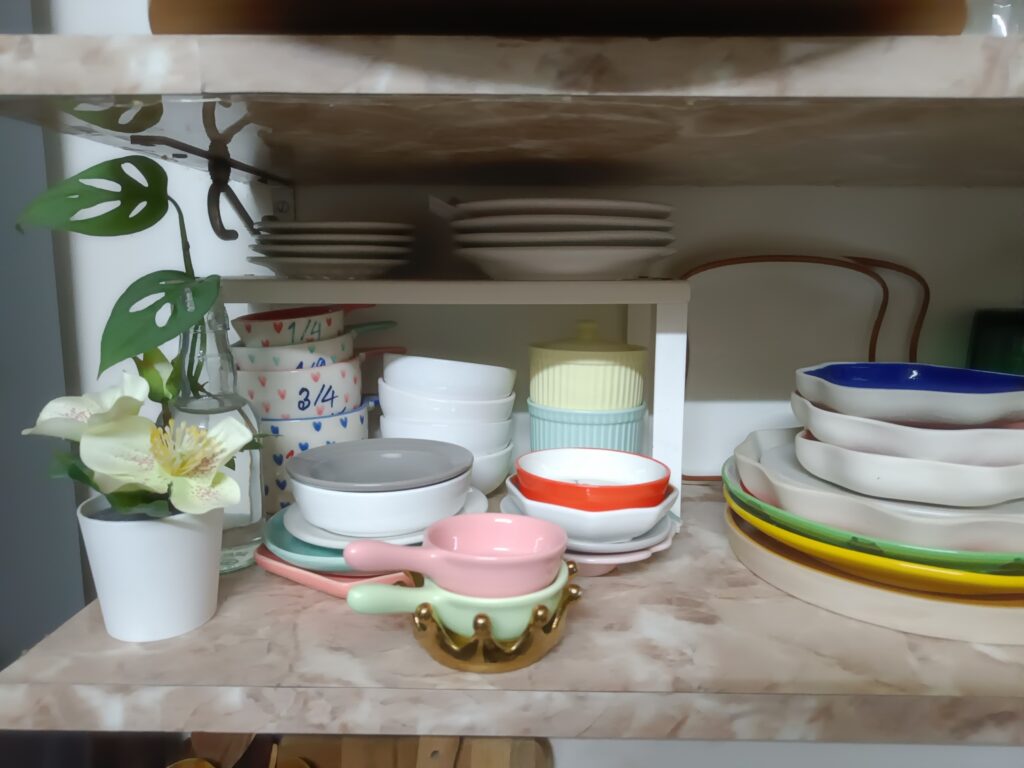 Introduce pan holders, lid / plate holders.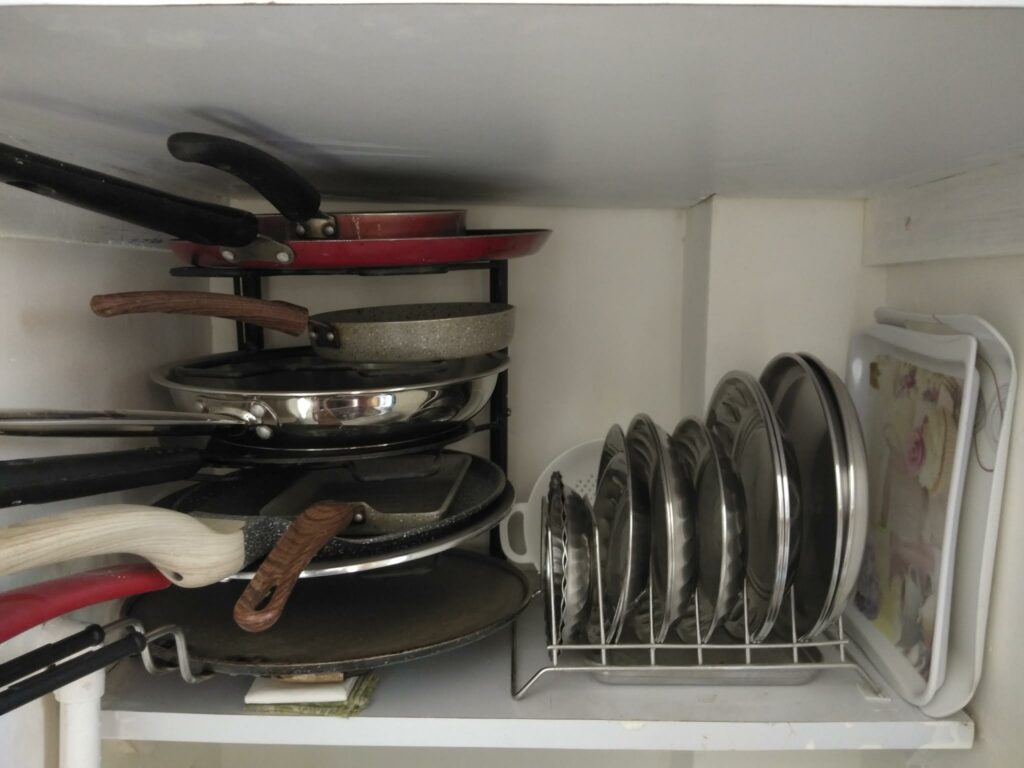 Using breadbox, fruit basket and multipurpose holder which will cover up 25% of cluttered space.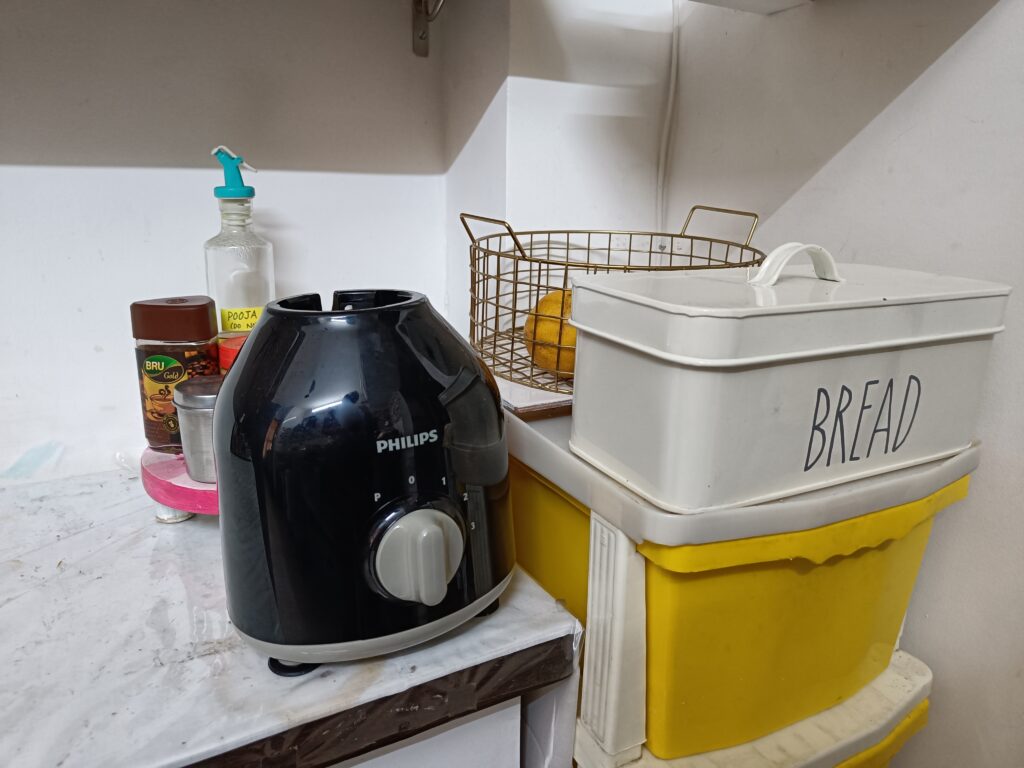 Maintaining hand towels ,dish wiping towels,  counter cleaning towels separately in a basket.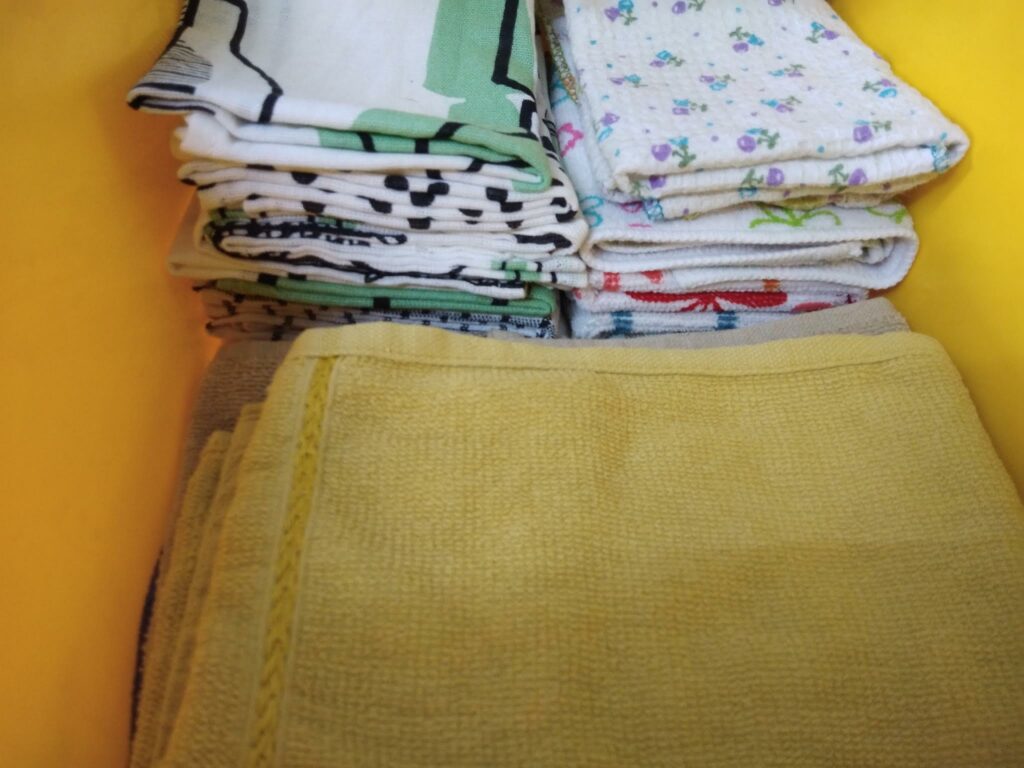 Organizing the refrigerator with transparent containers. 
By doing this way you can save space. you'll know what things are of regular use and which one needs to be front or back vice versa etc. There will be less of food wastage. By enabling cold storage usage we can increase the shelf life of certain foods. Also when most of the things can be stored in fridge we get more space to store other things in kitchen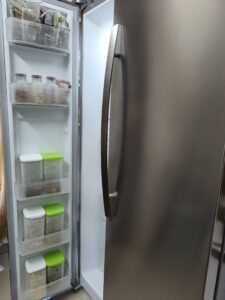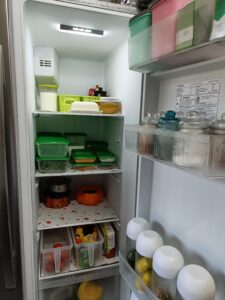 Since i run in short of space to store my baking supplies.
I used a carton and covered them with some sheets. labelled it as a baking supplies and stored it over the microwave itself. This in turn serves as a overhead storage.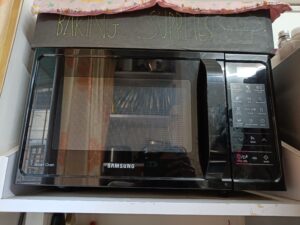 This is the link for Updated kitchen tour with rental friendly ideas :-
https://youtu.be/cVA5lmE3J9c
Here is small video of my simple yet functional unfurnished Indian kitchen tour :-
You may also check out my Indian dressing table organization video to get some efficient space saving tips.
Happy Home-making..!
(Visited 533 times, 3 visits today)