Living room decor tips | Korean & Scandinavian ideas | Indian living room tour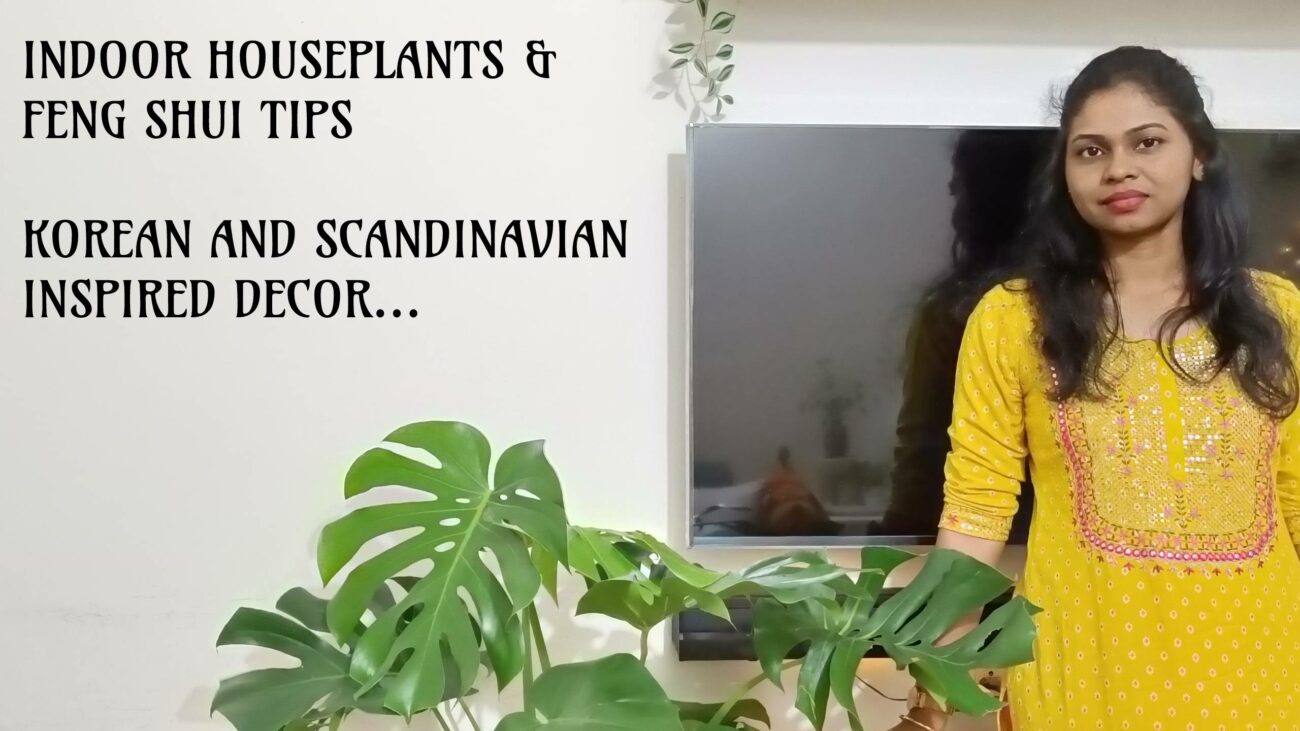 HOME DECOR – A TOUCH OF LOVE & BEAUTY IN EVERY CORNER
Home decor is something that has evolved during the 18th century period. Home decor or home interior styling is something that has been transferred from craftsman to professional interior designers to Homemaking wives.
Today home decor plays a very important role in every individual's life because the way people decorate their space using displays and accents reveals their valuable property. The likings and admiration towards styling.
Moreover, it explains a lot about one's personality. All these decors they use in their house through upholsteries or fabrics or accents or abstracts are a way to understand their physical and mental wellbeing.
MY LIVING ROOM DECOR INSPIRATION
Just like everybody else i had a small plan to set my living room in a particular way. although I am a professional, (Architect & Interior design) i never felt tempted to load my home with heavy wooden works or claddings or wallpaper to my space.
I like it to be clean, elegant, style, unique and modern. There has to be a continuous flow of concept playing with repeated colours and balanced decor.
My home is more of korean and Scandinavian inspired styling. In my college days i was well known for my clean and aesthetically pleasing interiors with pastel colours or warm tones that i used to choose for my assignments. I was the topper of the year for my interior styling during my graduation period.
SCANDINAVIAN STYLE INTERIORS:
Scandinavian type of interiors is more of clean off-white shades, minimalistic decor, single line finish (meaning furniture that has sleek and clean finish without knob/handles or heavily cluttered).
There are gold accents introduced with buffer.
Colours like black, off white, beige, golden and grey are most widely seen.
Introduction of massive plants to gradients of green shade are seen in every break up spaces.
KOREAN STYLE INTERIOR:
In korean styling the home decor accents are mostly the furniture's or anything that's is made with wooden or bamboo.
Light wood colours combined with walls and ceiling that are off white.
more mustard colours, light natural wood shades are choosen.
warm neutral tones that resemble more of an Autumn Street is something that is heartwarming in a korean style home styling
—————————————————————————————
Here are some pics with a brief on
how i choose to style my living room…
—————————————————————————————
1. GREEN EXHIBIT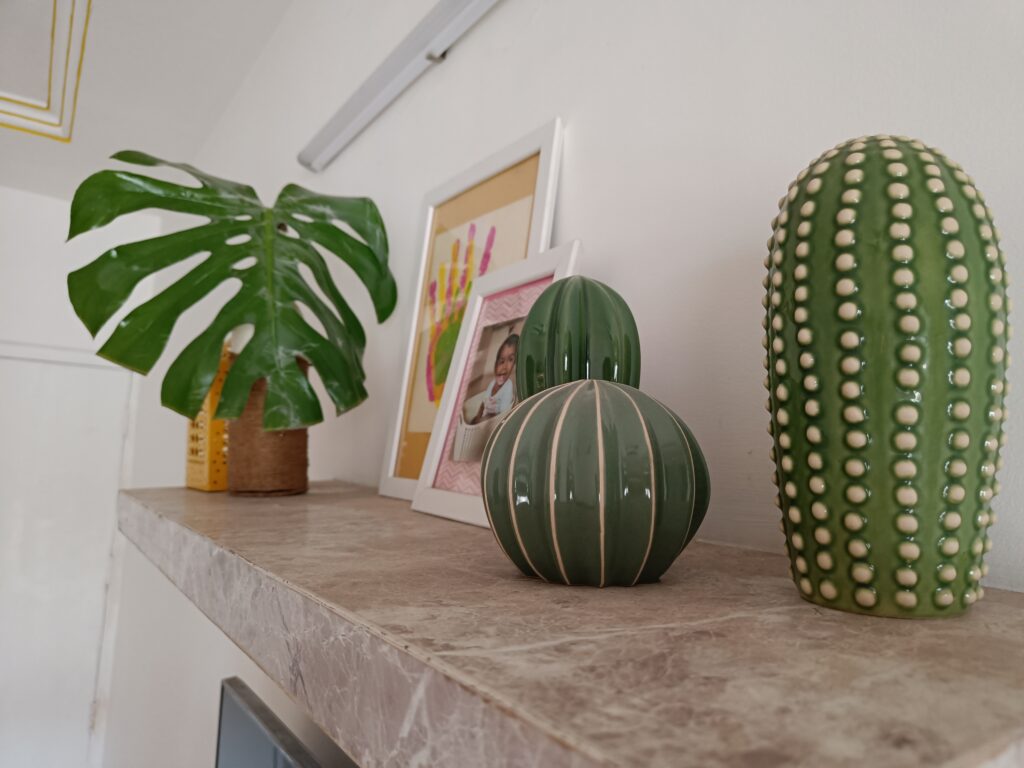 SEEN IN PICTURE  :
These ceramic cacti are from IKEA. This shelf falls right above my Tv unit. simple and minimalistic. The huge monstera leaf is left for propogation inside a DIY handmade glass bottle art. A few pictures with white frames are all a perfect balance of Scandinavian touch. A mustard yellow lantern from IKEA.
JUSTIFICATION:
keeping in mind not to overplay the colours, thereby keeping it all repeating colours. The accents i used here explains my love for plants. my family pictures and abstracts. decor accents that are handmade and serve the purpose. A lantern that is also a tea light holder.
Please check out the living room tour visuals below for more details.
——————–x—————————–x————————–
2. KOREAN HUES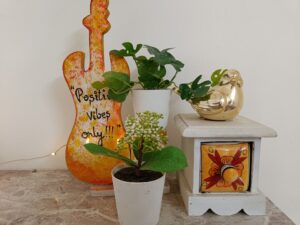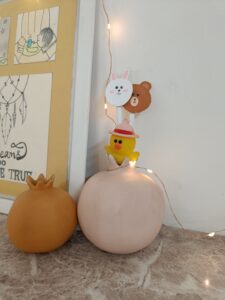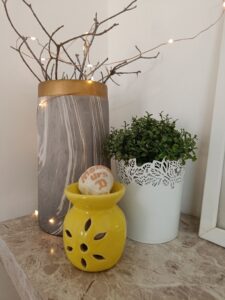 SEEN IN PICTURE :
These are the highlights of my entryway decor. More of korean style decor. i love this entryway decor art as it speaks more about my story and memories. The golden bird from chumbak who is resting on top of a small key holder. few artificial plants that are from ikea not less than any real plant. A handmade wooden guitar art resonating some positive words.
Pomegranate shaped vase that holds the most memorable character of my life. brown, cony and sally from the famous line application – a social media texting platform.
White metal vase from IKEA showcasing some artificial plants. A ceramic mustard yellow tea light holder. A grey vase holding a DIY dried branch for warding off evil eyes.
Final touch with some copper string light.
JUSTIFICATION:
Here in my entryway decor, this look depicts more of korean style with warm autumn shades. Some wooden pieces here and there. repeated colours of yellow, orange, peach, white and light browns.
——————–x—————————–x————————–
3. RUSTIC EFFECT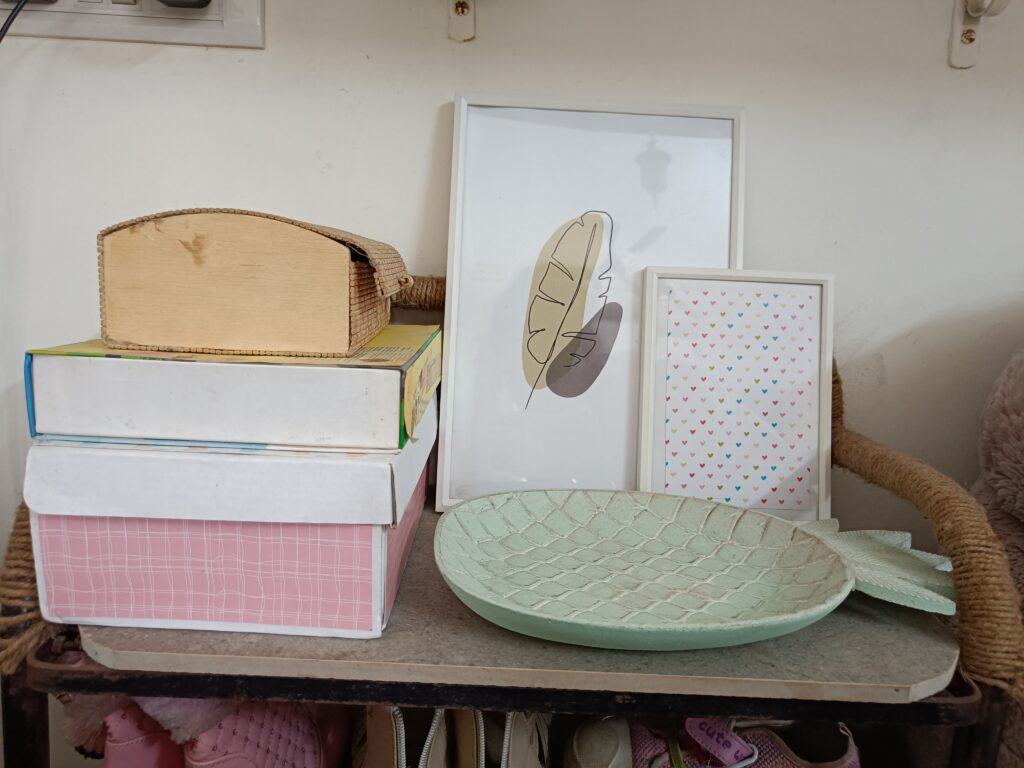 SEEN IN PICTURE :
Rustic design is a style that's natural, aged, organic, and maybe even a little distressed. Design styles like farmhouse, coastal or country type can also be described as rustic. Rustic is the opposite of modern or contemporary design. Rustic decor also feels completely natural and old look which makes it appear more sophiticated.
A shoe stand that is covered with some jute rope from top for aesthetics. On the top i have placed a matt finish beautiful tile cut into that shape and acts as a table top. holding our mask box, socks box that is covered with beautiful colours of printed papers. A pastel pineapple tray for holding our last-minute things before we are to leave the home. few photo frames hide the rod that passes behind.
JUSTIFICATION:
The bamboo box, jute rope, matt finish stone, the rustic tray reflects to korean home interior styling. Simple and natural finish that are pleasing to eyes.
——————–x—————————–x—————————-
4. SCANDINAVIAN STYLE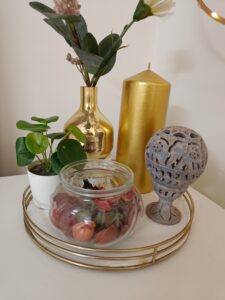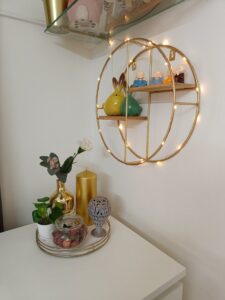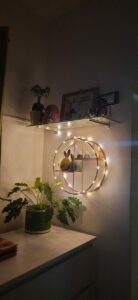 SEEN IN PICTURE  :
This corner is a masterpiece for me. I loved bringing up this corner and love it the way it is. It is so beautiful in the day and night with the lighting it receives and with the string lights it looks even more amazing at night.
More of a Scandinavian look which is mostly a repeated play of Gold and white along with some greens. We also get to see use of black by introducing one single element – A vintage bicycle.
It is all about the monotonous display that is not only aesthetically pleasing but also made use of colours in repeated fashion. The 'Goa Vlog' under my YouTube channel explains about most of the décor item used here in the display. some of them are from IKEA and Chumbak as well.
Bunny is believed to bring in good luck and prosperity. so, most of the accents i have used are related to vastu/feng shui.
JUSTIFICATION:
nature-inspired sculptural pieces, house plants Black single line elements are all seen in Scandinavian style interiors. White, gray, blue, black, and cream colors are the colors used in Scandinavian furniture. Choosing simple décor elements that can serve the purpose simultaneously are all that you need to achieve the most popular Scandinavian style interiors.
——————–x—————————–x—————————–
5. THE ZEN DECOR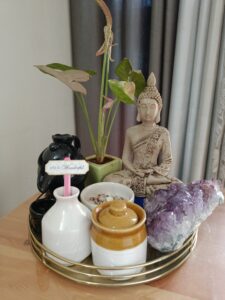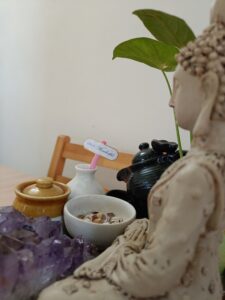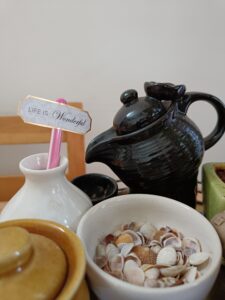 SEEN IN PICTURE  :
I had been longing to set up Zen decor anywhere in my home. but i never found a suitable place until i realized my dining table could serve the purpose. So here are few stuffs that i bought from Goa keeping in mind the essentials i will require for setting up one. I have got a Golden tray keeping the Scandinavian style in mind with play of white and green. Here there is also korean style of natural light wood colours seen in between like Buddha, The yellow white jar and my dining table from IKEA. The black showpiece also sums up the decor.
Amethyst crystal rock to increase the flow of abundance into your life financially of physical wellbeing.
Syngonium plant next to buddha gives a peaceful feeling of buddha meditating under a tree.
Some sea shells we collected from the palolem beach as souvenirs are used as a part of the display.
A tiny white vase balancing the left-over space.
A typical Indian jar of small size that holds some treats for my daughter.
A black teapot which is a backflow incense stick holder that i use to light fragrance during the evening.
JUSTIFICATION:
Matching the size, colour, the accent we choose to display all becomes a stressful job while you are about to set a theme-based decor. Maintaining is equally challenging. keeping in mind the language your decor accents will speak while they are on display, it needs to be self-expressive and attention-grabbing zone. Keeping the display in a way where one can admire and ask you the question becomes more encouraging.
——————–x—————————–x—————————–
6. THE END TABLE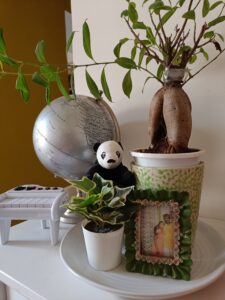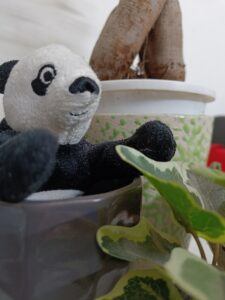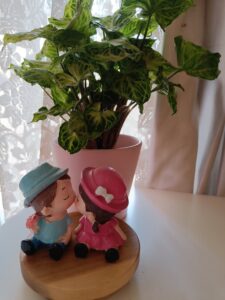 SEEN IN PICTURE:
Eastern culture represent panda as a symbol of Peace and luck. They are also believed to bring fortune.
A real bonsai plant that also eliminates the evil eye as believed in Feng shui. also brings good luck and harmony in the home as believed in Japanese culture. Rather than buying it ourselves if we receive it as a present luck will double up.
A happy lovely couple accents and photo frames. A silver globe which i showed to my 4-year-old daughter to understand about different places on earth.
JUSTIFICATION:
This corner of my house was left barren without any expression and i wanted to bring up something that i already owned. A few things were silver globe, Panda bear, the cute couple. rest of the things i added as per the space was available.
Here more or less the colours used are green, white, grey, black keeping the Scandinavian concept in mind.
——x———–x————x———-
——x———–x————x——–
A living room tour visual:
(Visited 246 times, 1 visits today)