Tips to balance a good Work – Life | Tips for homemaking | (PART 2)
An open-heart conversation without any regrets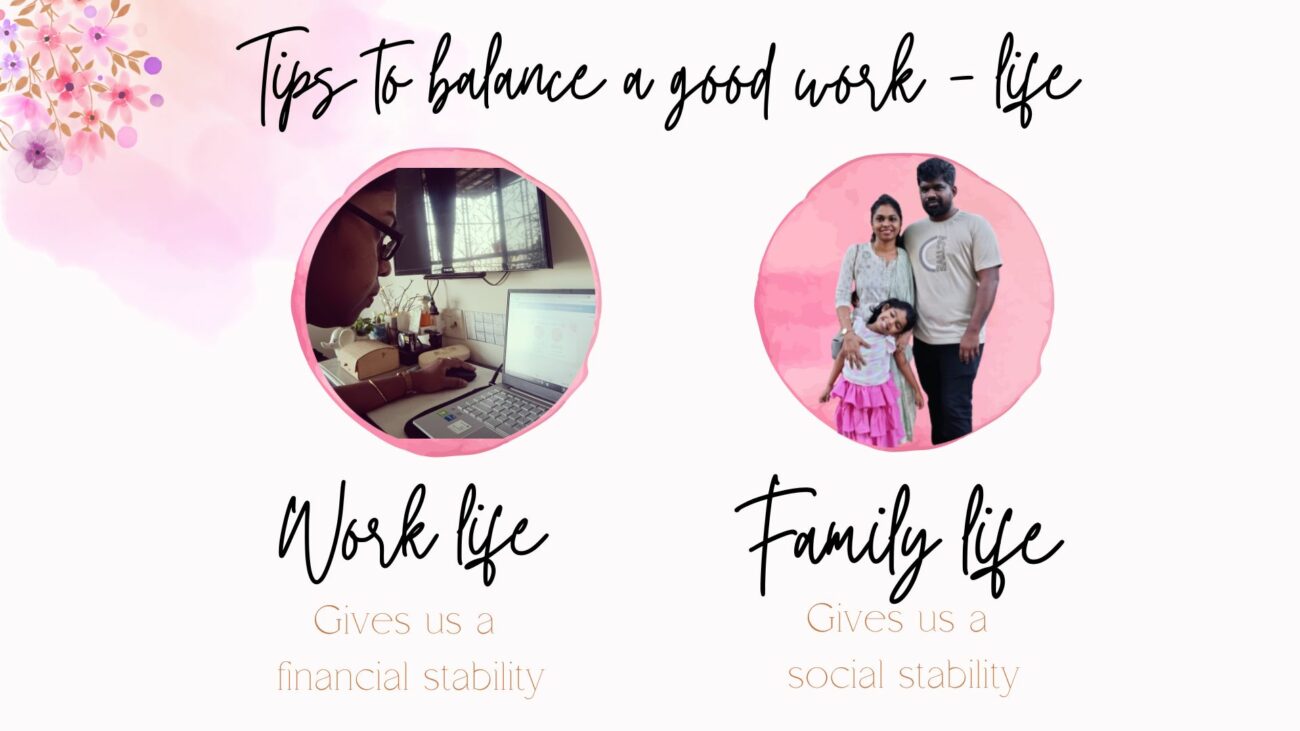 This is continuation of the post: –
"Career or Family? Why homemaking is important | Purpose of homemaking (PART 1)"
Please click on this link in green colour to read the (part 1)
---
Work-life balance is typically the amount of time that we spend doing our job and the amount of the time we spend with family. There needs to be a balance in both because at the end of the day we work for our family or we work to keep ourself happy.
Many people want to achieve a greater balance between their work life and their personal life so that work does not take up the majority of their time. An imbalanced work is something that can cost your entire future. If that is not balanced then it can ruin our physical, emotional, and mental health. Studies have found that working long hours can lead to such serious health issues as "impaired sleep, depression, heavy drinking, diabetes, impaired memory, and heart disease.
In our life:
Myself and my husband both are extreme end professionals. Our weekends are also packed with client meetings and site visits. Myself being an Architect and my husband being a Software engineer work life has never been easy. We tried balancing it and it never was possible until we finally had a baby.
In such a situation it became difficult for me to choose between career and family. so often it pushed me into depression or took a huge toll on my physical health. I started practicing a work from home schedule. I worked out the time that i can give to my work and to my kid and my passion. Since my husband was working full time, he also supported me with this decision.
A few things that made sense to me after finding ways to 'what works' and 'what does not work', i  would like to share some points that really made me overcome whatever was dragging me down. Maybe it could bring motivation to someone going through the phase i went through.
HOW TO BALANCE WORK, HOME, FAMILY AND YOURSELF
The first thing with homemaking is that it comes with a lot of demand, a lot of drainage and a lot of unchallenging tasks that can push you into depression. Staying focused, determined and dedicated in whatever you do can be a little relieving, trust me. be it cooking or loading up pantry or doing dishes just think one thing at a time and do it as much up to the mark you can. certain household chores are destressing – I have learnt this with time.
Be ambitious & consistent & dedicated:
In whatever you choose to do. do not be under the fear of being judged. let the world stop spinning but you better not give up on yourself.
2. Live life with the present:
let it flow. do not let it absorb you. Thinking less about the future is another key to staying focused with the present which will eventually keep you on track. although, who has seen the future? do not accept free advice. They scare us much more than they will be helpful. If at all you want to worry, Just spend your energy only for pre planning the future ahead like a property investment, your child's education or some retirement savings. Nothing else from the future should bother you.
3. Emotional Burden:
Resolve any situation by sitting down and talking within family before the sunrise. The issues that get saturated in your heart and don't make a way out will make you fall sick in all possible ways. Why cost your precious life? Either it will work out or it won't, accordingly adjust your next. Slowly everything will start falling in its place and you will find a way to whatever the cause is.
4. Be Spiritual:
Amid any chaos first and foremost thing is to have faith in God. It will be the toughest to practice this but let it be there considering it as at least as a routine practice. whatever way you choose it's yours. Like i visit temples on a fixed day basis, whether I am ok with God's test or not but still there are some powerful energies somewhere that humans need to absorb. Mine is in the temple where Lord Pillayar, Lord Balaji Vishnu, Maa Kamakshi, Lord Muruga and many more. I always choose to keep my spiritual aura strong because i believe that is the main fuel for life.
5. What you sow so shall you reap:
If you are releasing any energy that is draining you now, it will be the same energy that will overwhelm you tomorrow making you feel grateful. In the case of home, it is the energy and effort we put in today is the result you get in future. so for a loving and caring family we as a woman have to start a culture at home according to the way our family feels safe and comfortable. We are not going to be limited by anything for doing so. let not the fear of being judged affect you in anyway.
6. Keep yourself a priority:
First Borns are always special. Our kids don't need a sibling first, rather they want a happy mother first. We need emotional and mental stability along with physical stability to be there for our spouse and our kids whenever need be. Giving thought to all these situations we should decide to expand our family is what i firmly believe. Self-care, self-respect, self-dependent are a few important things that have to be carried with oneself until one's lifetime. Making yourself a priority and taking out time for your work and family is all you need to calculate.
7. Love vs Money:
Love and money pull two opposite strings in life. we have to keep a balance of this mechanism is all the work – life balance chemistry is all about. We can't live with money alone at the same time we can't live with love alone. If money be mind then love be the heart. carrying mind and heart together is appreciative. Love gives us strength to reach many heights and courage to face all the fears that we think are impossible. We make money to keep ourself and our loved ones happy. So, make money wisely keeping in mind to give quality time to your family irrespective to the quantity you give. one cannot be present half in work and half in home. Keeping this in mind if we figure out our schedule that can be helpful to balance your work and home.
8. Spread positive vibes:
Now mind you spreading positivity means releasing a high level of energy within you. To spread positivity, you have to practice the same which is not an easy thing to do. Pick up positive words and positive thoughts for your kids every day and find ways to create a positive ambience for yourself, your home and family in a way you feel suitable. Do not force put the habit of positive orientation towards life. because to act being positive is much difficult than actually following it. Do it with your whole heart. It is ok to not being able to practice positive thoughts sometime. Could be due to daily exertion or phase of life that can be demotivating. But whatever it is be true to yourself and have faith that things will be fine. Universe will conspires to make it happen.
9. Right attitude in Home:
We need to follow certain qualities in a regular basis although they might seem silly for doing repeatedly. But it is what it is. Appreciation and encouragement within the family is a must. even if you had to do it in few minutes interval just do it. That is what shapes your personality everyday and makes you feel confident of yourself. I love doing it to my daughter because she feels on top of the world. But keep it real and not just for the sake. if it was not appreciative then explain them that "its ok may be it is a tiring day to blame and so we could not achieve, but tomorrow we will be rocking".
see the change happening slowly. these qualities help our kid stay focused even in our absence. Giving them the right mental balance in their early childhood development will help us be more confident in life with respect to bringing up our kids and serving our profession. Be kind to your family and help your growing kid overcome the fear that he/she may face. being at home yet letting them face all their fears alone is unfair.
10. Balance your children's emotion:
When we keep on talking about work-life balance have you ever wondered that life is not ours alone it is also our kid's who are in it. Helping your kid stabilize and manage their emotions at early age defines their adulthood. as such it is important not to vent out any of our frustrations on our children and spouse. Treat children like 'they are just kids', there is no need to expect them to behave like grown ups. if things are danger that they getting engaged into then you have your right to be angry on them in a way that does not give them any tough time.
11. Home and ambience:
Home is something that makes me feel divine and comfort and challenging and fearful at times. It is no less than any temple. home and environment plays a huge role in controlling our mind and personality. they way you feel at home whether calm or anxious or uncomfortable is all in your hands dear women. let it be peaceful & organized at home to balance your mental and physical life both. Home has a soul too. so they energy you give to your home is the same vibration it sends back to you.
12. Let the childhood days of your kid be unaffected:
Childhood forms a very integral part of any home. It makes memories that last lifetime and makes your future worth living. childhood is very important part of a human's life. Irrespective to Poor or luxury lifestyle, every kid deserves to have a happy childhood. A healthy childhood defines a healthy adulthood life. (my childhood was never easy hence i make it sure for my daughter that she be having a childhood that makes her happy)
13. Home, happiness and work:
It is necessary to understand that children did not come to our life, it is we who decided to bring them to this world. so their early life is fully our responsibility that needs to be handed sensitively. It is more important to teach the kid about living a happy and stress-free life than to just survive. OfCourse finding happiness is not an easy job but i believe together we can do it. Try your best in giving them such an atmosphere and most importantly giving ears to their words and giving your heart to them is all we need to do to show them what success in life should look like.
Again once we have a family, we need to carry our family too. it is not fair to solely think about ourself and our job and our career alone. It is obvious that everyone wants to be on their own feet. But make sure you teach your kid also how to walk on their own feet by holding their hands, by being there for them when they need us the most. If your partner is supportive you may sit down and talk and decide what could be best for your family. it is the partner's mutual co-operation and mutual understanding that will bring home peace and balance. don't leave your partner face the problem alone. when one is taking care of home and family, the other need to take care of the one who taking care of home and family.
Queen Elizabeth reigned as the most successful monarch during her time. But she had one regret in her life during her last days, that she couldn't be an understanding mother to any of her four kids. There is a huge story to know upon why she had that feeling.
Life is never easy as a woman. We want to be successful in our career and we want homemaking effortless. but take a deep breath and workout what your intuition or inner conscience says.
Deep down there it knows what is right for you and your family.
Be confident.
Be brave.
Be wise.
I wish you be triumphant in career and family life both
(Visited 8 times, 1 visits today)