Health benefits of South Indian food with nutritional value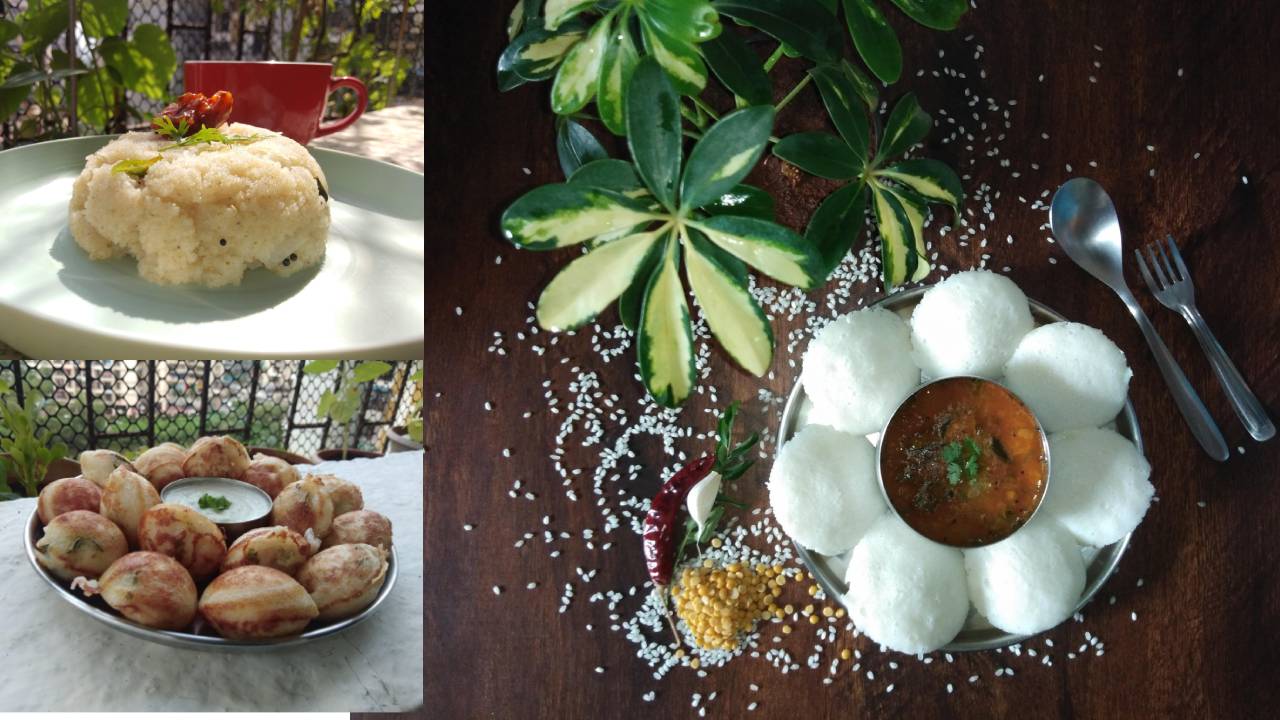 Food feels therapeutic when it looks good and tastes good
Everyone on this earth are proud of their own staple food and it can't be replaced with any other. Similarly being a Tamilian i am too proud of few of our staple breakfast dishes. It suits people of any age group. Be it a baby or an age old grandma without teeth, still they will be able to eat it without any difficulty. South India is encompasses 4 different states of India namely – Tamilnadu, Kerala, karnataka, Andhra pradesh and Now Telangana as well.
South Indian breakfast dishes are light and easy to digest and fully loaded with healthy nutritional values as compared to any other dishes in the country. maximum health benefits are gained through south indian breakfast menu mainly being iron, vitamins, protein, zinc, magnesium and folate.
Today i am going to talk about few major South Indian dish and its nutritional benefits. Most of the south indian breakfast is considered extremely healthy due to which they are steamed and served with lentils or coconut side dishes. Anyone at any situation in their life can eat this healthy meals listed below.
Like if someone is recovering from hospital, If a baby has just started her solids or if an age old grandpa lost his entire teeth. Though people may find it difficult to prepare with batter. But once you have learnt it then you can expertise into preparing South Indian breakfast menu for lifetime.
1. Idli & Dosa

Idli is a steamed and fluffy cake made of rice and black gram batter.  It is not only one of the favourite national food but also a popular food gaining scores internationally.
It is light and easy to digest. Idli contains No cholestrol, No fat, No saturated fat.
1 piece of idli contains approximately 40 calories which is far better comapred to other indian breakfast which are around 2000 calories.
Idli is rich in carbohydrate, proteins, enzymes, fats, amino acids and fiber.
Since idli is easily digestible it is a good source for Iron as well.
When idli is served with sambar (Lentil curry) or coconut chutney (Dip) it becomes even more healthier.
click here to check out the sambar recipe in Tirunelveli, Tamilnadu style. 
Here is a detailed video in case if you need a visual detail.
2. Appam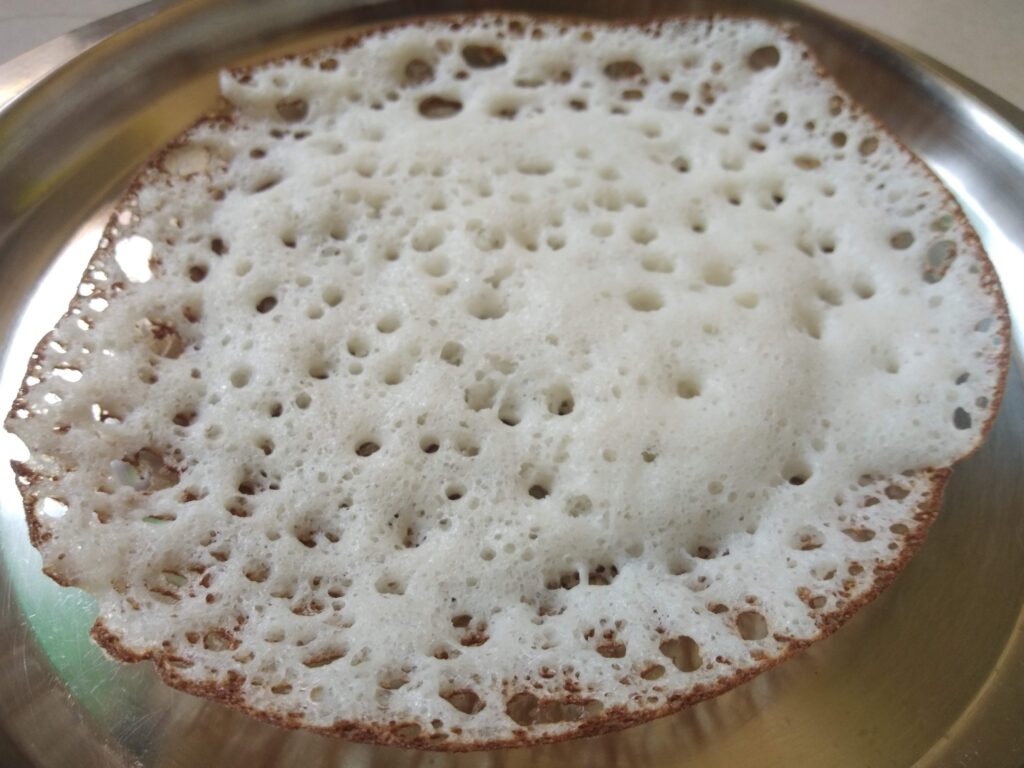 Appam is a very popular dish that people have started adopting in places like USA, Japan, Africa etc. It is gaining value globally due to its taste and nutritional value.
Appam is believed to have 120 calories per serving and is a great choice for a healthy satisfying breakfast.
Appam can be served with lentil curry, Leftover tamarind curry, Fish curry and chicken curry. They not only taste heavenly but also a good source of Iron and Protein.
When served with coconut as side dish or coconut water mixed into the batter it becomes a great source of potassium which is very good for those with BP issues.
Rice being the main role in appam is rich in carbohydrates which again is good for body's energy build up.
This might not be a good option for diabetic patients to have on a regular basis. One option can be that you can use millets flour along with 50% of appam batter.
Click this link to find out detailed written recipe of one of the easiest appam batter ever. Without having to add coconut or flattened rice (poha) or cooked rice or yeast. 
Here is a visual detail of Tamilnadu style Appam recipe
3. Medhu vada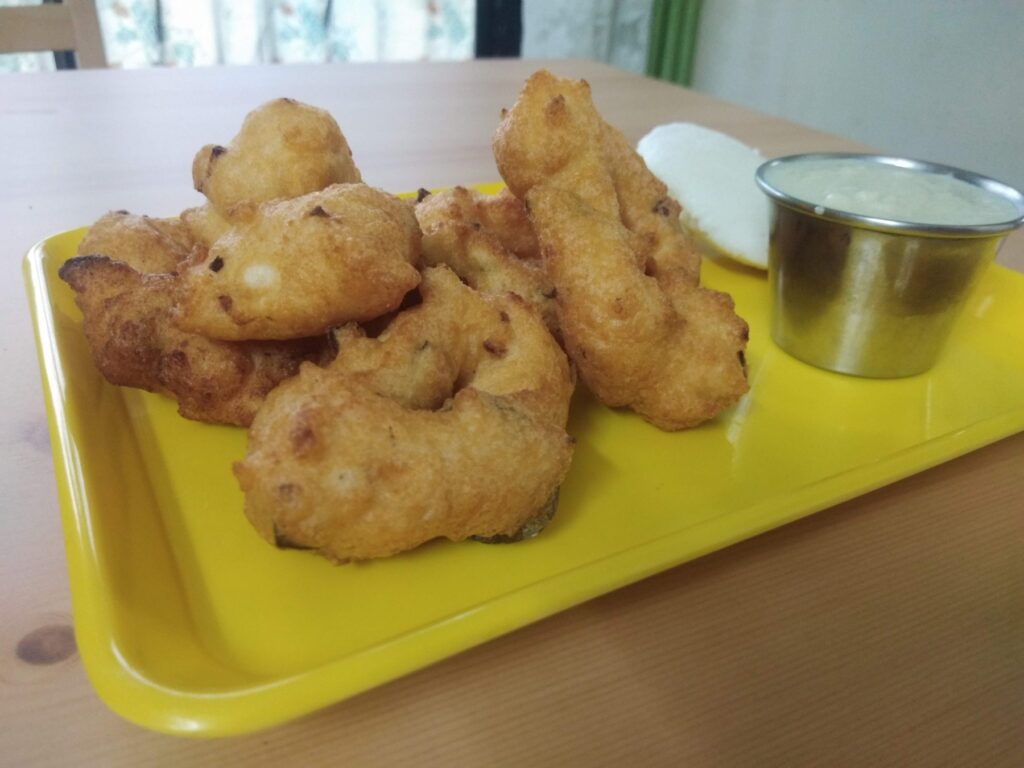 Medhu vada is popular south Indian dish often preferred for breakfast. It is taken along with Sambar (Lentil curry) and Chutney (Coconut dip). It is so full of nutrients that it is considered as best food for children to improve bone health and adults for a variety of reason.
This medhu vada is prepared by soaking black lentils for a couple of hours and grind to a thick batter. We deep fry it which can be a minus point with respect to health concern but still the true taste is of that crispness is achieved only by deep frying.
There is one option of always preferring homemade medhu vadas and we can prefer to deep fry in healthy oil such as Olive oil or sesame oil.
This dish is fully loaded with iron, folic acid, calcium, magnesium and potassium. There are an average of 330 calories per plate (mostly 4 nos of medium sized vada) of serving. It has approximately 15 grams of carbohydrate per vada serving.
It is very rich in folic acid as such pregnant woman and lactating women are often asked to add as much of black gram into their diet.
Check out this video here for coconut chutney recipe in Tirunelveli style.
4. Appe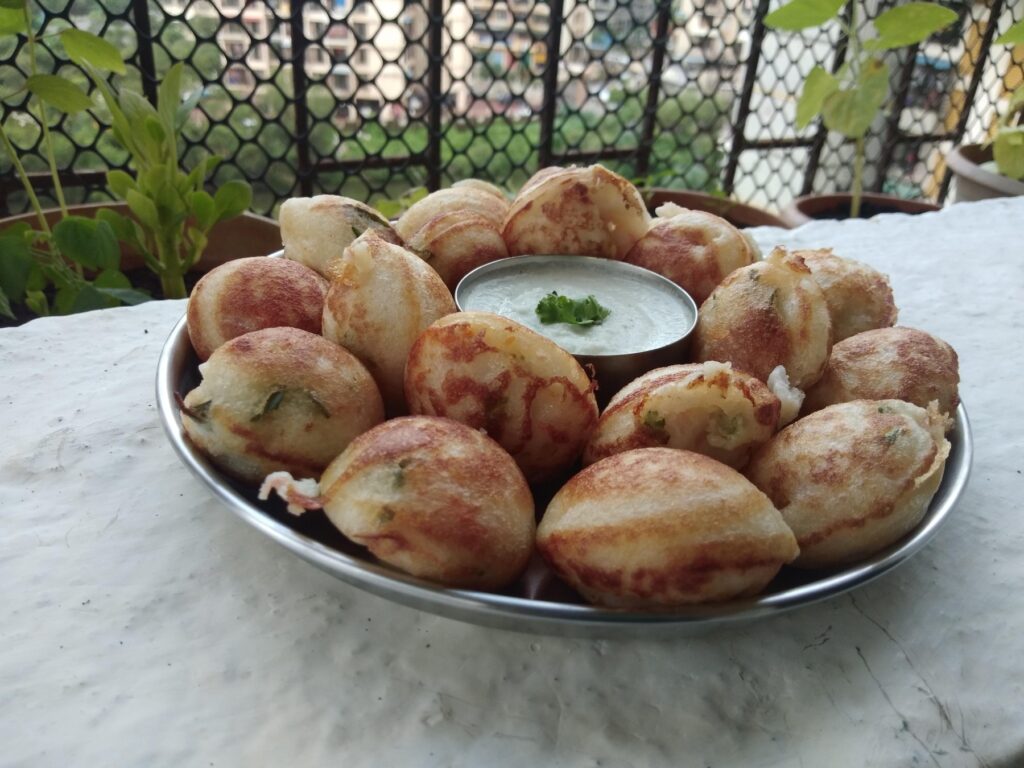 Appe (also known as paniyaaram, paddu, guliappa, gulittu, yeriyappa, gundupongalu)  is another south indian popular dish which is made up of Leftover idli batter or we can specially make batter for appe as well. there are two types of Appe one being spicy-salted and another one is sweet where we use grated coconut and sweet country jaggery to the batter.
Most of the dishes in south indian cuisine are very easy to digest, light and comforting which makes it all time favourite for people around the world.
There are two popular appe mainly made of either moong dal or rice that goes while preparing batter. moong dal appe is protein rich while rice appe is carbohydrate rich. Rice being rich in carbs, the rice version of appe provides magnesium, selenium, iron, folic acid, manganese, phosphorus, thiamine, niacin and omega 6 fatty acid.
Since urad is common for both version of appe it provides good portion of Iron, folic acid, calcium, magnesium, potassium and B group vitamins. It is high in fiber and less in cholestrol.
Appe is prepared in a special appe chatty and there is no substitute for this cooking chatty.
5. Paruppu vada (Lentil nuggets)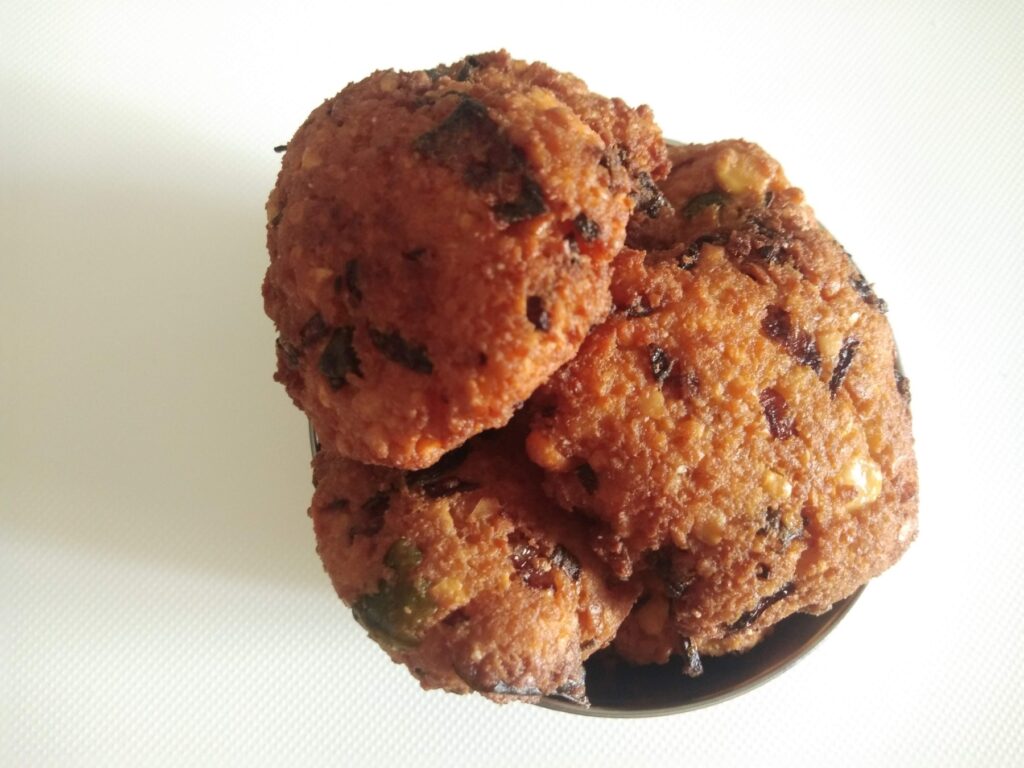 Paruppu vada is a very popular South Indian delicacy and is equally nutritious. Since it is made with lentil it serves an ample amount of protein.
Made of chana dal, onion, ginger, coriander leaves, curry leaves, green chillies . one 100 gms serving of dal (lentils) gives you an average of 30% protein required for a day. The onions being used in a huge amount is rich in anti-oxidant, phytochemicals and vitamin C. Raw onions is good for our heart health too.
There is approximately 91 calories of energy, 3 gms of protein, 6 gms of carbs, 1.5 gms of fiber and 6 gms o fat per vada servings which makes a maximum sufficient amount of nutritonal diet intake of the day.
6. Vegetable Upma ( Veg rawa salted pudding )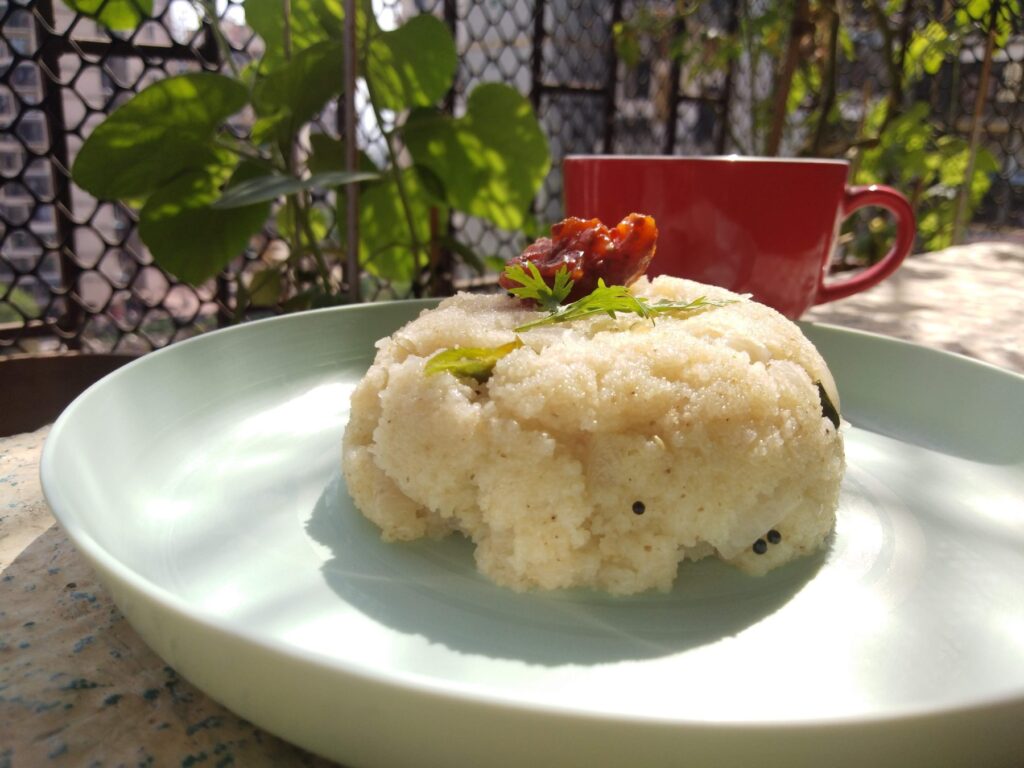 Rava is nothing but a product obtained by grinding wheat. Some varities are finely ground while few are coarsely ground. Rava is used in Indian dishes with a lot of variety and every dish tastes equally good.
Like Rava Upma, Rava dosa, Rava oats idli, Rava Sheera, Rava potato nuggets etc.
A bowl of Rava upma is fully loaded with Fiber, vitamins and healthy fats. It has least level of cholestrol and calories that becomes suitable for people of any age group.
Rava upma mixed with vegetables makes it even more healthier thereby making it a iron rich dish.
This dish is not only easy to digest but also provides you with minerals that can fulfill your nutritional requirement on that day.
Wheat rava is further very good for our bone health since it has minerals like magnesium and zinc.
Adding dry fruits while making a sweet dish called sheera gives you nutritious portion loaded with minerals, protein, fiber and vitamins. And clarified butter often called as Ghee in hindi improves immunity, bone development and provides ample amount of nourishment.
7. Vegetable Semiya (Vegetable semolina)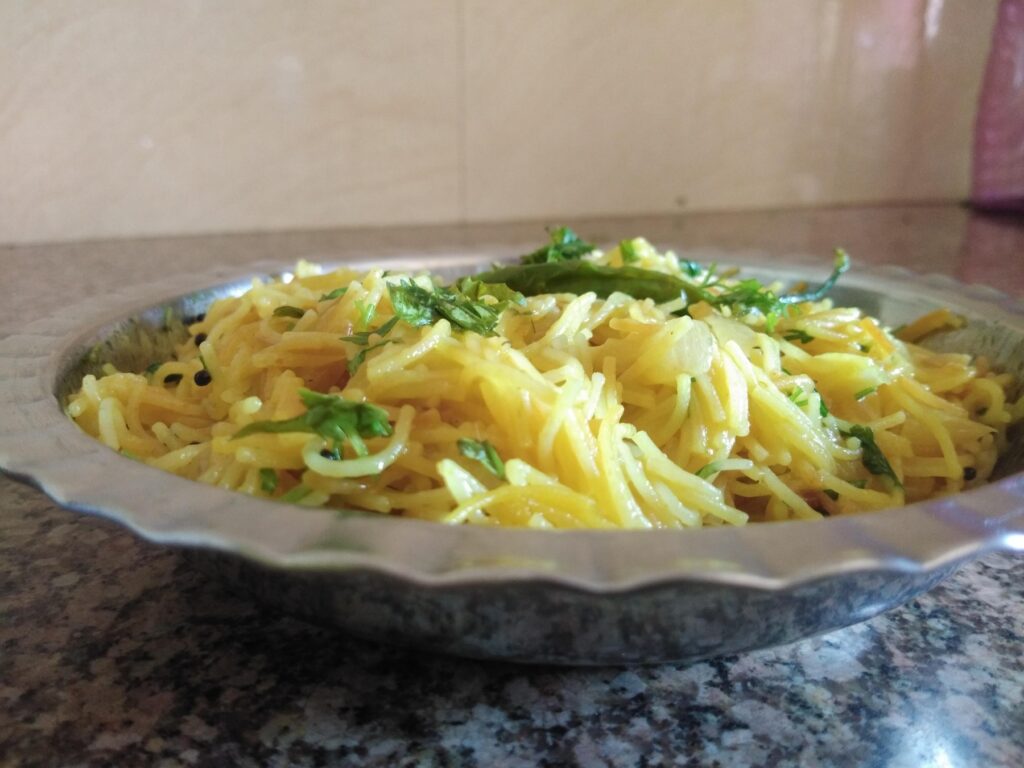 Semiya, Shevaiya or Semolina or vermicelli are again same family of Rava as mentioned above. It holds almost similar nutritional value like rava/ sooji.
It is a popular south indian tiffin menu we call it for breakfast and can be easily available in any Hotels. Semiya Upma is a common term referred as for this dish through out south India.
Semiya upma is rich in B1 vitamin which is good for our nervous system. It is good in carbohydrate content as well. Semiya upma serves as a best food for defending body against cold and cough.
Since this entire dish is brought together by adding vegetables and curry leaf and Indian spices it holds a multi nutrition on a whole like Vitamin C, Iron, Antioxidants, Antibacterial, Fiber, folate and ascorbic acid if lemon juice is used in the dish.
On a whole it is a good choice for breakfast on a weekly basis and helps you keep active and immunity enriched.
Check out the video here to find out easiest semiya upma recipe.
8 . Rava Oats Idli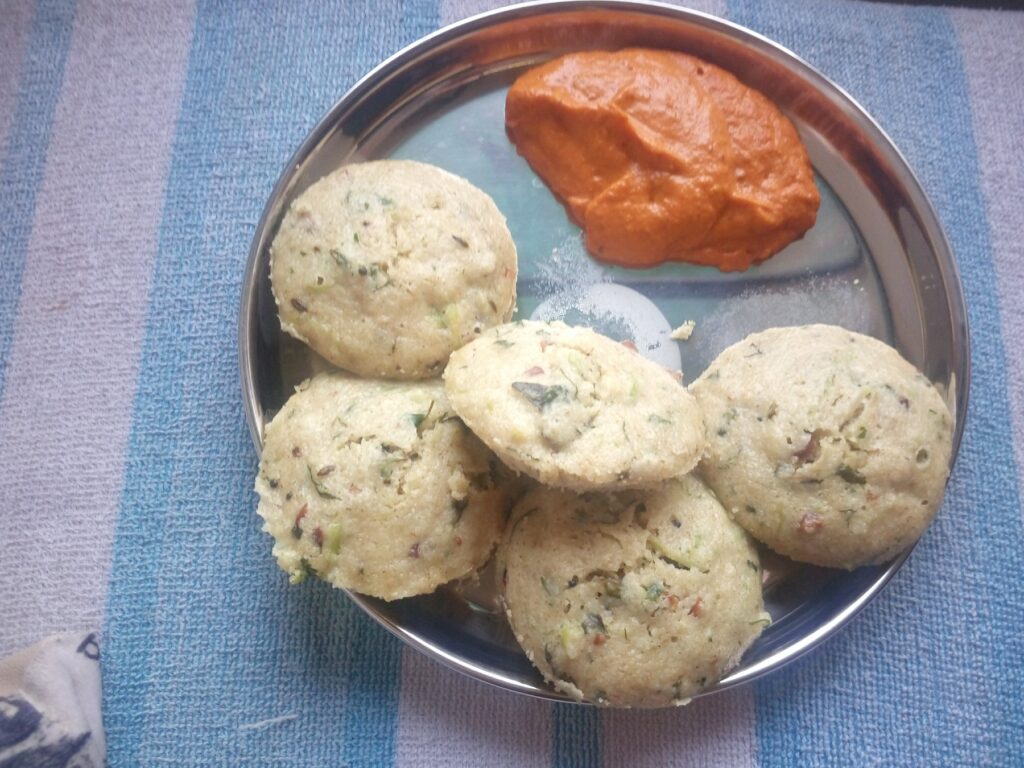 Oats is a type of cereal that may have originated in East Asia but is widely cultivated in European region for a quite a lot period of time by now. rava is originated from India and is widely used in lot of dishes. In a very recent period of time did this combination of Rava Oats Idli gained popularity.
It is an instant soul satisfying food which is nutritious and easy to prepare within 30 mins or less.
One serving of rava oats idli contains approximately 50 calories out of which carb value is 23 calories, Proteins is 7 calories and remaining goes into healthy fats which is 10 calories.
You can refer to the nutritional information provided above – under the category Rava Upma.
Rava Oats Idli may not be called as a 100% healthy food since it is made of rava and oats solely which lacks protein. But by adding vegetables and the amount of curd used here we can still call it healthy upto some extent.
Oats are rich in fibre and helps reduce the blood pressure levels. It also has minerals like magnesium and Zinc which are good for heart and brains. Curd is a best source of probiotic and calcium that is good for your gut and bone health respectively.
Vegetables like carrot, beans and capsicum serve vitamins, minerals, potassium, zinc and iron. On a whole one rava oats idli provides about 2 percent of total daily calorie requiremnt for a standard adult diet.
Check this video for tomato chutney recipe in Tirunelveli style.
PROBLEMS OF DEEP FRIED FOODS
Any deep fried foods are not considered good for a healthy living. but we can prefer deep frying in olive oil or sesame oil or cold pressed groundnut oil. Having once a while wont cause much harm but taking all necessary steps to eat a deep fried food can minimize the effect of aftermath.
When it is homemade it is best and will not cause much trouble in a way. always remember not to sit still or take a nap right after having any kind of deep fried foods. This might cause acidity or indigestion issue for many grown ups at times.
The fat level increases when the food is deep fried. When we use the same oil for reuse then the smoking point decreases which leads to the development of blue smoke.
This increases inflammation within our body and deteriorates the fat burning process inside of our system.
Any deep fried food will alter our blood sugar level so diabetic or BP person need to be very careful while consuming it.
(Visited 3,923 times, 4 visits today)