Henna powder for hair | how to use the right way | 100 % pure hennahub product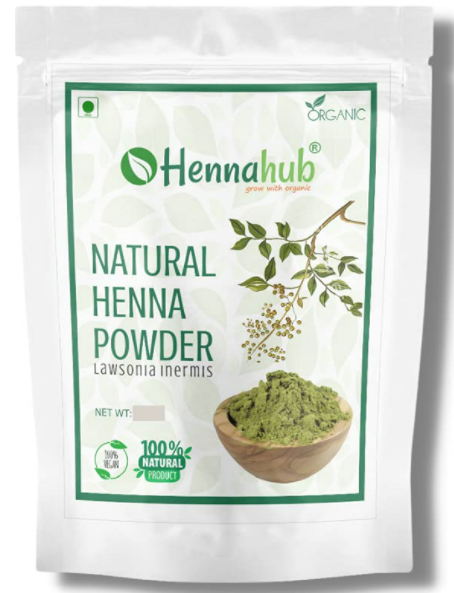 Henna otherwise known as mehndi in India is widely used in beauty range.
Henna come from the arabic term 'Al-hinna'.
Henna is often used by people living in dry, desert, humid, hot weather regions. It nourishes the hair by offering cooling effect for head and body.
Amid that it also maintains scalp health like dandruff, scaly skin on scalp. promotes hair growth and curbs hair loss.
Application of henna offers full grey coverage and it also gives a maroonish shade to fully black hair.
Henna is a natural hair conditioner.
Henna offers a protective layer that provides defence against damage for the hair strands. Regular use of henna makes your hair thick and strong by locking the essential moisture in the hair. it also makes your hair two times stronger over a course of time.
It can be used as plain henna mixed with water or also by adding indigo powder in equal quantities.
In a bowl take desired amount of henna powder and indigo powder in equal quantities and mix with water to achieve a thick paste.
You can leave it overnight or atleast for 1 hour prior to application.
leave it until dry or wash after 45 mins with mild cold water.
Sun dry your hair or sit under fan. Try to avoid any use of heat dryer.
Why to choose HENNAHUB product ?
Hennahub is a Indian based company established in the year 2017. who are one of the lead manufacturers in producing herbal skin and hair care products today. Hennahub products are certified with ISO 9001:2015, ISO 22716:2007, cGMP, GMP, HACCP, MSME, FSSAI which qualifies them for a trustworthy quality products.
The company also offers private labelling and third party manufacturing and distributionship.
The brand Hennahub is associated with thousands of clients for whom they are an enterprise.
All of the products produced and manufactured by Hennahub Industries are 100 % herbal and organic used without any preservative with a shelf life of 2 years from the date of manufacture. However it is always advisable to consult a proper guidance from a qualified professional before using any herbal or ayurvedic products on children below 5 years of age.
To read our article about

(Please click on it )
You may also find Interesting to read our article about

(Please click on the link )
You can also buy this product by clicking this link below:-
Hope you found the article beneficial in someway. Do extend your encouragement by rating this blog and leaving your most valued comment.
Have a healthy well being.
(Visited 173 times, 1 visits today)