Neem powder benefits for skin and hair | Hennahub product review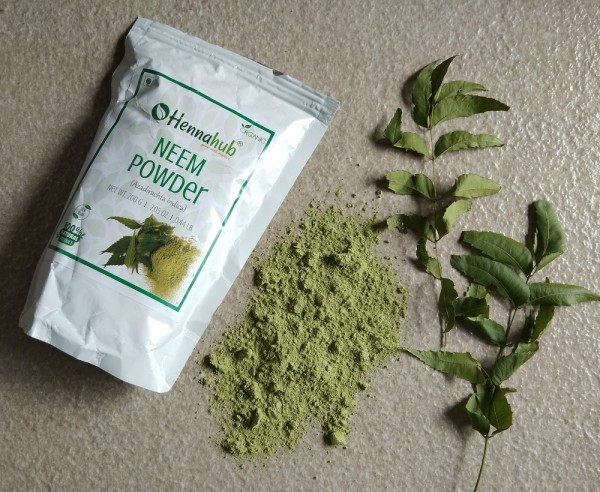 Every part of Neem tree is beneficial to Mankind right from
roots, bark, branches, leaves, flowers, dried leaves & flowers.
Neem powder is obtained once they are dried & powdered under the right condition with all organic elements retained while growing up the plant. There are various benefits of using neem powder and this miraculous product obtained from nature itself is enough to cure and prevent most of the problems that later become serious in our life.
It is believed that neem used to be the protector of all Indian rural villages in the ancient period in multiple ways. which is still a remedy to most of issues that can be solved with home-remedy.
Significance of neem powder for skin on a regular basis
Neem is a natural blood purifier due to its anti bacterial properties. using neem powder for your hair and skin on a weekly basis is sufficient enough to keep any skin related issues at bay.
Neem is a very good source to reduce the melanin production on your skin. Which in turn is beneficial for skin lightening and spots remover.
Neem is very good for tan removal and even out the skin tone caused by  sun damage.
Neem is loaded with vitamin C which is a very good antioxidant, anti-inflammatory, anti-ageing and anti-bacterial. A single solution for all causes.
applying neem powder and rose petal powder on your face can prevent the skin from acne, pustules, pimples, zits, white heads etc.
Most of the hair and scalp problems like eczema, psoriasis , dandruff, acne prone scalp, itchy scalp, flaky dandruff scalp all can be solved by just combining neem powder, amla powder and hibiscus powder and applying the mask on hair. ( 40%-30%-30% ratio respectively)
Why to choose HENNAHUB product ?
Hennahub is a Indian based company established in the year 2017. who are one of the lead manufacturers in producing herbal skin and hair care products today. Hennahub products are certified with ISO 9001:2015, ISO 22716:2007, cGMP, GMP, HACCP, MSME, FSSAI which qualifies them for a trustworthy quality products.
The company also offers private labelling and third party manufacturing and distributionship.
The brand Hennahub is associated with thousands of clients for whom they are an enterprise.
All of the products produced and manufactured by Hennahub Industries are 100 % herbal and organic used without any preservative with a shelf life of 2 years from the date of manufacture. However it is always advisable to consult a proper guidance from a qualified professional before using any herbal or ayurvedic products on children below 5 years of age.
To read our article about

(Please click on it )
You may also find Interesting to read our article about

(Please click on the link )
To buy this product link click on the image :
Hope you found the article beneficial in someway. Do extend your encouragement by rating this blog and leaving your most valued comment.
Have a healthy well being.
(Visited 487 times, 2 visits today)